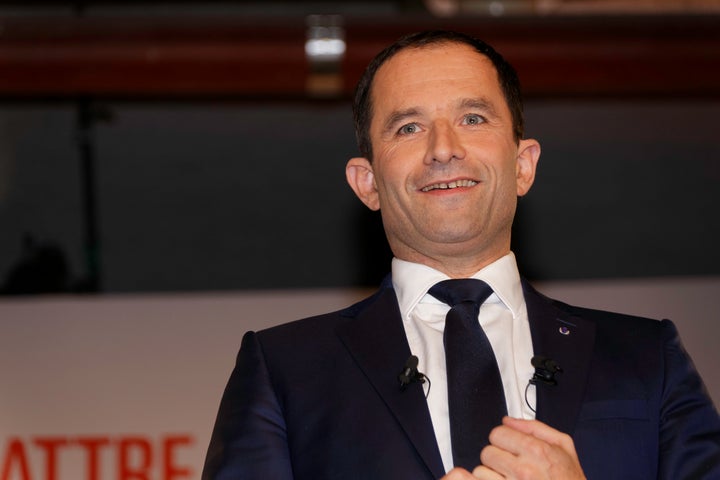 After Brexit and the election of Donald Trump, all eyes are on France for another populist upset, with Marine Le Pen rising in the polls ahead of the country's upcoming presidential election. The growing popularity of the leader of the far-right, anti-immigration, anti-EU National Front party is in keeping with the rightward drift of politics recently.
Equally noteworthy is the existential crisis that confronts the out-of-favor left. In France, as elsewhere, the response has been to shift to the other extreme end of the political spectrum. France's socialists have lurched as far left as they can go, naming Benoît Hamon as their candidate for the presidency.
Hamon, a 49-year old former education minister, was the most left-wing of all seven initial candidates in the Socialist party primary. He clinched the nomination on Jan. 29 with 60% of the second-round runoff vote, beating the more centrist former prime minister Manuel Valls. These are a few of the eye-catching policies that won Hamon the nomination:
A universal basic income of €750 ($803) a month for all citizens over 18
A tax on robots, in which companies that use automation to replace workers face higher charges
Legalizing marijuana to collect taxes on sales
Reducing the 35-hour workweek and repealing labor laws that make it easier to hire and fire workers
Hamon's odds of winning the presidency are slim, but the implications for the socialists, in power since 2012, could be long-lasting. The outgoing socialist president, François Hollande, recently saw his approval rating drop to just 4%. (Yes, four percent.)
Hamon offers a distinct break from traditional center-left French politics, following a trend also seen with UK Labour Party leader Jeremy Corbyn and US Democratic primary challenger Bernie Sanders. Hamon has been compared to both men, who enthrall core grassroots supporters, alienate moderate party members, and remain far from power. France's socialists are "a broken party," says Antonio Barroso, an analyst at Teneo Intelligence, "and the presidential election will only accelerate the process of implosion that has been in the works for some time."
The French presidential election takes place in two rounds of voting, with the first held on April 23. If no candidate wins a majority, which is likely, a runoff between the two candidates with the most votes will be held on May 7. Hamon is not expected to make it into the second round, since he's currently running in a distant fourth place in recent opinion polls (link in French).
At the moment, Le Pen looks set to win the first round and will probably face off against either Republican party candidate François Fillon, a conservative former prime minister, or Emmanuel Macron, a former economy minister who split from the socialists to form a new centrist party (paywall). There is little overlap in the policies of the hard-left Hamon and the far-right populist Le Pen, conservative reformer Fillon, or pro-business liberal Macron, all of whom are attracting more support from voters.
This article originally appeared on Quartz.
Popular in the Community