It's just not everyday a line forms for a place that to many feels so pointedly un-trendy, so normal and, in fact, mundane: Starbucks.
Yes, this line of people in Strasbourg, France are patiently waiting to get their caffeine fix from the city's first-ever Starbucks, which opened April 8.
Why, oh why are these people waiting in line for Starbucks, you might ask? Well, for starters, coffee in France is notoriously bad, according to the New York Times. You'd expect otherwise from the country that boasts many famous cafés and is widely known for being superior when it comes to all things food related. But there is much evidence that shows France is lacking when it comes to the buzzy stuff.
Of course, the novelty factor could also be in play. While Paris has a few Starbucks locations of its own, the new location is the first of its kind in Strasbourg, which is located in eastern France.
It could just be the fact that Frappuccinos are undeniably delicious, or perhaps, and most likely, it could be that the chain offered free mugs to its first 300 customers.
The previously existing Starbucks locations in Paris all boast notably favorable Yelp reviews. Still, we never thought we'd see Europeans showing up to the the chain in droves when there are so many other coffee shops at their disposal.
This article has been updated to include information about the free mugs handed out to customers.
Before You Go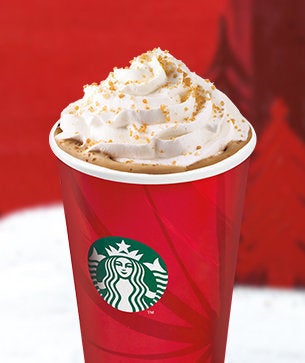 Starbucks Holiday Drinks In Order Of Hype