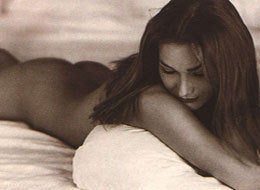 French women are becoming increasingly assertive in their sexual habits, while one-in-five younger French men "has no interest in sex", according to one of the most comprehensive surveys of the nation's love lives.

Women now have more than twice as many partners as they did in the 1970s, according to the study by the French Aids research agency, which is backed by the government.

"Are women just like men?" asked Le Nouvel Observateur yesterday, which released extracts of the Study on Sexuality in France, a 600-page tome that brings together 12,000 in-depth interviews with people of all ages conducted during 2005-06.

One of the biggest changes in recent years, according to the report, was that male and female sexual behaviour had become increasingly similar.
To read more on the sexual prowess of french women, click here.
Carla Bruni, the new wife of French president Nicholas Sarkozy, is one of HuffPost's fave frenchies. Her thoughts:
Female sexual emancipation has been a hot topic in France ever since President Nicolas Sarkozy met Carla Bruni, the Italian model and singer. The couple married last month.

Ms Bruni recently declared monogamy "terribly boring" and spoke in relaxed fashion about her numerous past conquests, including Mick Jagger and Eric Clapton.

"I am a tamer [of men], a cat, an Italian", she told Le Figaro last year.

"I am faithful... to myself. I am monogamous from time to time but I prefer polygamy and polyandry [its female equivalent]."
You can find more of our thoughts on French women and what we can learn from them, here.