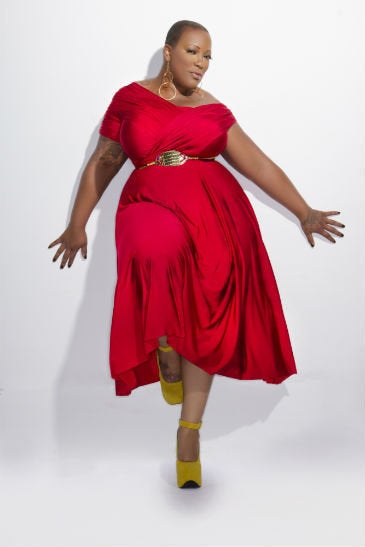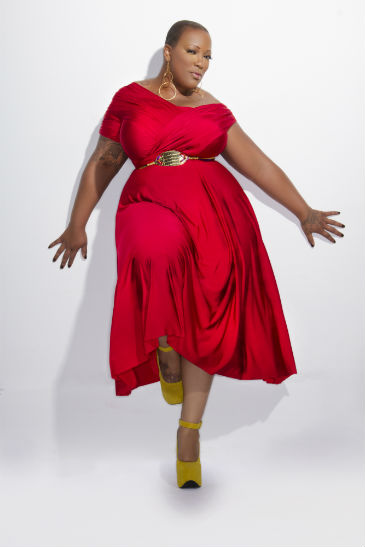 Frenchie Davis is heading to the beach for her morning power walk. She says it's something she does as often as she can because it helps her think more clearly. With her iPhone in hand, she is ready to blast "Titanium" by David Guetta and Sia. Then she'll move on to "Let's Go" by Calvin Harris and Ne-Yo.
She's become a huge fan of dance music, especially after appearing on The Voice, where many of the songs she was asked to sing were dance. It's only fitting that on her debut album -- simply titled Just Frenchie, to be released later this year -- many of the songs are tailor-made for the dance floor, including her new single, "Love's Got a Hold on Me."
"I decided to name it Just Frenchie because a lot of people have been hearing me sing for almost a decade now, but most of what they've heard was other people's music," Davis said. "This is the first time I'm putting something out that's just Frenchie."
It's been a journey for Davis. She first gained recognition when she appeared on the second season of American Idol in 2003. While she received rave reviews from the judges and the audience, she was disqualified after producers decided it would be inappropriate for her to compete given that she had posed for topless photos five years before the show.
Refusing to let the "scandal" stop her, Davis didn't look back. She went on to star in the Broadway production of Rent and touring companies of Dreamgirls and Ain't Misbeavin'. Then reality TV came calling once again. One night after singing in a gay bar in West Hollywood, a casting director for The Voice approached her and asked her to audition. At first Davis was apprehensive about competing on another singing competition show, but she knew she had to take a chance.
"I'm a very spiritual person. I believe you just have to walk the path that is set in front of you and trust that somehow the universe and fates are going to work together and make it all OK," said Davis. "Everything happens for a reason, so I had to take the opportunity and see where it went. It wasn't an opportunity that I sought out. It came to me, and I feel like you don't lick a gift horse in the mouth."
Even though she came in fifth place on The Voice, her cover of "When Love Takes Over" by David Guetta and Kelly Rowland landed her on the iTunes Dance Chart. Then, in June, Davis made headlines when she revealed that she was bisexual and had found love with another woman. Although Davis didn't plan on coming out in such a public way, she realized she had worked too hard on becoming comfortable in her skin to not be completely open.
At 33, Davis has come a long way since American Idol, but when she looks back on all the ups and downs she's gone through to bring her to releasing her first album, she says without hesitation, "I wouldn't change a thing."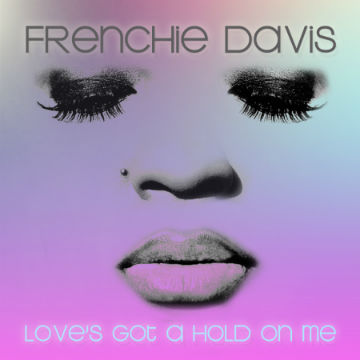 Your latest single, "Love's Got a Hold on Me," is pure dance. What do you love about dance music?
I love the energy. It's just a genre of music that I've fallen in love with gradually. I lived in Germany for a year, and dance music is their pop.
But does dance music really give you the opportunity to show off your powerful vocal abilities?
That's what's been missing from a lot of dance music. Back in the '80s and '90s it was expected to hear a big voice over a dance track -- Martha Wash, C.C. Peniston, and all of those divas. I'm hoping to be able to bring that back with this album.
Was Martha Wash an influence?
I love her. We've performed together a lot at Gay Prides and HRC and GLAAD events. She's one of the mothers of all of this. I don't think there is any woman in dance music who doesn't owe a woman like Martha Wash a huge "thank you." She gave birth to dance, and she was singing with one of the best, Sylvester. He's a huge idol of mine.
You have been in the public eye for almost 10 years now. Did you ever think the day would come when you'd finally release your own album?
I had kind of given up on having a recording career. The fates didn't seem to be pushing me in that direction, and I didn't want to wake up one day and be one of those bitter, jaded people. I think one of the ways to avoid becoming one of those people is to remember to be thankful for every opportunity. A lot of doors had opened up for me performing for LGBT events, then on Broadway, as well. Hey, being a Broadway star and having the gay boys love and support me is not a bad place to be. For a long time I decided to focus my energy on the doors that were open for me, to avoid becoming frustrated.
What did you learn about yourself after competing on The Voice?
It's been an amazing journey of self-discovery. I saw how I let my own fear of failure hold me back. In a lot of ways, I was afraid to really try to see if I could make it as a recording artist. It's like, if I don't try, then I don't have to worry about failing. Once I decided to try and be on The Voice, it just opened a whole other door for me. It showed me it was OK to take chances, even if you're scared.
Why do you think the LGBT community has gravitated toward you?
Probably my personality. I know gay boys love their divas. They love their big-voiced girls. From the very beginning of my career, I've been an outspoken advocate for the community for human rights. I just truly believe that all human beings should be treated equally. Members of the gay community have latched onto that, and maybe they relate to me. I'm a part of the community, as well. It's a relationship I definitely don't take for granted. I value it a great deal. They've had my back from day one.
You said the "gay boys love their divas." Are you a diva?
Not yet. I hope to be one someday, but only in all the positive senses of the word.
What does "diva" mean to you?
That's a title that has to be earned. When I think of "diva," I think of Aretha, Whitney, Ella Fitzgerald, Sylvester, Tina Turner, and Grace Jones. These are all my favorite performers. When I think of "diva," I think of trailblazers, icons, people who have opened doors. I hope to evolve into that one day. I hope in 20 or 30 years from now, there's a chubby girl somewhere who has dreams of being a singer one day and will see me and say, "I can do it."
Many refer to Mariah Carey as a diva. What do you think of her joining American Idol?
I think it's going to be really exciting. It changes the competition -- any singing competition -- when you have judges who can actually sing. I always thought it was really weird that there were non-singers critiquing singers.
What is one of the first songs you remember loving?
I was a musical theater geek growing up. I think I watched Annie and Little Shop of Horrors every day after school for at least five years. The theater was one of my first loves. It's how I fell in love with singing in the first place. I remember listening to Aretha Franklin and going, "Wow! I want to do that." I remember listening to a lot of Whitney, too. I mean, who didn't try to sing "Greatest Love of All"? One of my main childhood memories is watching people get booed off the Apollo trying to sing "Greatest Love of All"!
How would you finish this sentence: "Frenchie Davis is the kind of woman who..."
Loves to laugh. Loves good wine. And loves Spanx!
You may get a Spanx deal out of this!
I don't know why they keep showing these skinny women wearing Spanx! I know even skinny girls need to suck it in, too, but come on! I love to laugh. I watched The Golden Girls this morning. I know every episode by heart, but I watch it every day!
Which Golden Girl are you?
You once said about coming out, "I wasn't out before the relationship, but I wasn't in. I dated men and women, though lesbians weren't feeling the bisexual thing." What did you mean by that?
Throughout my life I've met lesbians that I was possibly interested in dating, and they were turned off by the fact that I was bisexual. It's so interesting how people can go from knowing what it's like to being discriminated against to discriminating against other people themselves. I experience it all the time, because there's a lot of homophobia in the black community. Then, with being bisexual, I experience stereotyping from gay and straight people.
My family and friends have known forever. I told my mom when I was 16 years old, "I think I'm attracted to boys and girls." She was like, "OK. It's OK." The first time a girl came to take me to the movies, my mother was right there and grilled her with a million questions, the way she would've done with any boy.
What movie did you see on your first lesbian date?
What movie was that? I want to say it was Home Alone or Home Alone 2. I remember Joe Pesci.
Lately the LGBT Community has been talking a lot about Chick-fil-A. What are your thoughts?
I haven't been following it, but I've been boycotting it forever. We can't support businesses that support discriminating against people. Church and State are separate for a reason. When they weren't separate, what we got was the Spanish Inquisition, the Holocaust, and slavery. Preachers and priests uphold the Bible. Presidents uphold the Constitution, and people need to understand the difference.
After everything you've accomplished, what are you the most proud of?
I would have never imagined that 10 years after everything I went through with Idol, I'd be releasing my first album. I'm most proud of the fact that I never gave up on my dream. My niece and nephew are twins; they are 13. I loved seeing them in the audience holding up "We love you Auntie Frenchie" signs. Having them say, "We're so proud of you." [She starts crying.] My 13-year old niece had tears in her eyes and said, "You're a star in our eyes, and I'm proud of you for never giving up on your dream."
Calling all HuffPost superfans!
Sign up for membership to become a founding member and help shape HuffPost's next chapter