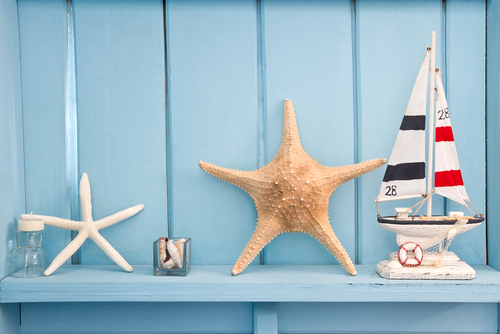 Spring is the season for cleaning, so why shouldn't summer be an opportunity to reward all the hard work you did this spring, by freshening up your home's décor? As people emerge from winter hibernation, rejuvenated by the sunshine, there's no better time to prepare your space for the onslaught of visits and barbecues that come with summer weather.
Here are some ideas for making your home bright and beautiful for this summer season.
White Party
Embrace the light, and rid your space of the darkness of winter. That means out with dark woods and warm tones - and in with bright whites. From curtains to couches to accessories, accent items don't always have to be in colorful tones. Thoughtful additions of crisp, clean white will have your space feeling like summer in no time.
Accent Chairs
Throw in a summer accent item to go with your newly lightened space; consider a pastel colored arm chair. Brands such as Paula Deen by Craftmaster, and Kincaid Furniture, offer prime examples of pattered accent chairs. A fun chair entices guests into your space, and adds a bright pop of summer flair to your barbecues and pool parties. When you take a seat this summer, do it in style.
Update Your Fabrics
It's time to store away the fleeces and wools of winter. These fabrics are perfect for keeping warm in the cold months, but they'll weigh down a space during the summer. Light linen blankets and cottons in bright printed patterns are appropriate airy replacements. Consider purchasing new decorative pillows, or pillowcases, in a fun color palette reminiscent of juicy popsicles.
Wall of Mirrors
Not every wall hanging needs to be a piece of art. This summer, try purchasing a number of round mirrors with eclectic frames. Hang them in an interesting arrangement to provide an eye-catching feature. Not only will colorful, funky frames add a playful element to the space, but the mirrors will also bounce the summer light around, making your room appear larger.
Consider Wicker
Rustic tan wicker baskets make everything feel like a picnic! Woven baskets come in a variety of shapes and sizes, and are useful for storage, decoration, and even on-the-go. Perhaps you could use them to nest some of the aforementioned winter fabrics. Wicker furniture can also make a naturally bright room feel like an indoor conservatory or porch.
Tote-ally the Best
From storing beach towels to organizing the remnants of winter, a seasonal switching of storage will go far when it comes to the transformation of a space. One of Martha Stewart's summer storage hacks is to use a sturdy and cute tote bag. Buying thick canvas totes will quickly create a place for you to hole away barbecue utensils, gardening tools, and other summer home accessories. Hanging these totes from simple white hooks will create an organized entrance in no time at all.
Bring Nature Indoors
There's nothing quite like a living art piece. A small plant in a painted clay pot makes for a wonderful side table arrangement, and larger pieces of greenery can transform a room into an oasis. If you have a green thumb, this is the perfect time to trim a flowering shrub in your backyard, and create a dinner table arrangement. Replacing opaque vases with glass bottles and jars will also give your space a feeling of clean transparency.
If plant care isn't your forte, go for something low maintenance. Florals such as peace lilies and orchids are surprisingly hearty, and easy to care for when you buy the plant in bloom. Succulents, such as cacti and jade plants, are also good choices. The juicy, glossy leaves come in a variety of colors - with a bit of searching you should be able to track down succulents in shades of pink, yellow, burgundy, and chartreuse. The options are endless!
The best part is that many of these new room additions can last far beyond the summer months.
Indoor Lanterns
The summer fun doesn't end once the sun sets; why not light a few glowing lantern lamps, rather than turn on the stark indoor lights? Indoor candle lanterns come in all shapes and sizes, and can be a delicate way to transition a space from day to night. They may even evoke happy memories of summer camp, catching fireflies, or being nestled at a cabin deep in the woods.
The Outdoors in Art
Hanging wall art that incorporates elements of nature is a great way to freshen up your space for the summer. Be on the lookout for photography or prints that highlight florals, the sea, and wild animals. Consider watercolors, which often feature fun and flirty tones. Whether it's purchasing a new print or hanging images from your last family vacation, photos that remind you of summer will automatically add to your space. If you decide to re-hang existing photos, go out and grab some new frames to freshen them up!
Seashells
Summer is often synonymous with beach days spent reading in the sun, or splashing in the waves. Look for seashell-adorned centerpieces and other accessories to bring a taste of the ocean into your home. As far as color palette, think starfish, sand dollars, and sea glass. Bright, beach-inspired accents - such as throw pillows, end tables, and lamps - make for an attractive way incorporate the warm, relaxing feel of a beach trip into your home space.
You worked hard this spring, cleaning out and organizing as the winter melted away - now you deserve some fun, new décor to carry you into the summer. Get your space ready for barbecue season with new storage, seating, and lamplight. Remember to go for airy colors, and use elements of nature to your advantage. With these design and décor tips, your home will look as lovely as the long summer days feel.