Asians from several cultures will turn *up* on Friday as they ring in the Lunar New Year, one of the most widely celebrated holidays across the globe.
Hudson Yang, Forrest Wheeler and Ian Chen — who play Huang brothers Eddie, Emery and Evan, respectively — have already been part of a historic Lunar New Year's episode of the show, in which about half the dialogue takes place in Mandarin ― a rare sight on American TV.
HuffPost caught up with the trio to chat about their plans for the Year of the Dog and what the holiday means to them. From collecting cash-stuffed red envelopes from relatives ― a Chinese tradition symbolizing good luck ― to chowing down on a feast of good food, the actors say the occasion serves as an opportunity to celebrate their Asian heritage.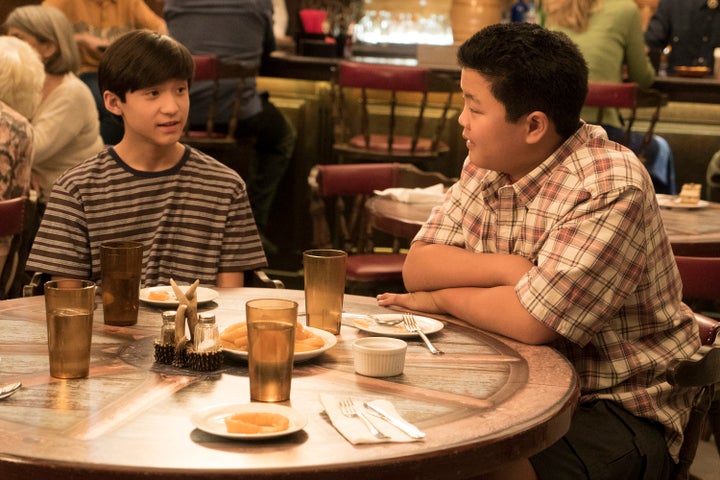 "It's something important to us because it's a holiday that is all about family and thinking about the future. American New Year is mostly about making promises to yourself, like resolutions, but Lunar New Year is about connections with other people," Yang, 14, explained to HuffPost. "So everything we do is about other people, not us. Except for the red envelopes!"
Like many people celebrating the Year of the Dog, the trio enjoys some classic dishes traditionally served at a Chinese family's New Year's table, including fish, rice cakes, and dumplings.
As Wheeler, 13, noted to HuffPost, the rice cakes, called "nian gao" in Chinese, represent the phrase "nian nian gao sheng," meaning increasing prosperity year after year. Dumplings, shaped like old gold ingots, are thought to bring fortune and prosperity to families. And fish, called "yu," symbolize the saying "nian nian you yu," meaning "may the year bring prosperity."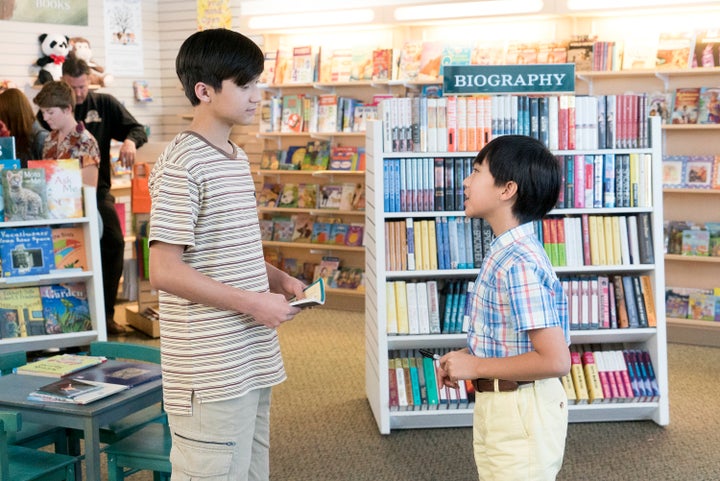 But food isn't the only thing the three are amped up for. The actors say they love being around family and playing games with relatives.
Sometimes, they reflect on their immigrant roots and the struggles that family members before them have gone through.
"Without all the sacrifices my family made, I probably wouldn't be here in America, I wouldn't be on a TV show, and wouldn't be talking to you," Chen, who's 11, told HuffPost.
Yang mentioned that his grandparents worked hard to ensure his family could get a taste of the American dream.
"My grandparents on my mom's side passed away a while ago, but they owned a restaurant and worked really hard to make it over here. My mom worked at their place all throughout her childhood, and then she had to put herself through school," he said. "But my grandparents on my dad's side worked really hard too — also they helped their brothers and sisters come over to the U.S. My grandpa had 11 brothers and my mom had 10, and one by one, most of them came over too."
For Wheeler, he enjoys learning from his grandparents and taking in the lessons he's taught from older generations.
"My grandpa will sometimes talk about the things his family taught him to do to celebrate Lunar New Year, like the preparations and superstitious rituals that are or are not allowed," he said. "He also talks about what his family did when he was a child and the things his parents did for him to move him ahead in life. I like listening to his stories and hope I can share with my kids what I learned from my grandpa."
Ultimately, introspection remains at the core of the Lunar New Year spirit. And the trio will be doing just that.
"It's a time for reflection, for thanking those who came before or who may have helped us get to where we are today," Wheeler told HuffPost. "And it's also a time to celebrate the traditions and family that make us who we are."
"Fresh Off the Boat" airs Tuesdays at 8:30 p.m. on ABC.
Popular in the Community