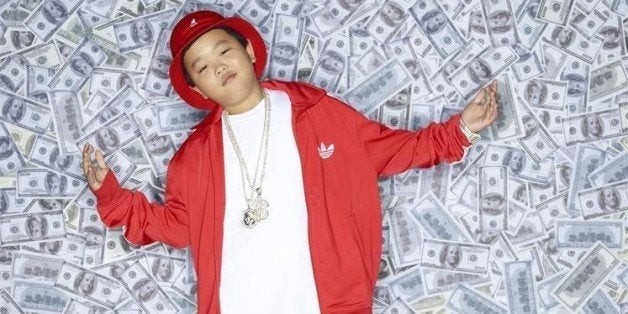 "Fresh Off the Boat" is good -- at times, very good. Without question, it's one of the best new shows of the broadcast network season: funny, well-acted and promising on a number of levels.
But I will confess to more personal concerns about "Fresh Off the Boat." My husband, who was born in Malaysia and has a Chinese mother, is in the final stages of becoming an American citizen. I didn't want him to set fire to his new passport after watching this show. (And let's face it, based on American TV's track record with Asian characters, there was every chance he would have been justified in doing so.)
There are exceptions, of course, but for the most part, American television has never been all that concerned with depicting the personal or interior lives of non-white characters. Within that history of cluelessness and racism, Asian characters have been particularly marginalized. They're routinely shoved into limited supporting slots (sexless nerd, humorless scold, mysterious villain) -- and that's if a show featured any Asian characters at all. It's rare to see a character of Asian descent get a reasonable amount of screen time; it's even more rare to see his or her culture woven into the fabric of the show in a skillful and informed fashion.
To see an Asian man as a romantic lead in a mainstream program, as John Cho was in "Selfie"? That's basically like spotting a unicorn in the wild. Thus it was disappointing when the show, which improved after its unfortunate pilot, was canceled so quickly. (Even now, I ask myself: When is the talented Cho going to get the chance to play the lead in a romance again?)
So, for any number of reasons, it was a relief to see multiple members of "Fresh's" Asian-American family receive reasonably competent character development within a show that also knowingly examines their roots, their community and the preconceptions they face. Even more importantly, I laughed out loud several times while watching the first three episodes. How awesome. And that's all the more impressive when you contemplate how easy it would have been for "Fresh" to be a train wreck.
It's hard for any comedy to make it through the development process without having all the life and fun squeezed out of it -- just look at the how many broadcast network comedies get canceled every season for proof of that. "Fresh" had even more pressure piled on top of it: It's the first sitcom about an Asian-American family since the disastrous run of the Margaret Cho comedy "All-American Girl" two decades ago. Thus there was a great deal of attention paid to the show at a recent press event, where Eddie Huang, who wrote the memoir the series is based on, and the cast and producers fielded questions from the media. Right off the bat, a member of the press asked a racially insensitive question that made most of the journalists in the room want to hide under a table.
It was deeply unfortunate moment, but that incident, along with Huang's own misgivings about ABC's adaptation of his book, just reinforced the idea that we need more popular entertainments that aren't afraid to discuss race, class and culture. We don't live in a post-racial utopia -- far from it -- and it's about time that TV acknowledged that fact, and not just by hiring non-white actors on occasion and sometimes putting a token non-white scribe in the writers' room.
As Josef Adalian pointed out recently, "the season's two biggest drama hits and its only new comedy success all feature non-white actors in leading roles." Adalian's referring to Shonda Rhimes' "How to Get Away With Murder," Lee Daniels' "Empire" and Kenya Barris' "Black-ish," all of which have done well for their respective networks ("Empire" in particular is an outright smash). Another of the season's success stories is "Jane the Virgin," a sprightly soap opera about a Hispanic family that has deftly addressed immigration reform, in part through a character who speaks only Spanish.
These shows have done well with viewers and gotten a lot of media attention, partially because they've all got specific points of view that serve as rocket fuel for their storytelling. Similarly, "Fresh Off the Boat" feels, well, fresh because its focus is unapologetically on the Huang family; they are not shoved into the margins or there to supply comic relief to someone else. Also refreshing: One of the comedy's most fruitful and funny themes is the clash between white culture and one specific non-white culture. For decades, TV has gotten a lot of (very questionable) mileage out of the fact that white characters are often befuddled by anyone that does not share their background. Thus there's an element of entertaining schadenfraude in "Fresh's" perspective, which generally takes it as a given that the mid-'90s culture of white suburbanites in Orlando, Florida, is just kind of weird and bewildering.
"Fresh" is ultimately heart-warming -- this is ABC, after all -- but it has at its disposal a whole wealth of jokes it's willing to make that other comedies would most likely shy away from, out of ignorance, deference or fear. Whatever its occasional growing pains, its great accomplishment is that it is unafraid to be more than just another homogenized family comedy.
The truth is, domestic sitcoms aren't really my thing: A mom standing with her hands on her hips and firing tart one-liners at her adorably frustrating kids is not what I usually gravitate toward when it comes to comedy. But "Fresh" got past my domestic-sitcom defenses because it does much more than hit the usual family-comedy beats.
It's a nostalgic coming-of-age story, a la "The Wonder Years"; it's the story of social pariahs who are often bewildered by their outsider status, a la "Freaks and Geeks"; and it's willing to explore a whole host of racial and cultural topics, a la "Black-ish." If the show goes a little broad on occasion, that tendency is fairly easy to forgive because it does so many things so well right out of the gate. "Fresh's" specific mixture of tartness, sharpness and heart somehow disarmed me and charmed me all at once. On top of all that, its classic hip-hop soundtrack is entertaining as hell.
"Fresh" is centered on young Eddie Huang, who moves with his family from Washington, D.C., to Orlando, Florida, where his father opens a Western-themed steakhouse. Eddie idolizes Nas and the Wu-Tang Clan, and however you feel about those artists, you may relate to his plight if you've ever felt excluded because of how you dress or the music you love. Nobody at his new school really gets Eddie, and that's partly due to prejudice about his culture and partly due to the fact that junior high kids sometimes act like idiots.
Hudson Yang gives Eddie the swagger and glimpses of vulnerability that the character needs, and it's a minor miracle that all three of the show's kids are skilled and personable without being distractingly hammy. The real revelations of the show, though, are Randall Park and Constance Wu, who play Eddie's parents, Louis and Jessica. Executive producer and showrunner Nahnatchka Khan (who is the daughter of Iranian immigrants) takes pains to make sure that neither parent is merely a collection of stereotypes. Louis and Jessica are recognizably sitcom parents and have their share of hands-on-hips moments, but they're also depicted as individuals with their own sets of hopes and dreams.
A scene in which Jessica questions the school's use of stickers instead of grades is amusing ("Two clouds? That seems bad!"), but it also becomes clear over time that Jessica is homesick for her D.C. friends and unsure if the move was a good idea. For his part, Louis is nervous about whether his restaurant will make it, but that doesn't stop him from being too lenient as a boss.
The focus, however, is often on Eddie, who is navigating a whole range of challenging circumstances: his dawning adolescence, a growing interest in girls, a new community that mystifies him and parents who want to rein him in rather than encourage his inner Notorious B.I.G. All these concerns make "Fresh" relatable in a lot of familiar ways, but this show has even more going for it than its capable mastery of the usual sitcom pleasures.
As Mara Brock Akil, executive producer of "Being Mary Jane," said in a recent interview, "I don't know why race and culture would not be important to a character." There have been times in the past when the television industry has been willing to engage those topics on all kinds of shows, from sitcoms to soaps, and with any luck, we're heading into another one of those eras. Later this year, "Queen Sugar," a drama on Oprah Winfrey's OWN network, will go into production: Winfrey will have a recurring role on the show and "Selma" director Ava DuVernay will be the show's lead creative voice. It might be good or it might be bad, but I'm already fairly sure it'll offer a perspective I haven't seen on TV before
Do shows like "Queen Sugar," "Empire" and "Fresh Off the Boat" represent a long-term sea change, or will the most recent trend toward diversity fade away before it makes lasting inroads into the television business? It's too soon to tell, but there's no doubt that fresh voices -- and "Fresh" perspectives -- can make for excellent entertainment.
Episodes of "Fresh Off the Boat" air at 8:30 p.m. ET and 9:30 p.m. ET Wednesday on ABC. Subsequent episodes air 8 p.m. ET Tuesdays on ABC.
Ryan McGee and I discussed "Fresh Off the Boat" and "Allegiance" on the latest Talking TV podcast, which is here, on iTunes and below.
Popular in the Community