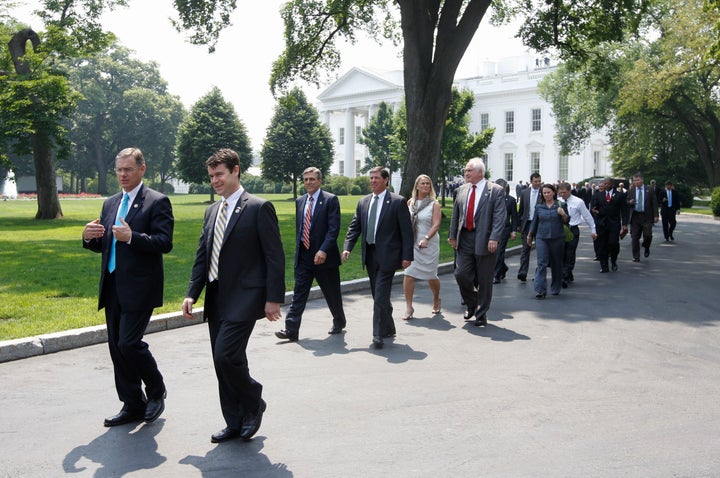 With Reporting By Alex Becker
WASHINGTON -- For years, Tennessee lawmakers have advocated for the construction of a major port on the northwest corner of the state on the Mississippi River. Known as the Port of Cates Landing, the project would include a 9,000-foot slack-water harbor, an adjacent 350-acre industrial park, improvements to local roads to connect it to U.S. Highway 78, and a short-line railroad to a larger rail line 28 miles away. It would, by some estimates, create thousands of jobs -- a much-needed boon for the Lake County region, 37.8 percent of whose residents live below the poverty line.
It also would cost a fair amount of cash. By the spring of 2011, more than $33 million had been invested in the project; an additional $20 million -- $13 million from the federal government, $7 million from the state of Tennessee -- was on its way. But as Congress, in an effort to avert a shutdown, began looking for federal expenditures to shave off the budget, Cates Landing's future suddenly became unclear. It was, among other transportation projects, on the chopping block.
Rep. Stephen Fincher (R-Tenn.), a member of the freshmen Republican class of the House of Representatives whose district includes the port project, faced a predicament. Elected as a fiscal hawk, with pledges to get spending under control, he could either go to the mat for Cates Landing or make a philosophical, self-sacrificial statement.
He chose the former. On March 8, 2011, Gannett news service reported that the funding for Cates Landing was being targeted by lawmakers looking to slash the federal budget. The same day that report came out, Fincher spoke directly with Department of Transportation Secretary Ray LaHood about the funds. The next day, he wrote a follow-up letter seeking assistance in "obligating" the $13 million grant for the port.
"The contract is currently before your Department and ready to be signed," the letter read. "I am respectively requesting you to help push this project over the final hurdle. There is no law, regulation, or other legal obligation to prevent you from signing this contract and I urge you to do so without further delay."
The lobbying had its intended results. The grant was signed on March 18, according to a Department of Transportation spokesperson, with the goal of finishing construction by the fall.
"We just wanted to make sure that we could do everything possible to create jobs, and this was a part we could play and I did everything I could and we were successful," the congressman declared a few days later to reporters, onlookers and fellow lawmakers, at an event praising the incoming funds.
Two days after writing LaHood, Fincher voted for the a Republican House budget that cut billions of dollars, including from many other transportation priorities. His office put out a press release scolding "out of control" and "reckless" federal spending.
As lawmakers prepare to cut trillions of dollars from the budget as a condition to raising the nation's debt ceiling, the story of the Cates Landing project underscores the dilemma that faces many members of the Republican-run House and the freshmen class in particular. Federal spending is derided as nothing short of a threat to the country's future -- unless, of course, it happens to be directed at that congressman's home district.
Sara Sendek, a spokesman for Fincher, noted that the $13 million grant request was actually made by his predecessor, Rep. Jon Tanner (D-Tenn.). Even so, she added, "Congressman Fincher does support this project."
As for the why: "He believes government does play a role in creating an environment that attracts private investment and job growth. This project does exactly that," she said. "It is very important for Tennessee's economy and for the country's economy. So it was absolutely worthwhile."
Such an explanation sounds like something out of the mouth of a Keynesian economist, rather than the musings of a congressman who proudly touts his support from the Tea Party movement. But Fincher is hardly alone. A Freedom of Information Act request of the communications between freshmen House members and federal agencies reveals that, in private, GOP lawmakers have pressed for tens of millions of dollars in federal help for their districts, even while decrying federal spending in front of the national press corps.
Take, for instance, Rep. Bill Johnson (R-Ohio). On March 8, the freshman Republican co-signed a letter to the Federal Aviation Administration requesting that the Department of Transportation fund a project to improve a runway at the Youngstown-Warren Regional Airport. The cost of the improvement: $4.365 million.
Less than a month later, on the floor of the House, he declared that "our nation is broke. The federal government has maxed out its credit card."
Unlike Fincher, Johnson -- who wrote the letter with Rep. Tim Ryan (D-Ohio) -- was unsuccessful in his request. A spokesman for the FAA told HuffPost that no funds have been obligated yet for runway improvements. Yet on the broader question of whether it was inconsistent for a lawmaker who has repeatedly deplored government spending to privately request his own slice of the pie, Johnson's office attempted to draw distinctions.
"There's a difference between smart federal spending and the reckless, irresponsible waste of tax dollars the American people are fed up with," said spokesperson Jessica Towhey. "Congressman Johnson joined with Rep. Tim Ryan in a bipartisan request to the FAA for safety improvements at a part of the Youngstown-Warren Regional Airport that the FAA has determined is not safe. This airport is a growing hub for travel and business in Northeast Ohio, and there is strong bipartisan support to ensure the safety of travelers and airport employees."
The problem with this logic, as budget experts note, is that every member insists that the spending he or she requests is smart, not reckless, in nature. Not everyone, however, came to office on a promise to implement cuts across the board.
"I think members are conflicted," explained Stu Rothenberg, editor of the Rothenberg Political Report and one of the most seasoned observers of national politics. "In the old days, the rules were pretty clear -- you just tried to bring home the bacon. You sent out press releases, held press conferences, and got credit for getting jobs in your district … It's more complicated now because there are pressures at odds with each other. As a U.S Representative you have, on one hand, a higher calling. You have to address runaway spending. But that is offset by the role you play for the folks back home."
Complicating the landscape even further are the new budgeting rules that Congress has imposed on itself. Whereas in days past, lawmakers could earmark, meaning they tacked amendments onto bills that directed money toward provincial projects, today that practice is banned. As a result, lawmakers have forfeited a tremendous amount of power to the executive branch. Instead of being able to set aside funds for projects in their home states or districts, members are now reduced to lobbying federal agencies for unspent funds.
"It is what we have called 'lettermarking,'" said Steve Ellis, Vice President of Taxpayers for Common Sense, a national non-partisan budget watchdog. "It is something we have all recognized will become more prevalent with the lack of traditional earmarks. There are larger amounts of money going to agencies without it being designated for specific projects."
Begging a cabinet secretary for help is humbling enough for any member. For House GOP freshmen, it's created a nearly irreconcilable bind. And so many have chosen to simply remain quiet about their funding requests.
On March 1, Rep. Rick Crawford (R-Ark.) wrote Agriculture Secretary Tom Vilsack, urging him to support a grant application submitted to the U.S. Department of Agriculture Biomass Crop Assistance Program division by MFA Oil Biomass LLC. The company was spearheading a project to "provide farmers an alternative energy crop source, as well as new crop processing technology." An infusion of federal funding, Crawford added, would "create a significant number of new jobs for Arkansas." (A review of campaign finance records revealed no contributions from MFA Oil Biomass or its board to Crawford's campaign committee.)
Type in "MFA Oil" on the congressman's website and you get no result. When the project was approved in mid-June, however, a press release was posted on the websites of both of the state's senators.
Even altruistic funding requests have gone largely below the radar. Rep. Joe Walsh (R-Ill.), for instance, wrote the Department of Agriculture on February 14, asking for $7,498,015 in cash and commodities contributions for the American Nicaraguan Foundation and Fabretto Children's Foundation -- groups that run education, health and nutrition programs in Nicaragua. Neither the congressman's office nor the Fabretto Children's Foundation returned requests for comment as to whether the funding went through. At a time when foreign aid is considered low-hanging fruit in the search for spending reductions, Walsh may have wanted to avoid drawing attention to that expense.
On the rare occasion when the press has gotten wind of a freshman House Republican making a funding request, it has turned heads. Rep. Allen West (R-Fla.), was criticized for putting out a press release on March 17 that praised the issuance of a $21 million federal grant to the Fort Lauderdale–Hollywood International Airport for the construction of a second commercial runway. And Rep. Michael Grimm (R-N.Y.) was praised locally, but raised some eyebrows nationally, when he sought federal grants and other aid for Staten Island's two hospital systems.
Perhaps the most notorious example, however, came when the House put together a defense authorization act for fiscal year 2012 and members added on expenditures as "en bloc" amendments. According to their technical definition, they weren't earmarks, and the defense department would still have the power to authorize the money. Fundamentally, however, the add-ons were the type of bacon that House freshmen had pledged to do away with.
Rep. Steven Palazzo (R-Miss.), one of those freshmen, secured $10 million to purchase land for training facilities as well as $19.9 million for ship preliminary design and feasibility studies. Rep. Bobby Schilling (R-Ill.), another freshman, secured $2.5 million for weapons and munitions advanced technology -- money that could end up in the Quad City Manufacturing Lab at the Rock Island Arsenal, located in his district.
As much as the spending requests raise questions about the ideological consistency of the freshmen Republican class, they also underscore the arguments Democrats have been making during the height of deficit-reduction debate: The government plays a vital role in activities that the private sector often avoids.
This, undoubtedly, was what compelled freshmen Reps. Kristi Noem (R-S.D.), Scott Tipton (R-Colo.), Cory Gardner (R-Colo.) and Kevin Yoder (R-Kan.) to co-sign an April 6 letter to the Department of Agriculture requesting that unused funds be spent helping the Rocky Mountain Region combat a bark beetle epidemic. It also seemed to be the thought process behind another letter Noem wrote to the Agriculture Department, demanding that South Dakota get its fair share of federal funds for wildfire damage control. Noem's office did not return a request for comment.
Whether these members can turn around and make that argument that, for all their anti-spending bluster, the money they have requested is both legitimate and necessary may prove a tricky -- though not impossible -- task. Securing a contract for a defense company in one's home district or getting a grant to build a new port are tried and true measures of securing voter support. And so long as the expenses are justified as legitimate and job-creating, even members of the Tea Party seem willing to limit their concerns to the practice of securing the money and not the money itself.
"Obviously there is going to be infrastructure spending, and one of the jobs of a Representative is to represent their district," said Mark Meckler, co-founder of Tea Party Patriots. "I would say that we should be paying close attention to this process of petitioning federal agencies [for money] … But I don't think anybody is saying that when the federal government is spending money, that no congressman should try to fund projects his district needs. I think what they are saying is we don't want egregious, crazy, pork barrel spending."

Popular in the Community