It took a little wrangling to make it look like these 13 dogs -- and one patient cat -- have better etiquette than any of your human family members.
High-end pet food company Freshpet has released a holiday promo video featuring a group of Utah rescue animals -- some of which were up for adoption at the time of filming -- dressed up like people dining on a feast of Freshpet meals. The entertaining footage shows just how awesome shelter pets are -- it's even helping some of them find permanent homes!
It was "really hard to get the animals to not eat the food right away," says Alyne Tamir Manwaring, a volunteer with the Humane Society of Utah who helped finagle the pets into their excellent performances. "Some of the animals had more than their fair share [of the feast] by the end of the night."
But it was all worth it. Since the video was made, two of the four Humane Society of Utah animal "actors" have been adopted. As of Wednesday evening, only Lion the cat and this adorable doggie named Bear (below) still need a home, according to HSU spokesperson Guinnevere Shuster.
Shuster told The Huffington Post that the HSU shelter saw an uptick in visitors after Freshpet released its video on Dec. 15. She also said 40 of the shelter's animals have been adopted in that time. The video, she added, gave people a look at how well-behaved and adorable shelter's animals are.
"The fact that they could go from a kennel in the shelter to [a] set with lots of distractions and people they have never met before and perform as well as they did just shows how amazing shelter dogs can be," she said.
Freshpet's offer to pay the adoption fees of the animals from the video probably helped, too. "We will also be giving their new families a supply of Freshpet food to get them started," the company's said.
Want to get a more realistic sense of how Bear and Lion might perform at your holiday meals? Check out their mealtime antics in Freshpet's behind-the-scenes video, which doesn't make us love these guys any less at all:
And get in touch at arin.greenwood@huffingtonpost.com with photos of your dogs and cats eating Christmas dinner, or, you know, other animal stories.
Related
Before You Go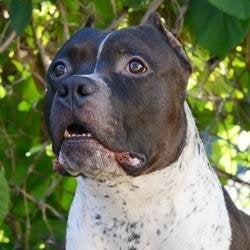 These Shelter Dogs Need Homes!
Popular in the Community