What's in a name? For the Freud clan it would seem that theirs denotes both notoriety and intrinsic creativity. Relatives of the original Sigmund Freud range from famed portrait artist Lucian and broadcaster Sir Clement to fashion designer Bella and her sister, novelist, Esther. Crane.tv recently interviewed artist, Jane McAdam Freud, daughter of Lucian, who specifically channels and explores her heritage through her sculptural work. This week is the last chance to view her first solo exhibition at the Gazelli Art House in London, which ends on the 29th of May. The title of the show, Family Matters, reflects the nature of McAdam Freud's work, channeling her heritage into her sculptural work.
Since his death, McAdam Freud has used her work to explore the relationship with her father, with many of the pieces melding her own image into his. Theirs was a complex tale with Jane only really getting to know Lucian later in life. She spent most of her career simply as 'Jane McAdam', and takes pride in the fact that her entrance into the art industry was unaided by her notorious name.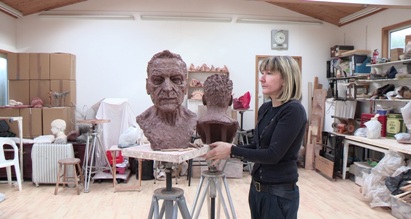 As we interview her she is constantly linking back and forth through time from her current work to early childhood memories, clearly embracing Sigmund Freud psychoanalytical theories in the creation of her pieces. She pinpoints that the desire to create was almost inherent - she recalls playing in the sand and noticing distinctly the feeling as it flowed through her fingers. This affinity for the tactile became a desire to create. Her artistic capabilities linked her directly to her father - when asked if she has any early memories of his influence, she says that, 'the act of drawing meant that I had the power over him'.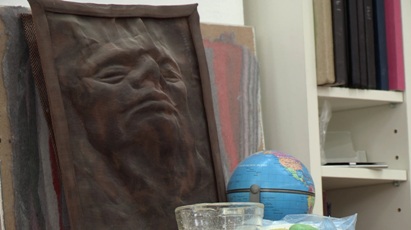 She works in copper, plasticine and terracotta creating various impressions of herself or members of her family. It is often uncanny, as images born from the subconscious are wont to be. Fleeting impressions like ghosts in metal; heads reflected in mirrors and secret messages carved into objects such as coins. The exhibition is a chance to get a glimpse into a living Freudian mind, still grappling with conflict. When we ask how McAdam Freud feels about her father's attitude towards her work, she gives a suitably revealing reply, 'I'm absolutely just chuffed and thrilled that God likes a mere mortal's work'.
Crane.tv App now available for Nokia devices from the OVI Store
Calling all HuffPost superfans!
Sign up for membership to become a founding member and help shape HuffPost's next chapter