Yeah, I know, I know, you've been good all week. Making dinner every night, bringing your lunch to work; no donut stops (well, almost none). So now it's Friday, the last weekday in The Week of Eating In, and you're probably thinking, well, I kind of deserve to go out. Plus, it's nice to be kind of social on a Friday night. If you're tempted, maybe if you read this Huff Post on all the waste we generate when we eat out, you might hedge back towards staying home tonight. But flipping over to the positive, I have an even better reason for eating in tonight--home made pizza.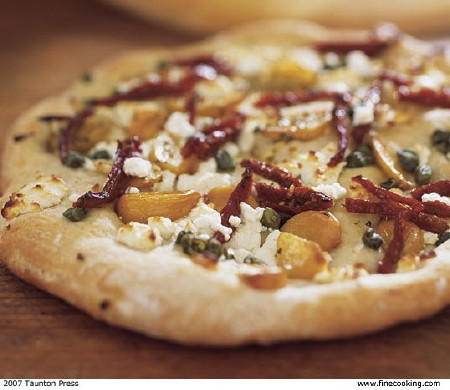 Because our eat-out options are limited in the winter on Martha's Vineyard, and because my boyfriend and I often have his 7-year-old daughter on a Friday night, we've gotten in the habit of making Friday night Pizza Night, at home. It's a totally fun activity; I put out a lot of toppings and everyone makes his or her own. I usually have a few different types of cheeses, both grated (parmesan, mozz, fontina) and crumbled (goat cheese is a favorite--I like white pizzas.) I saute some mushrooms and some onions, dice up sundried tomatoes and olives, cook a little bit of local sausage for the meaty eaters, and have some fresh herbs, sea salt, and good olive oil on hand for finishing. (If you've got time or the inclination to make some other toppings--maybe this weekend for next week's Pizza Night--you can find great recipes for roasted garlic, basil pesto, caramelized onions, and roasted tomatoes on www.finecooking.com.) As for sauce, you can make a quick tomato sauce from canned tomatoes, or you can buy (inexpensively and it doesn't have many additives) a jar of pizza sauce (kids like this).
Best of all, pizza dough is way easier to make at home than you think. During my years as an editor at Fine Cooking magazine, one of my very favorite stories was this one on Make and Freeze Pizza Dough by Evan Kleiman. This super-easy dough is made in the food processor, and takes about two seconds. (You'll have the flour, salt, and olive oil on hand. The only challenge for you snow-bound kids today will be finding a package of yeast.) There's very little kneading involved (also kid-friendly, if a bit kitchen-messy), and the dough divides nicely into 6 or 8 "individual" pizzas so everyone can customize his or her own. You can easily make a second batch if you want to have more friends in. The dough balls rise in a little less than an hour in a warm kitchen--just the right amount of time to have some drinks with friends in the kitchen while you put together your toppings.
Ideally, you'd bake your pizza on a pizza (or baking) stone (at 500 degrees), but if you don't have one, try baking your pizza on the back of a heavy duty sheet pan that's been pre-warmed in the oven. (Some folks also improvise a baking stone with unglazed terra cotta tiles bought at home stores. I've been told that imported tiles can contain lead, so do be aware of this.) You can also use a sheet pan (sprinkled with corn meal) to improvise a pizza peel (usually the easiest way to get a pizza in and out of the oven.)
Any way you do this, it's impossible not to have fun. Once you try it with a few friends or your family, I think you'll find yourself looking forward to Eating In on Friday nights.
Calling all HuffPost superfans!
Sign up for membership to become a founding member and help shape HuffPost's next chapter