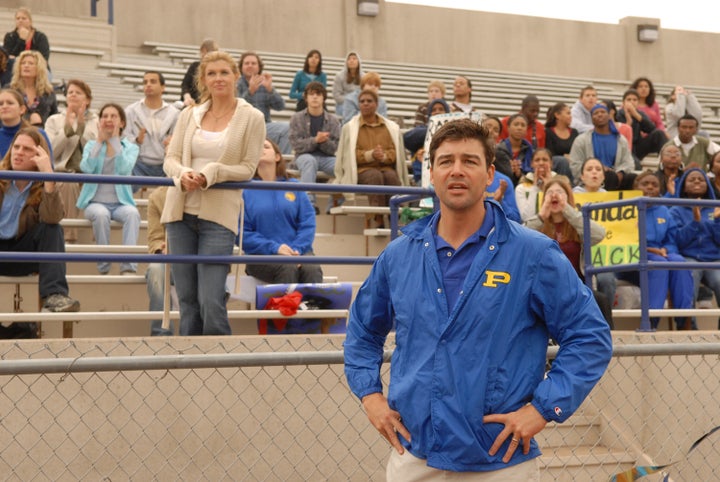 Even though I consumed every episode of "Friday Night Lights'" fifth and final season on DirecTV well before this evening's "official" series finale on NBC, I'd still convinced myself that this day would never come. New episodes would somehow produce themselves, even without network support or ratings or advertising behind them, and the town of Dillon, Texas, would exist autonomously, on its own channel, like a continuous Truman Show-type situation.
Surely enough has been written online about FNL to fill a small island, but it would be cruel and unusual to ignore the finale of what amounted to one of the greatest ensemble dramas in television history.
So let's take a look at that island, which has seen an even greater population boost this past week, as critics and fans prepared for the end of an era.
One of the definitive histories of the show was published by Grantland on Wednesday -- an epic and rewarding conversation between the creators, the studio wonks, and the actors. Among the revelations: Taylor Kitsch, who played Riggins, and Gaius Charles, our beloved Smash, both made complex audition tapes, complete with improvised lines and beer-drinking. Though we knew the series always bordered on cancellation, the piece details just how close it actually came to death, and how it found an unlikely savior in Tom Arnold (yes, that's the Tom Arnold you're thinking of).
We also learn that Connie Britton and Kyle Chandler, our Tami and Coach Taylor, respectively, had so much chemistry from the onset that everyone thought they were having an affair in REAL LIFE. Oh, if we could be so lucky.
"We generally walk into a location that's a real location," Berg said. "We just take a regular restaurant the way it is, the way it's lit...and tell them if they have regular clientele that come and want to hang out for a day, be part of a show, that they should just come."
Matthew Gilbert, TV critic for The Boston Globe, who received more viewer e-mails about FNL than any other show he covered at the paper, certainly laments the end of the series. But he suggests that we should keep our chins up -- five seasons is a pretty decent run, all told -- and heck, the ratings weren't even that bad.
Indeed, most of the finest shows of the past 10 years have posted crappy ratings (see "The Wire," "Deadwood," "Arrested Development," etc., etc.) and prompted critics to plead with the general public: "What's wrong with you people?" But that only gave them that extra cool quotient that made you love them all the more. Without that underdog status, perhaps these shows wouldn't have retained their allure, or their grit.
Plus, after years of snubs in the top drama categories, the show received a number of Emmy nominations on Thursday, among them "Oustanding Drama Series" and "Outstanding Writing for a Drama Series." Connie Britton and Kyle Chandler both picked up acting nods, as well.
"After five seasons, it just feels incredible to have the show recognized," Britton told the LA Times. "It was long deserved, I think."
Executive Producer Jason Katims added, to TV Guide: ""It's like an episode of the show [with] a touchdown in the last seconds of the game. It's the perfect metaphor."
Tonight, a dear friend dies in real-time, though her DVDs will live on, and perhaps we can expect a film based on the TV show, which was based on a film, which was based on the original book. No joke. TV Line reports that Peter Berg is indeed considering a film project that picks up where the series leaves off.
Or, for all you Berg and Taylor Kitsch fans out there, you can always go check out "Battleship" next May, which will rejoin the two in a big budget, explosion-fest, which one can only hope involves some sort of small-town, football subplot.
Clear eyes, full hearts, please make more episodes, please.
Calling all HuffPost superfans!
Sign up for membership to become a founding member and help shape HuffPost's next chapter