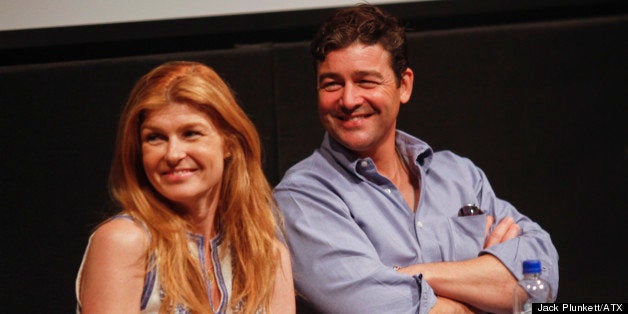 Joining Chandler and Britton (Coach and Mrs. Coach) on the panel were Gaius Charles (Brian "Smash" Williams), Brad Leland (Buddy Garrity), Louanne Stephens (Grandma Lorraine Saracen), Matt Lauria (Luke Cafferty), Scott Porter (Jason Street) and writer/producer David Hudgins.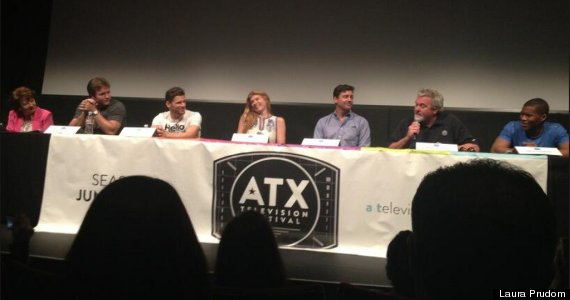 Chandler and Britton's appearance at the festival was kept secret from fans until they emerged on stage, and their arrival was met with teary eyes, full hearts and a standing ovation from the crowd. Throughout the panel, the pair demonstrated that their characters' affectionate rapport was still going strong in real life, even after two years apart, with Britton offering wifely corrections to Chandler's anecdotes and Chandler making wry asides, just like an old married couple might.
Hudgins (who was moderating the panel) kicked things off by asking the duo about their on-screen marriage, which was often a combination of their "intense, loving side" and "giving each other shit."
Chandler began, "Connie and I, the whole on-screen marriage happened the first day we met downtown. We were going out to lunch -- "
"Dinner," Britton interjected. "He always gets this wrong."
Seemingly with practice, Chandler continued undeterred, "And it was, I think, within the first five minutes that ... sometimes you meet someone and it's like, 'Oh, OK! We're in good shape now,' and within the first five minutes we realized ... we were gonna have a good time, and in the next 10 minutes we realized the acting styles were gonna work, and within the next half hour, we were excited to begin. And the greatest thing between Connie and I, I think we'd both agree, is that when we're working together, we're both fools, we like to play the fool, but no matter what, we would always let the other person ... fall as far as you wanted to, but you knew the other person would grab you. And in the acting, that's perfect because that's the timing and everything. So you always felt safe making the biggest fool you could of yourself, so we could always turn back around to the sentimentality or the humor of it."
Britton agreed, adding, "Right from the beginning, it felt like we could trust each other, which was crazy, but we did. I think the other thing that felt really important from the beginning was, we shared the same values about what we wanted that marriage to be, which we shared with the writers. We really wanted that marriage to be about two people who were committed to being married to each other, through thick and through thin, as opposed to having affairs and all of those dramatic things that happen on other TV shows ..."
"Yes, some people might," Britton laughed.
Hudgins noted, "It was certainly a challenge in that marriage because there was the idea that no matter what happened and how much we tested Coach and Tami that they would never get apart, which is a challenge from a writing standpoint -- but it sounds like you felt like it worked."
"Oh yeah, I think, not only did it work -- and I remember you writers saying in the course of the seasons, 'This is challenging from a writing standpoint' -- but I think that the audiences appreciated it so much because, oddly, that was a rare thing to see on television," Britton said. "And I think that's what most people are trying to do out in the world, is live a life where they're doing the best they can with a partner and making it work. We were really true to that."
During the panel, notable clips played that highlighted each actor in attendance, allowing the stars to discuss their memories of filming and the relationships that made the show so resonant. One of the most memorable scenes shown was Coach Taylor's rousing eleventh-hour speech to the Panthers in Season 1 finale "State," which resulted in a surprising story that highlighted Chandler's dedication to the role.
"I was in Texas Stadium while we were shooting, and we had pulled out a lot of stops to be able to shoot in Texas Stadium, and on the day that scene was shot, [Kyle] was sick as a dog -- didn't you have the flu?" Hudgins asked the star.
"He had strep throat," Britton confidently answered.
Chandler recalled, "I had a cold that day, and I started feeling very strange, and by the time we got up there, I was a mess ... I don't remember much of that. I was just a mess."
"He was hallucinating and he was a big baby," Britton teased.
"And that's why the scene turned out so well," Chandler laughed. "But seriously, about that scene ... there are so many pieces that make that work; the editors on the show were so incredible, everyone was giving it 110 percent ... it just all worked. It was a compilation of so many things that came together."
Chandler then referenced something that fellow panelist Porter said at a wrap party, but inadvertently called him "Jason" (his character's name) in the process.
"His name is Scott," Britton corrected slowly, in perfect "Tami Knows Best" tone.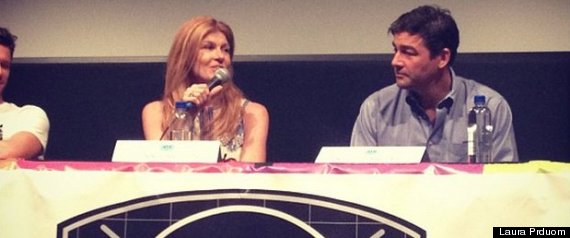 "Notice though, the way he's looking at me, he called me Jason and I was just like 'Yes?'" Porter said with a laugh, nodding obediently at Chandler.
"Pfft, that's Jason," Chandler insisted. "Anyway, he said, 'The reason this show works so well is because everybody had ownership of the show -- we all owned a piece of this show from the beginning, from [creator] Pete Berg to the writers to the producers, we all pulled together and we all had ownership, and that's, I think, one of the biggest reasons this show was so successful.'"
Unwilling to let Chandler completely deflect attention away from his determination to finish the Season 1 finale scene in question, Hudgins added, "I want to make sure I'm clear about the fact that Kyle was sick on that day because a lot of actors, if they're not feeling well, they don't show up and you can't shoot the scene -- it's a hardship on production. On that particular day, it would've been a killer, and so Kyle gutted it out. We were looking for you between takes and I found you in the bathroom throwing up, and you came out and did the scene anyway." Can't lose, indeed.
8 More Facts We Learned From The "Friday Night Lights" Reunion Panel
Chandler used to cook breakfast for the crew: Hudgins asked Chandler about a specific scene in Episode 10 of Season 5 with Coach and Vince (Michael B. Jordan) in which Coach Taylor was cooking bacon in his office. "It started out with the kitchen scenes in the Taylor house [that] I would cook breakfast for the crew. We'd get there early, wouldn't have anything to do, so I'd start cooking packs of bacon and I made toast and I put cheese on it and I was handing bacon sandwiches to everyone," Chandler explained, before describing the circumstances of that particular scene. "[The director] wanted bacon in the scene and I thought that was great, so we just put a hot plate in the middle of the scene -- it had a 'Sopranos' feel," he said with a laugh. Hudgins added, "I can tell you, back in LA, we were like, 'What does this mean? Is it a sign? Is Kyle unhappy?'"
The cast's awesomeness isn't limited to Kyle Chandler and Connie Britton: Leland knew that Stephens was a huge fan of the Dallas Cowboys, so during the filming of "State," he got her a personalized autograph from Julius Jones, the Cowboys' running back -- telling the story got Stephens (and much of the audience) visibly choked up. (See below.)
Matt Lauria faceplanted in front of real football players on his first full day on set: After promising the stunt-coordinator that he could run "really fast," having been a track star in school, Lauria got to set, had never run on astroturf before, and fell over when trying to shoot his first major scene.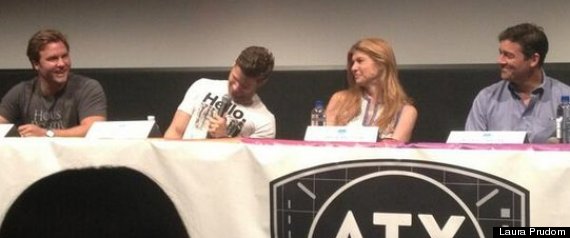 Connie Britton is still proud of the "sex talk" scene between Tami and Julie (Aimee Teegarden): "My mom talked to me about sex and I hid behind the chair in the living room," she said with a laugh. "Certainly I've had people come up and say, 'I've rewatched that scene so I could figure out how to talk to my child about sex.' It does create a big sense of responsibility in a way. It makes you think about the voice you're putting out into the world. I think it's a testament to the writers on our show: Because of the way that our show was set up, we got to tell great stories like that, stories that resonate on a base, human level ... Gosh, we were so lucky to be able to play those moments and have the writers be able to delve into those areas."
Scott Porter broke a camera operator's foot during filming: During the scene in which Jason Street punches Tim Riggins (Taylor Kitsch) for sleeping with his girlfriend Lyla (Minka Kelly), Porter broke a camera operator's foot by accidentally flipping a heavy bench over on it while playing a moment of high emotion. "She finished the scene, and she's the one who got that end shot where Jason is just crumpling in on himself ... that was her angle; she has a broken foot and she's just shooting it. There was an ownership on this show, but there was also a trust, from top to bottom," Porter observed.
The lines between fiction and reality often blurred during shooting: After seeing the clip in which Smash goes to tell Coach that he got into college on a football scholarship, Gaius Charles reflected on "what a victory that was for them and their relationship and for the audience that followed their story." Chandler agreed, "Those scenes like that ... you don't see many shows that allow silence ... It really allows us as the actors to be with each other. That's one of the most intimate scenes we ever did on the show together. I have to be honest -- for me, it wasn't Coach up there; it was me saying goodbye to Gaius. To see that again, that does get you ..." Then, to make light of the moment, Chandler playfully added, "I was so happy to see him go!"
One of Jason's most iconic lines was ad-libbed. After a career-ending injury in the pilot episode, the grace that Jason Street demonstrated while being taken off the field by the EMTs was one of the most poignant moments of the series, and it wasn't even scripted. Since "FNL" was Porter's first role, he recalled, "Pete [Berg] took me out to dinner and was like ... 'I want you to just say whatever comes to your mind at all times in this pilot and let's see where it goes.' And I was laying on the field and the entire stands were full, the entire cast was there, and the EMTs come out and go to put me on a stretcher and I said 'thank you' to the EMTs and it wasn't scripted. And they picked me up and put me in the ambulance, and Pete came over to me, and Pete is just so intense, and he goes, "Thank you ... fuck yeah!" It's a moment that, every time I see it, it's such an emotional moment, but I smile 'cause that was the beginning of this amazing road for me. I never would've gone there without Pete and that moment."
Don't expect a "Friday Night Lights" reunion movie any time soon. There's been plenty of talk about a movie revival of the series, which both Britton and Chandler have weighed in on, but Hudgins doesn't want to get your hopes up: "I will say that we can dream the dream; there have been talks about making a movie of the series. The producers, Pete and his partners are very passionate about it. I don't think there's any plans for it to move forward right now. But you never say never."
Would you watch a "Friday Night Lights" movie revival? Does seeing Britton and Chandler together again bring back fond memories? Weigh in below!
PHOTO GALLERY
TV Shows Based on Movies
Calling all HuffPost superfans!
Sign up for membership to become a founding member and help shape HuffPost's next chapter
BEFORE YOU GO