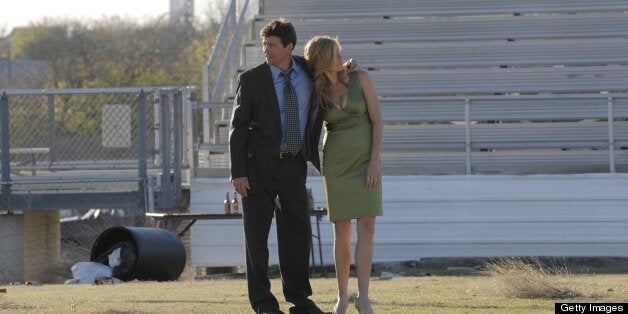 Clear eyes, full hearts: According to a new report from Deadline.com, Imagine Entertainment producers Brian Grazer and Ron Howard are planning to use crowdfunding to help bring "Friday Night Lights" back to the big screen. Imagine is the studio that produced five seasons of the acclaimed television series, which itself started as a book by Buzz Bissinger and a movie from director Peter Berg.
"We made a terrific feature with Pete Berg, turned it into a terrific TV series and will now make a movie from that series," Grazer told Deadline.com. "I'm not sure such a thing has been done before."
"I think they're starting the Kickstarter, which is insane," Palicki said during press rounds for "G.I. Joe: Retaliation" earlier this year. "It's crazy. I have multiple feelings on it. I love it so much and I'm afraid that a movie might ruin it and I don't want that to happen. We went out on top. At the same time, to get to be on that show again, I would die for it. I would love to do it. I'm right there in the middle."
"My general attitude about 'Friday Night Lights' is that it was a great movie with Billy Bob Thornton. And it was a great TV show," Chandler said to MTV last year. "I never had more fun doing anything. [...] They ended it at exactly the right time and in exactly the right way."
Should Grazer and Howard start a Kickstarter campaign or something similar for another "Friday Night Lights," the pair would have to be careful. While the media mostly embraced the "Veronica Mars" campaign, the reaction has been decidedly different for Zach Braff, who is using Kickstarter to help fund his new indie film, "Wish I Was Here."
For more on Imagine, including the latest on Howard's planned adaptation of "Dark Tower," hit Deadline.com.
PHOTO GALLERY
TV Shows Based on Movies
Calling all HuffPost superfans!
Sign up for membership to become a founding member and help shape HuffPost's next chapter
BEFORE YOU GO