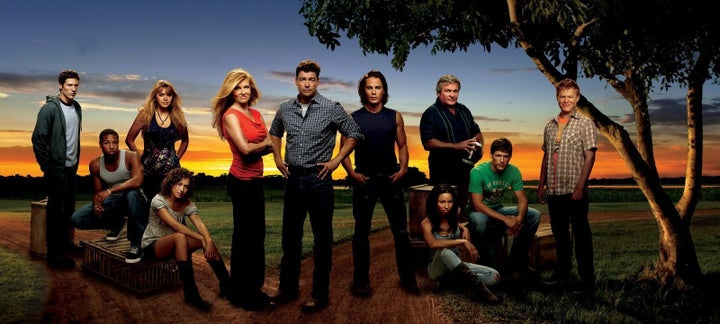 Last week I decided to commence the unenviable and mostly nonsensical task of comparing all 35 college football bowl games to various plot lines and aspects of the now defunct but always glorious not-so-hit NBC show Friday Night Lights.
If you missed my first week of comparisons -- and judging by the analytics, you probably did -- you can catch up by reading it here.
For everyone else, I'm back for another attempt at TV-to-sports metaphor glory, and will be breaking down this week's slate of bowl games in terms of Friday Night Lights plot lines below.
Wait, let's get a little mood music going first:
AdvoCare V100 Independence Bowl, December 26th, 2011, 5:00 PM, ESPN
Missouri vs. North Carolina
If there's any school that lives by the notion of "Texas Forever" it's the University of Missouri. The Tigers have had a lot of success in recent years thanks to Texas high school football talent. Their starting quarterback, running back, tight end, wide receiver and sack leader all hail from the Lone Star State -- Texas Forever, indeed. North Carolina reminds me of Santiago from season 2. Remember that guy? He was in juvie and Buddy Garrity adopted him, and he eventually began showing football promise only to be completely forgotten. Last season North Carolina's team was embroiled in NCAA violations that resulted in many of their players getting suspended for the entire season. This year, the Tar Heels appeared to have reformed their ways and were on a positive path, winning their first three games, and then... nothing. We don't know what happened to Santiago, just like, unless you were on the team, you probably don't know what happened to the rest of North Carolina's season. But regardless, for those Santiago fans out of there, consider this his re-emergence.
But seriously, did Buddy Garrity just kick him out of the house or what?
Little Caeser's Bowl, December 27th, 2011, 4:30 PM, ESPN
Western Michigan vs. Purdue
This may be a great game, but nobody is going to watch it... just like Friday Night Lights.
Belk Bowl, ESPN, December 27, 2011, ESPN
Louisville vs. N.C. State
Remember that episode where Jason, Tim, Herk and Billy flipped Buddy Garrity's old house for a profit. Yeah that house was pretty bad, wasn't it? Well so was Louisville's football team, until Charlie Strong got there. Strong inherited a team that hadn't been to a bowl game in three years despite playing in a weak conference. In his first season on the job, he led Louisville to a bowl victory, and this year the Cardinals achieved their first winning record in the regular season since 2006. It's by no means a powerhouse and it hasn't been the smoothest process, but Strong has done a nice job of flipping Louisville. So I guess what I'm trying to say is that this game will likely only be of interest to people who are into home renovation shows.
Military Bowl -- Presented By Northrop Grumman, December 28th, 2011, ESPN
Toledo vs. Air Force
Perhaps one of the most unrealistic aspects of Friday Night Lights -- besides trying to sell us on the idea that Tyra, Lyla and Tim are teenagers -- was the in-game action. There really wasn't a coherent plot to most games, with many snaps taking place at a random yard line and no real score being kept track of until the very last minute when somehow Dillon would barely get a play off with time expiring to win or lose the game. This type of football action simply doesn't happen -- unless you're the University of Toledo. The Rockets nearly broke a 90-year streak by becoming the first in-state team to defeat Ohio State earlier this season before losing in the fourth quarter. The next week they played at Syracuse, where the referees declared that they'd missed a game-winning field goal that they had in fact made -- and then they lost the game in overtime. Oh and they lost one game by a score of 63-60 only to win the next game 66-63. Basically, Toledo may be the only team in existence that plays less coherent football games than the Dillon Panthers, which should make for a fun game to watch.

Bridgepoint Education Holiday Bowl, December 28th, 2011, ESPN
Texas vs. California
Texas probably has the best J.D. McCoy vs. Matt Saracen storyline of any team playing this bowl season. Case McCoy (no relation to J.D., because J.D. isn't a real person) much like Matt Saracen really isn't that physically talented as a quarterback, but he displays a lot of grit and heart that has endeared him to some Longhorn fans. But oftentimes this season McCoy has been benched in favor of young gun David Ash, who is probably the most physically talented quarterback the Longhorns have had since Vince Young. Both are expected to get playing time during the Holiday Bowl, so fans of the J.D. McCoy/Matt Saracen storyline, pick a favorite and buckle up.
Champs Sports Bowl, December 29th, 2011, ESPN
Florida State vs. Notre Dame
I look at this match up and the comparison that immediately jumps out is Tyra vs. Landry. Similar to Landry, many of the students who attend Notre Dame are very intellectually focused. And similar to Tyra, many of the students who attend Florida State are hot. Like Landry and Tyra, the schools are traditional rivals. Also like Landry and Tyra, both schools on the surface seem great -- Notre Dame and Florida State have very rich football traditions -- but you go one layer deeper and things aren't so good. Florida State began the season ranked in the top 10, only to loses multiple games and run off with an abusive rodeo cowboy. Notre Dame began the season with a decent shot at a BCS bowl, only to lose their first two games and kill a guy and dump the body in a river. One thing we learned from FNL is that if you put two dysfunctional characters in the same episode for 15 minutes, something awesome is going to happen. As such, expect huge things from this football game.
Valero Alamo Bowl, December 29th, 2011, ESPN
Baylor vs. Washington
No team this bowl season represents an East Dillon Lion-like resurgence from ineptitude more than the Baylor Bears. This isn't only because Baylor went from being the laughing-stock of the nation to have one of the best offenses in college football, but because almost all of their success is thanks to a talented dual-threat quarterback that finally realized his full potential. Ladies and gentleman, may I present your Heisman Trophy winner, but much more importantly, your official "Vince Howard" of the 2011-2012 bowl season: Robert Griffin III. Sure, off-the-field they couldn't be more different -- Griffin was an academic all-american, and Howard dabbled in gang warfare -- but on the field, via their amazing arm strength, nimble footwork, and remarkable charisma, these players are spitting images of one another. We never got to find out where Vince ended up going to college, so the closest you're probably going to get to seeing how he would have turned out at the next level is by watching Robert Griffin. Suffice to say, I think Vince would have turned out alright (Although based on his father's antics, Auburn might have been a more likely college destination).
Bell Helicopter Armed Forces Bowl, December 30th, 2011, ESPN
Tulsa vs. BYU
BYU is kind of like that plot line in season 2 where Lyla gets really religious. Because BYU is really religious. And that's all I got for this one folks.
New Era Pinstripe Bowl, December 30th, 2011, ESPN
Iowa State vs. Rutgers
Iowa State was very much the Julie of this college football season, because they ruined everything. Julie didn't have many episodes where she tried to accomplish something, it was mostly her screwing something up. Oklahoma State was poised to play against LSU in what would have made for an entertaining national championship game... until with two weeks left in the season, Iowa State decided to upset them, leaving us with an uninspiring re-match of LSU and Alabama. The Cyclones were tied with Kansas in the fourth quarter, in a game that would have given the Jayhawks their only conference win, until they decided to ruin that by kicking a game-winning field goal in the fourth quarter. One week after Texas Tech was riding high after beating then #1 ranked Oklahoma, Iowa State decided to beat them 41-7. We understand why Iowa State and Julie exist, but could they just stop raining on everyone else's parade for once? The Cyclones crashed a brand new car into the brick mailbox that was this college football season.
Franklin American Mortgage Music City Bowl, December 30th, 2011, ESPN
Mississippi State vs. Wake Forest
Both of these schools are sort of like Dallas Tinker, the defensive tackle that had a reoccurring role in the show during the fourth and fifth season, in that I honestly cannot determine if they're good at football or not. Like Tinker, both teams showed flashes of being good by defeating fairly respectable teams, but at the same time, they also had Tinker's tendency to be a punch line. Will we see the strong, confident Dallas Tinker who anchors the defense in this game, or the fat, bumbling Dallas Tinker who can't run up and down the field without requesting a cheeseburger? For the sake of the fine folks who run the Franklin American Mortgage Music *pause to catch breathe* City Bowl, I hope it's the former.
Insight Bowl, December 30th, 2011, ESPN
Oklahoma vs. Iowa
Oklahoma had a season similar to that of the Dillon Panthers in season 3, in that it began with so much promise, and then eventually came apart at the seams, culminating with basically everything going wrong. OU entered the year as the #1 ranked team in the country, and then inexplicably lost a game at home to Texas Tech. From there, it looked like they might recover and still win state, er, a national championship, but eventually they would lose to Baylor and conclude the season by being crushed by rival Oklahoma State. If OU loses this game to an Iowa team they severely outmatch on paper, I expect nothing less than for J.D. McCoy's Dad to force Bob Stoops to move to East Oklahoma University.
And that should have you all set for every game being played through Friday.
My next post should be breaking down all the games taking place New Years Eve and the days following, so if you happened to enjoy this analysis, be on the lookout for that later this week.
Until then: Clear eyes, full hearts...
Calling all HuffPost superfans!
Sign up for membership to become a founding member and help shape HuffPost's next chapter