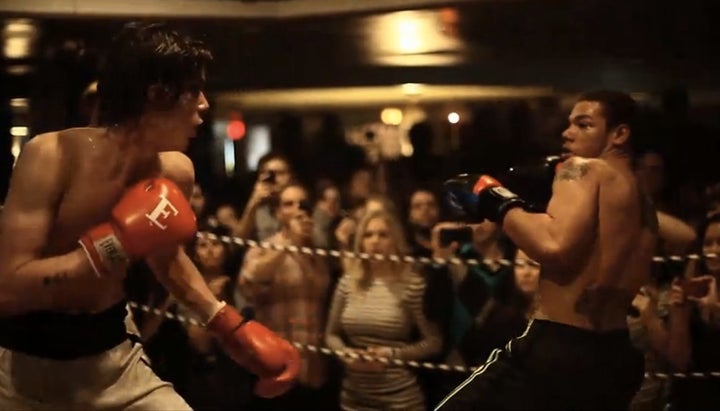 Superchief posted cinematographer Scott Cramer's footage of "Friday Night Throwdown", an amateur boxing club in Chinatown with music, models and, of course, fighting.
Friday Night Throwdown always takes place in a Manhattan warehouse space -- this time, in one of the weird buildings under the Manhattan Bridge, in Chinatown. A regulation ring is built, elevated and roped off. A serious referee officiates. There's an announcer. A bell. Admission is charged. Cheap beer is sold. And there is a ridiculously good-looking crowd. The promoters are obviously well connected. Models pack the ringside -- serious big-name girls and their male counterparts. Through the models, photographers like Steven Klein find their way to the site. Indeed most of the audience has heard about the fights on a fashion shoot, or from a model friend.
The Times notes that the matches are so packed with models that "people call it 'model boxing' or even 'the model fight club.'" The fight on January 28 featured a bout between "Rockstar Charlie" and "Snacks."
"I learn here," Charlie says in the video. "This is where I learn how to street fight."
The fighter says he's been boxing since he was 13 and doing martial arts since he was six.
"I go by the name Rockstar charlie here because, if people were to find out my real name, I would get thrown out of my boxing organization," he said.
"Snacks" takes a much more whimsical approach to the matches.
"For me it's just a paycheck," Snacks says. "My thing for this is for the ladies."
WATCH footage of the January 28th brawl below.