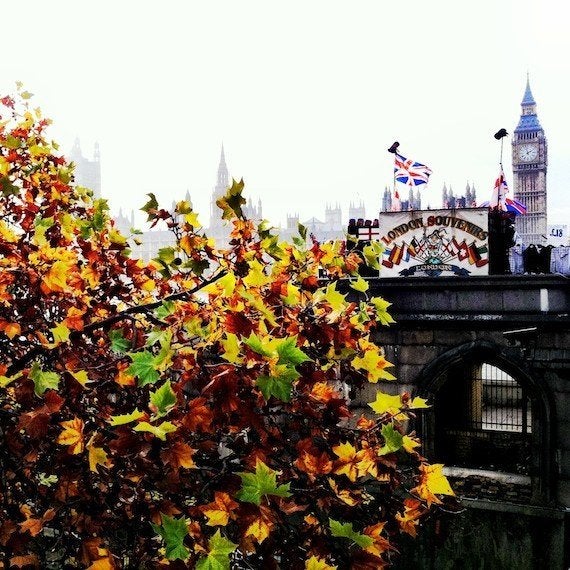 Standing on my balcony, overlooking the canal, I notice leaves creating patterns on the surface of the colorless water. Beautiful, yet later to be spoiled by a passing barge. Leaving my apartment, the gray sky does little to brighten concrete and brown-brick buildings. In this part of the city, there's little visual stimulation to be had.
Later, when I emerge from the tube at Westminster, my eyes are finally rewarded with a bevy of the kind of color my soul longs for on these London days. Lining the banks of the River Thames, the trees are a cloud of orange and yellow. In the distance, Big Ben chimes the hour and vendors sell flag-emblazoned paraphernalia to gullible tourists.
Fall in London is a thing of beauty because wherever there is a tree in the midst of its seasonal change there is a break to the gray which typically blankets Britain in November. Today, I am grateful for every leaf.
What does fall look like where you live or where you've recently traveled to? We'd love to see your photographs! Join me -- and the rest of Twitter -- in sharing images under the theme of "fall" by simply tweeting with the hashtag #FriFotos. See the submissions of your fellow adventurers here or learn more about "FriFotos" here.
Related