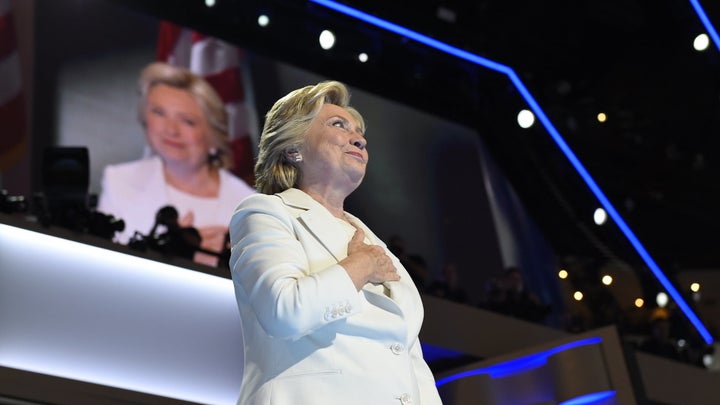 TOP STORIES
FINALLY America has put a woman at the top of the ticket. Hillary Clinton laid out her differences with Republican nominee Donald Trump in her acceptance speech which, in contrast to Trump's, stressed the bright forces sustaining America. Howard Fineman lays out the 11 things Clinton must do to defeat him this November. And wish you had been at the DNC? Relive it with this 360 video of the balloon drop. [Amanda Terkel, HuffPost]
THE SHIFT IN ISIS TACTICS "The mushrooming of small-scale terror attacks in Europe has allowed Islamic State and its adherents to keep people here on edge without having to train and equip teams to pull off highly sophisticated operations. Indeed, some U.S. officials say they believe some of the simpler attacks on softer targets of the type seen recently will prove to have been directed by Islamic State, not just inspired by the group." FBI Chief James Comey warned of a mass "diaspora" of ISIS supporters if the group is defeated in the Middle East. Here's the newU.S. advertising campaign aimed at undercutting ISIS recruitment. And take a look at this graphic depicting the recent spate of terrorism attacks in Europe. [WSJ | Paywall]
AUTHORITIES INVESTIGATING DCCC HACK BELIEVE IT MIGHT BE RELATED TO DNC INTRUSION This hack on the Democratic Congressional Campaign Committee is believed to have been a fact-finding mission on the DNC's donors. [Reuters]
TERRORISM CHIPPING AWAY AT EUROPE'S BOTTOM LINE IN STEEP TOURISM DROP "At the Mont-Saint-Michel, a spectacular medieval abbey that is one of France's top tourist destinations, business at the Sodetour Group, a chain of local hotels and restaurants, slumped by up to 70 percent for months after the Nov. 13 terrorist attacks in Paris. It has never fully recovered." [NYT]
DALLAS POLICE HAVE SEEN A MASSIVE SURGE IN APPLICATIONS Following the deadly ambush shooting this month. [Reuters]
THE FBI CAUGHT THIS FUGITIVE ― 40 YEARS LATER William Claybourne Taylor, who is 67, was on the FBI's Most Wanted list for an assassination attempt on a Florida mayor. [AP]
THE CHARGES HAVE BEEN DROPPED AGAINST THE MAN ACCUSED OF KILLING CHANDRA LEVY Ingmar Guandique, who was serving 60 years for the crime, was granted a retrial after his lawyers argued a key witness had lied in the case of the murder of the 24-year-old Congressional intern. [Reuters]
For more video news from The Huffington Post, check out this morning's newsbrief. 
WHAT'S BREWING
YOUR TWO FAVORITE WORLDS ARE COLLIDING Joe Biden is set to guest star on "Law & Order: SVU." [Time]
MEET YOUR NEW TRAVEL AGENT In an app. [Fast Company Design]
MERYL STREEP AND EMILY BLUNT ARE HEADED TO A 'MARY POPPINS' SEQUEL We can't wait for that spoonful of sugar. [Variety]
MARIAH CAREY OPENS UP TO COMPLEX "Carey has made a career of divulging what she wants when she wants to ― which isn't often. After decades in the tabloid spotlight, she's successfully walled off most of her life from the public." [Complex]
MEET YOUR TEAM USA If this isn't motivation to hit the gym, we don't know what is. [Sports Illustrated]
WE LOVE THE SECRET SERVICE NAMES FOR THE TRUMPS AND CLINTONS And even Mike Pence's is great. [WaPo]
WHAT'S WORKING 
THE POPE'S VISIT TO AUSCHWITZ "Hunched on a bench near the gate to the Auschwitz death camp site in Poland, Pope Francis prayed silentlyon Friday in tribute to 1.5 million people, most of them Jews, gassed there by Nazi occupiers during World War Two." [Reuters]
For more, sign up for the What's Working newsletter.
BEFORE YOU GO
Calling all HuffPost superfans!
Sign up for membership to become a founding member and help shape HuffPost's next chapter