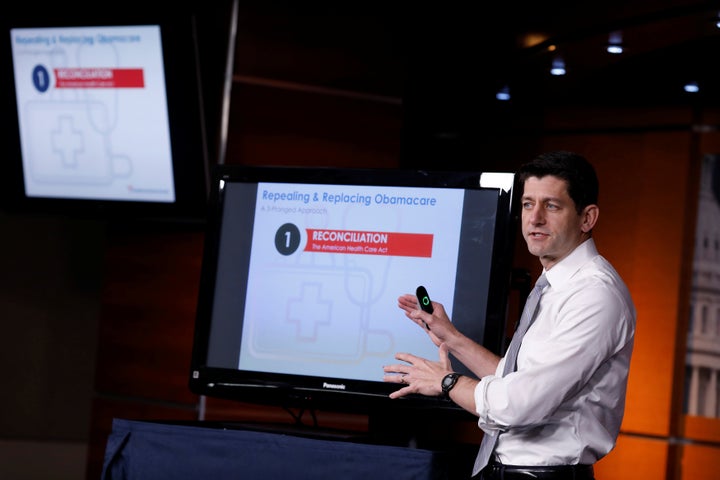 TOP STORIES
(And want to get The Morning Email each weekday? Sign up here.)
My wonderful colleagues Jason Linkins and Eliot Nelson will be taking over The Morning Email Monday through Thursday while I'm on vacation. See you all again next Friday!
GOP HEALTH CARE PLAN PUSHED FORWARD Leaders are pushing a rapid turnaround on the GOP health care plan, with House Speaker Paul Ryan saying he wants to wrap up the process before the April recess. Freedom Caucus members dissatisfied with the plan took their complaintsdirectly to President Donald Trump. And Twitter had a field day photoshopping Ryan's PowerPoint. [HuffPost]
SOUTH KOREAN PRESIDENT FORCED OUT South Korea's Constitutional Court removed President Park Geun-hye from office, the first time a democratically elected official in South Korea has been forced out after a corruption scandal. [Reuters]
MIKE FLYNN CONCEALED FOREIGN LOBBYING WORK The ousted national security adviser just disclosed to the Department of Justice that he was actively lobbying for Turkey during the Trump campaign. White House spokesman Sean Spicer said Trump was unaware of Flynn's work for a foreign government when he named him his national security adviser, and Vice President Mike Pence proceeded to praise the president for having forced him to resign. And take a look at what Fox News' Shep Smith had to say after he went off about the latest revelations. [HuffPost]
INSIDE BERNIE SANDERS' PLAN TO COURT THE TRUMP VOTER "The Vermont senator says the Democratic Party has shown 'enormous neglect' resulting in 'an ultimate failure.'" [HuffPost]
SUSPECT DETAINED AFTER AXE ATTACK IN DUESSELDORF TRAIN STATION At least five people were injured, one seriously, after a man attacked them with an axe in the German train station. [Reuters]
ETHICS OFFICE: NAH, YOU PROBABLY SHOULD HAVE DISCIPLINED KELLYANNE CONWAY FOR IVANKA TRUMP COMMENTS "In a letter Thursday to President Donald Trump's deputy counsel, Stefan Passantino, ethics Director Walter Shaub underlined serious concerns about the Trump administration's 'extraordinary assertion' that White House employees like Conway are not subject to ethics regulations." [HuffPost]
DON'T FORGET YOU'RE GOING TO LOSE AN HOUR OF SLEEP THIS WEEKEND We're sorry ― you'll spring cheerfully into spring (and still lose an hour of sleep) Saturday into Sunday. [HuffPost]
WHAT'S BREWING
WE FINALLY HAVE AN INTERVIEW WITH THE OLSEN TWINS And there are some gems about cooking dinners for stepchildren. [People]
CONGRATS TO MARK ZUCKERBERG AND PRISCILLA CHAN On their adorable announcement that they're expecting baby #2. [HuffPost]
SO, A LOT OF PEOPLE WATCHED A BLOCK OF ICE MELT TO LEARN THE 'GAME OF THRONES' PREMIERE DATE As in over 2 million people. And we wonder when the decline of civilization began. But the real important news ― "Game of Thrones" returns July 16 ― aka 128 days from now. Not that we're counting. [HuffPost]
HERE'S WHAT BRIE LARSON HAS TO SAY ABOUT HER REACTION TO CASEY AFFLECK'S WIN It "spoke for itself." [HuffPost]
J-LO AND A-ROD ARE REPORTEDLY AN ITEM An abbreviated name match made in heaven. [HuffPost]
NOT TO MAKE ANYONE PARANOID But apparently "beauty parlor strokes syndrome" is a thing. And want more bizarre news? Check out our Weird News email. [The Atlantic] 
BEFORE YOU GO
REAL LIFE. REAL NEWS. REAL VOICES.
Help us tell more of the stories that matter from voices that too often remain unheard.