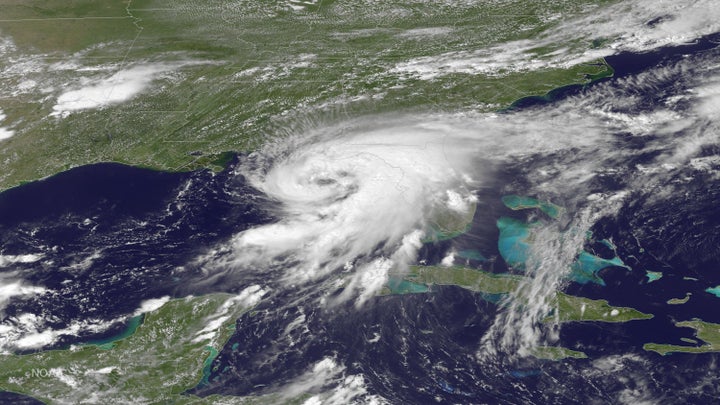 TOP STORIES
HURRICANE HERMINE SLAMS INTO FLORIDA Making it the first hurricane to make landfall in Florida in 11 years. Thousands are without power. Here's a look at the storm at 5,000 feet, as well as some of itsaftermath. It has weakened to a tropical storm as it heads to Georgia. [Reuters]
PUTIN SAYS HE DOESN'T KNOW WHO HACKED THE DNC "Does it even matter who hacked this data?" Russian President Vladimir Putin said. "The important thing is the content that was given to the public." [Reuters]
TOO MANY PEOPLE ARE DYING AT THIS UNDERSTAFFED TEXAS JAIL Understaffing, overcrowding and high correctional officer turnover rates have led to more inmate deaths per capita than most jails in the country. [Dana Liebelson and Ryan Reilly, HuffPost]
SAMSUNG RECALLS GALAXY NOTE 7 FOR FIRE HAZARD Ironically, this is the phone that can survive underwater. [Reuters]
CANADA BEGINS PROBE INTO MISSING AND MURDERED INDIGENOUS WOMEN "Echoed by activists nationwide, indigenous families' repeated pleas for a formal investigation into the violent deaths and disappearances of female loved ones seem to have fallen on deaf ears over the years, despite troubling statistics highlighting the urgency of the crisis." [Jesselyn Cook, HuffPost]
'THE NEW GEOGRAPHY OF PRISONS' "Dearborn County represents the new boom in American prisons: mostly white, rural and politically conservative." [NYT]
A LATINO TRUMP SUPPORTER WARNED OF 'TACO TRUCKS ON EVERY CORNER' You truly cannot even make this up. [Ed Mazza, HuffPost]
For more video news from The Huffington Post, check out this morning's email. 
WHAT'S BREWING
COLIN KAEPERNICK CONTINUES PROTEST OF NATIONAL ANTHEM And two other players joined him. [Reuters]
THAT TIME JETBLUE MIXED UP TWO FIVE-YEAR-OLDS And sent them to the wrong cities. [BuzzFeed]
A VERY EXTENSIVE BREAKDOWN OF THE POSSIBLE RELATIONSHIP OF DRAKE AND RIHANNA In summary, as Vulture puts it, Drake likes to talk about his feelings a lot. [Vulture]
'IS READING THE NEWS ON YOUR PHONE MAKING YOU DUMBER?' "Relative to computer users, mobile users spent less time reading news content and were less likely to notice and follow links and to do so for longer periods of time." [Vanity Fair]
MAYBE THIS IS WHY IT'S SO CHEAP The Feds are investigating Allegiant Airlines for safety concerns. [WaPo]
SO MANY FALL MOVIES TO SEE So little time. Get these on your calendars pronto. [HuffPost]
WHAT'S WORKING 
THAT'S A LOT OF FREE STUFF "Free Enterprise, a group that reports on U.S. businesses solving some pressing problems, looked into that very question and it came back with some heartening results: The one-for-one model is putting an enormous amount of crucial goods into the hands of people who need them, making it a system consumers can trust and feel proud of being a part of." [HuffPost] 
For more, sign up for the What's Working newsletter.
BEFORE YOU GO
Calling all HuffPost superfans!
Sign up for membership to become a founding member and help shape HuffPost's next chapter