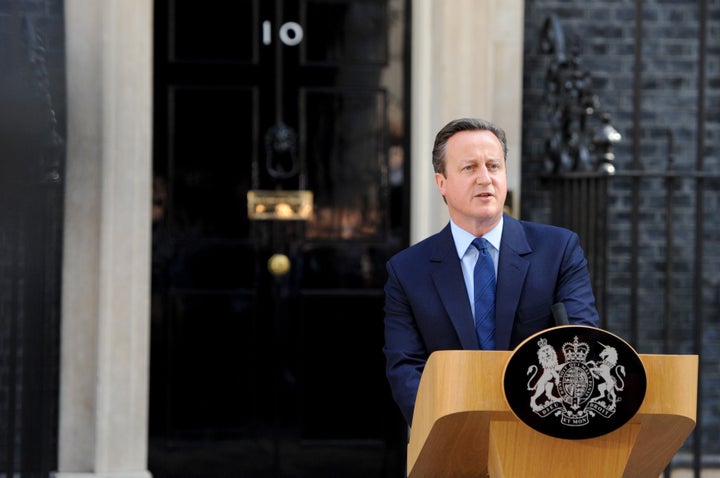 WORLD STUNNED AS U.K. VOTES TO LEAVE THE EU U.K. Prime Minister David Cameron has resigned after Britain voted to leave the European Union. Europe is in turmoil as leaders of member nations called for a review of their European Union membership. In Scotland, which voted overwhelmingly to stay, the leader of the Scottish parliament is pushing for a second independence vote from the U.K. Here's what it's like to be European "in the time of Brexit." And take a look at Britain's front pages in the aftermath. [Nick Visser, HuffPost] 
THE MARKETS BLOOD BATH Global stocks plunge in the economic uncertainty for Europe, in "a historic drubbing for investors who had stacked up bets that the U.K. would choose to stay." The U.K. has reportedly dropped from its spot as the fifth-largest economy in the world. And take a look at how far the pound has plunged in value. [WSJ | Paywall]
WHAT THE BREXIT VOTE MEANS FOR THE U.S. COME NOVEMBER "The pro-Brexit vote in the U.K. is a cry of defiance by what's left of that Anglo-American white tribal faith, and the decision to leave the European Union should send a shudder through those who think that Donald Trump is a xenophobic, racist nationalist with no chance to win the U.S. presidency." [Howard Fineman, HuffPost]
THE SUPREME COURT HAD A BUSY DAY The court deadlocked on President Barack Obama's immigration reform, ruled blood tests for drunk drivers need a warrant and held up affirmative action. [Cristian Farias, HuffPost]
THE OFFICER WITH THE MOST SERIOUS FREDDIE GRAY CHARGES GOES FREE Baltimore Police Officer Caesar Goodson Jr. was the third of six officers to stand trial. [Julia Craven, HuffPost]
HAWAII MAKES MOVES ON GUN CONTROL "While lawmakers in Washington maintain the status quo, failing to take action on even modest gun control measures this week, the governor of Hawaii on Thursday signed into law a trio of bills aimed at better protecting island residents from gun violence." [Chris D'Angelo, HuffPost]
ARMED ASSAILANT WHO STORMED GERMAN MOVIE THEATER KILLED Despite earlier reports, no hostages or movie goers were shot. [CNN]
For more video news from The Huffington Post, check out this morning's newsbrief.
WHAT'S BREWING
THE MORAL DILEMMA OF THE SMART CAR The new trolley scenario. [HuffPost]
MY FOUR MONTHS AS A PRIVATE PRISON GUARD "There are almost never more than two floor officers per general population unit. That's one per 176 inmates." [HuffPost]
'WHAT MAKES THE BRONX' An investigation by The New York Times. [NYT]
FEEL OLD "The Devil Wears Prada" just turned 10. [Variety]
MEET THE WOMEN FIGHTING THE COLOMBIAN GOVERNMENT "Women make up approximately 30 to 40 percent of the force. Carrying out the same duties as men, from cooking to combat, many women inside the FARC say it is a haven from the traditional roles expected of them in machista Colombian society." [California Sunday]
WATCH THE NBA FINALS This time in Legos. [Digg]
WHAT'S WORKING 
THIS CHARITY LETS YOU REDIRECT YOUR CASH BACK REWARDS "The new Charity Charge credit card lets users donate their cash back rewards to any nonprofit of their choice, according to a release. The MasterCard issued by Commerce Bank gives cardholders one percent cash back on every purchase, to be given to up to three organizations or K-12 schools of the user's choosing." [HuffPost]
For more, sign up for the What's Working newsletter.
BEFORE YOU GO
REAL LIFE. REAL NEWS. REAL VOICES.
Help us tell more of the stories that matter from voices that too often remain unheard.