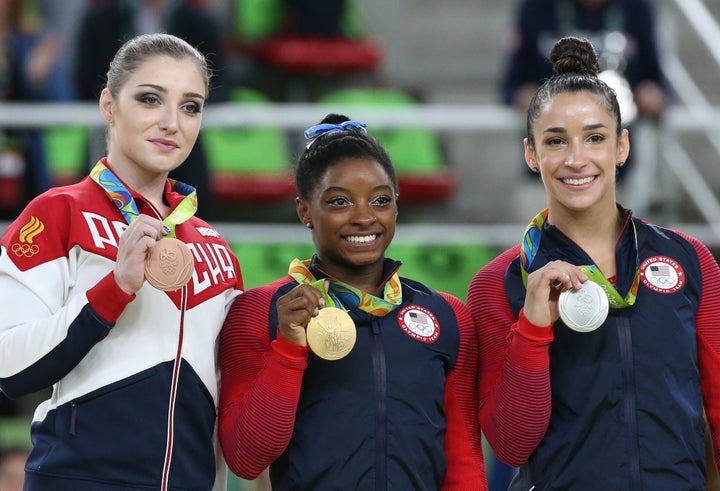 TOP STORIES
THE TALE OF TWO SIMONES Simone Biles claimed her title as the best gymnast of all time with a gold medal win in the women's all-around. She beat the rest of the competition by a margin greater than the margins of victory from 1980 to 2012 ― combined. And Simone Manuel made U.S. Olympic history when she took gold in the 100-meter freestyle in a tie, becoming the first African-American to medal in an individual swimming event. As she put it: "It's for all the people after me who can't ― who believe they can't do it. And I just want to be an inspiration to others, that you can do it." [Nick Visser, HuffPost]
AND DON'T FORGET ABOUT THE GREATEST OLYMPIAN OF ALL TIME Michael Phelps put in another superhuman performance to claim his fourth consecutive gold in the 200-meter IM Thursday night, and then turned around a little over a half hour later and qualified for the 100-meter butterfly. Just a reminder ― he's 31 and just broke a 2,000-year-old recordfor individual Olympic wins. Here's what to watch for tonight ― don't miss Phelps' final pursuit for individual gold and Katie Ledecky's swim in her best event. And follow along with HuffPost's latest Olympics coverage. [Ryan Grenoble and Nick Visser, HuffPost]
DONALD TRUMP WANTS TO TRY AMERICANS AT GUANTANAMO Small problem ― that's illegal. And that's the least of the GOP nominee's problems this morning as he heads into a "come to Jesus" meeting with party leadership in Orlando. [Alana Horowitz Satlin, HuffPost]
THE BREWING WARS IN IRAQ "For the past two years, Kurdish peshmerga, Iraqi Army forces, Shiite militias and some Sunni ones have largely overlooked long-standing differences to confront the menace posed to them. But their feuds and grievances ― over vital issues such as the distribution of power, land, money and oil ― have not been resolved." [WaPo]
MACY'S TO CLOSE 100 STORES The reign of online shopping is here. [CNN]
INSIDE THE SEX SLAVE TRADE ― IN HOUSTON Texas is the nation's number-two sex trafficking state. [CNN]
TALK ABOUT A BUMPY RIDE 24 people were hospitalized following a Jet Blue flight from Boston to Sacramento. [Jade Walker, HuffPost]
For more video news from The Huffington Post, check out this morning's newsbrief. 
WHAT'S BREWING
HOW TWITTER ENABLES THE TROLLS "Fenced in by an abiding commitment to free speech above all else and a unique product that makes moderation difficult and trolling almost effortless, Twitter has, over a chaotic first decade marked by shifting business priorities and institutional confusion, allowed abuse and harassment to continue to grow as a chronic problem and perpetual secondary internal priority. On Twitter, abuse is not just a bug, but ― to use the Silicon Valley term of art ― a fundamental feature." [Buzzfeed]
DARTH VADER IS BACK Only for a second (but it's enough) in the new "Rogue One" trailer. [HuffPost]
ANIMALS ARE JUST BETTER AT SPORTS THAN WE ARE Even Usain Bolt gets crushed going up against a butterfly's speed. [Atlas Obscura]
PRESIDENT OBAMA'S SUMMER PLAYLIST PUTS YOURS TO SHAME Anything featuring Sara Bareilles AND Charles Mingus is a win in our book. [HuffPost]
THIS FAMILY HAS 13 KIDS AND ONE INCOME And no debt. [WaPo]
5G ISN'T QUITE IN REACH "The promises are as lofty as those made for cold fusion. But the science behind that 'breakthrough' turned out to be a bust. Likewise, the '5G' story is far more complex, calculated, and contingent than anyone in the carriers' PR departments wants you to know." [Backchannel]
WHAT'S WORKING 
THIS ROBOTIC SUIT IS WORKING WONDERS FOR THOSE SUFFERING FROM SPINAL CORD INJURIES "A brain-controlled robotic suit has helped eight patients with severe spinal cord injuries recover some of their neurological function, scientists revealed Thursday in the journal Scientific Reports." [HuffPost]
For more, sign up for the What's Working newsletter.
BEFORE YOU GO
REAL LIFE. REAL NEWS. REAL VOICES.
Help us tell more of the stories that matter from voices that too often remain unheard.