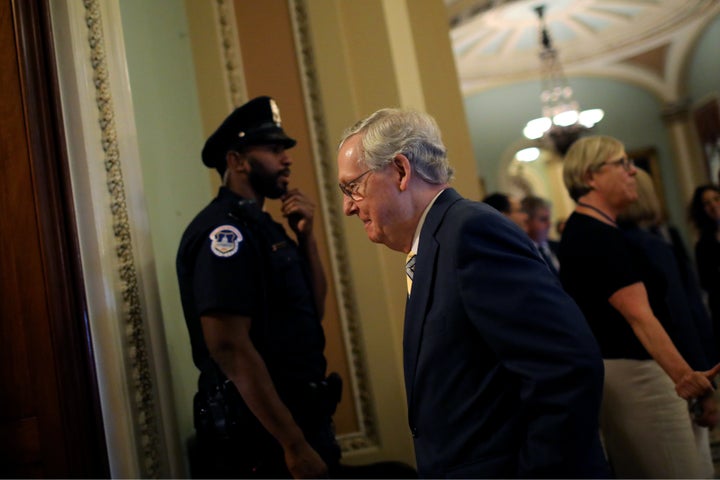 TOP STORIES
(And want to get The Morning Email each weekday? Sign up here.)
I'm headed off for USC's National Fellowship for Health Journalism next week, so my colleagues Eliot Nelson, Kate Sheppard and Ariel Edwards-Levy will have you all until the 25th. Thanks as always for being loyal readers!
THE GOP STILL DOESN'T HAVE THE VOTES FOR THE HEALTH CARE BILL Sen. Susan Collins and Sen. Rand Paul don't want it, and Senate Majority Leader Mitch McConnell can't afford to lose another vote or he won't even get the bill to the floor. And that's all despite the new legislative language unveiled yesterday. [HuffPost] [Tweet | Share on Facebook]
THE GOP OPERATIVE WHO WAS SEARCHING FOR CLINTON'S EMAILS REPORTEDLY KILLED HIMSELF "Peter W. Smith, a Republican political activist and financier from Chicago who mounted an effort to obtain former Secretary of State Hillary Clinton's emails from Russian hackers, died on May 14 after asphyxiating himself in a hotel room in Rochester, Minn., according to local authorities. He was 81 years old." [WSJ | Paywall]
JUDGE NARROWS TRAVEL BAN U.S. District Judge Derrick Watson has granted Hawaii's push to exempt grandparents and other relatives from the ban. [Reuters]
A MAN HAS CONFESSED TO KILLING FOUR MISSING PENNSYLVANIANS Cosmo DiNardo, 20, reportedly made a deal to avoid the death penalty. [HuffPost]
GUNMEN OPEN FIRE NEAR JERUSALEM'S HOLIEST SITE Killing two police officers. [Reuters]
MOST AMERICANS ARE OBLIVIOUS TO STARVATION CRISES OVERSEAS "Twenty million people are at risk of starving to death in the crisis-afflicted countries of Nigeria, South Sudan, Somalia and Yemen. A staggering 85 percent of Americans don't know that, or are only dimly aware." [HuffPost]
WHAT'S BREWING
BEFORE YOU GO
REAL LIFE. REAL NEWS. REAL VOICES.
Help us tell more of the stories that matter from voices that too often remain unheard.