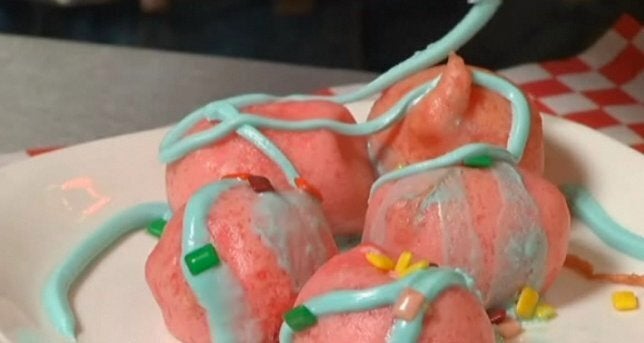 In Texas, it's go big or go home.
And just when you thought state fairs had explored the entire spectrum of fried foods, fried bubblegum makes an appearance and takes the cake.
The fluffy, pink deep-fried concoction claimed the top prize for "most creative" dish at the State Fair of Texas' Big Tex Choice Awards on Monday.
But fried bubblegum isn't exactly what you'd expect it to be: It's a marshmallow that's been dipped into pink batter, fried and topped with blue icing and some Chiclets (for good measure, of course).
The judges announced the winners of the best in Texas fare on Sept. 6. The fair is set to kick off Sept. 30.
The chewy creation wasn't the only food to grab the judges' attention, though.
Buffalo chicken in a flapjack, won the prize for best-tasting food. The dish features chicken strips coated in batter, jalapeno breadcrumbs and is then deep-fried, according to The Associated Press.
Some fairgoers-to-be don't think fried bubblegum sounds very appealing, nevertheless appetizing.

Popular in the Community