As a young chef in Charleston back in the 90's, I remember the city's dining public being enthralled with a handful of high-end establishments such as Carolina's, Anson, Philippe Million, 82 Queen, and Magnolia's. These were formal restaurants with dress codes, starched tablecloths, glittering silver on the table, and wine lists the size of a phone book. Dinner at one of these establishments usually meant spending a princely sum. They all served Shrimp & Grits in one form or another, and they attracted diners from all over the world. If one wasn't properly dressed or attune to the protocols of dining, one could feel as out of place as a Southern Baptist with a bad knee at a Catholic mass. And if you didn't have a designated driver, you were climbing into a foul taxicab for an expensive ride home. Sure there were plenty of casual, affordable restaurants, however, back then those restaurants didn't aspire to the level of preparation that places such as Carolina's did. However in the last twenty years or so, things have changed. Today one can dine in a funky, cool, affordable restaurant where the staff and food aspire to high levels of service and preparation, yet the atmosphere, and prices, keeps everything cool and casual. And thanks to Uber, in Charleston and across the country, location isn't quite the challenge it used to be. Location is still important, just not the deal breaker it once was.
We recently spent a weekend in Charleston and sampled half a dozen relatively new spots and came away with three new favorites definitely worth some digital ink. And between the three of these, there wasn't a plate of shrimp & grits to be found.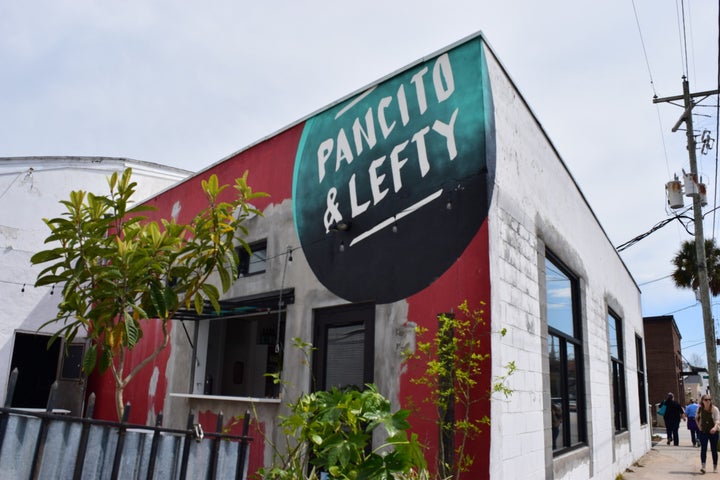 The amor de nino of hospitality veterans Robert Berry and Jimmy Poole, Pancito & Lefty is Mexican food at its best and brightest. It's street food such as tacos and tamales, and more sophisticated fare as their Vampire Softshell Crab or Pozolo Rojo. Our favorite of the small plates was the fried fish taco with pickled cabbage and chipotle crema. Chipotle, just in case you didn't know, is a smoked then dried jalapeno pepper. Served on a freshly made and warm tortilla, the crunch and brine of crispy fried fish under a squirt of the chipotle cream was heavenly. We sampled a knockout of a chicken tamale finished with an intoxicating mole sauce. And then there was the Ceviche. Local red snapper, gently diced, tossed in pico de gallo and leche de tigre (Peruvian term for the citrus based cure), topped with a julienne of local radishes and a chiffonade of greens then presented with their own corn tostadas. It was beautifully prepared, sublime, refreshing, and one of the highlights of our weekend. And I never would've guessed it paired well with Mezcal.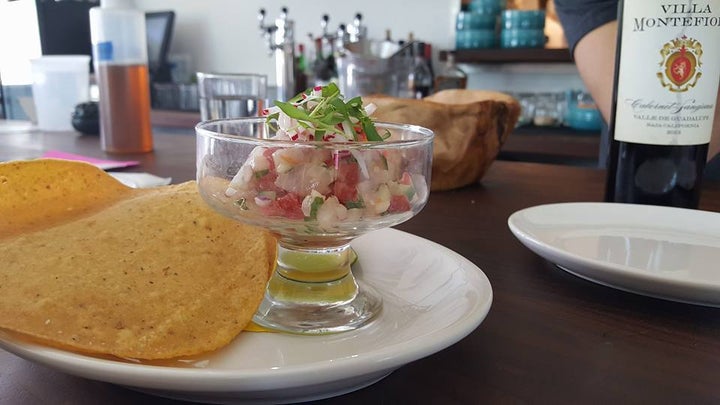 Pancito & Lefty's has invested heavily in Mezcal and their resident expert, David Axelrod, gave us a fascinating master class in all things Mezcal, after which we sampled one, or two. (Hey, it was an Uber weekend). I'm not going to go into the details because listening to David's Mezcal tales made for great lunch time conversation. So go for yourself and see if you can't prod some Mezcal knowledge and a story or two out of him.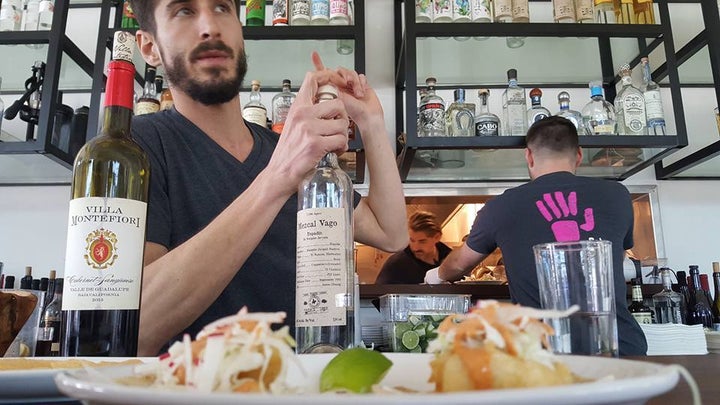 With its pop of Pacific pastels, rustic interior, and clever fonts, Pancito & Lefty reminds one of a Baja Cantina, without the crashing surf. They're open seven days a week for lunch and dinner.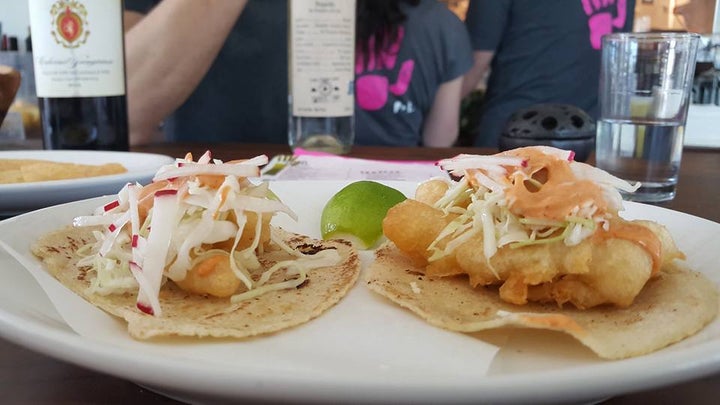 Leon's Fine Poultry & Oysters
A neighbor of Pancito & Lefty's, Leon's is the quintessential Magazine Street pub, plucked right out of New Orleans, circa 1951. Yeah, this place doesn't feel like Charleston at all. Leon's is all exposed rafters, Edison lighting, distressed concrete and Creole funky. Yet it's taken its place amongst Charleston's most visited (and written about) restaurants and typically has lines out its King Street door. And it's worth the wait. Their service is exemplary and considering Leon's is hopping for eight to ten hours straight, that's an accomplishment. The food at Leon's is naturally heavy in oysters (on the half shell, fried in cornmeal, topped with mignonette, grilled with butter and parmesan) and chicken.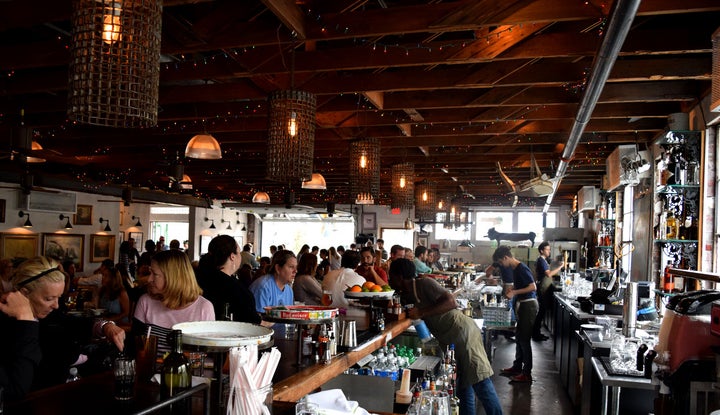 Yet Leon's also packs a punch with its selection of roasted, fried, and braised vegetables. From fried Brussels sprouts to Avocado toast to kale salad, there's enough modern vegetable preparation to please the most die-hard food fanatic, or chef.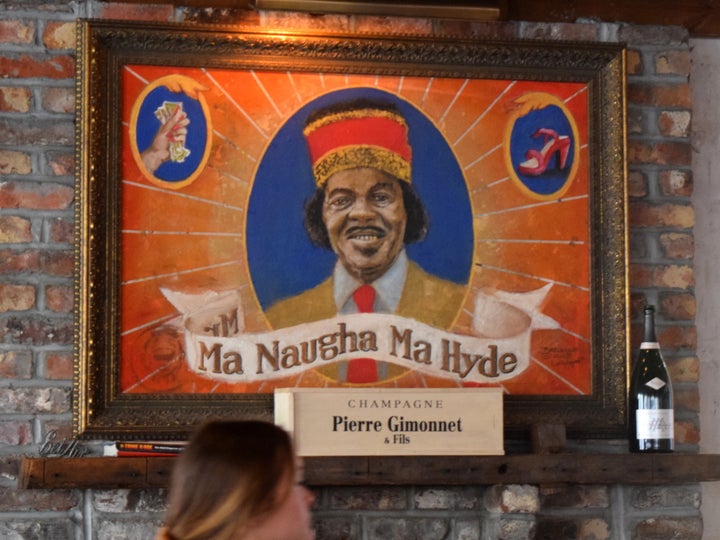 And then there's the chicken. First a word of caution, Leon's uses a smaller bird than what you may be used to. But don't panic! Just enjoy it because it's truly wonderful fried chicken. At first sight of those shimmering pieces of chicken, you'll have to resist hefting that leg and tearing into it, lest you scorch the inside of your mouth. Our chicken arrived about 150 degrees, right out of the fryer. Once it cooled to 135 or so, Jeez Louise was it delicious! The skin had the thinnest of coatings and it crackled and shattered between my teeth. The meat was generously moist from I'll guess a 24-hour salt & sugar brine. And at eight bucks for two pieces, it was worth every penny. Their fried chicken breast sandwich was equally as memorable. Adorned with freshly made slaw and their own bread and butter pickles, supported by a warm sesame seed bun and garnished with a spoon of Duke's mayonnaise, that fat breast of chicken achieved a serious level of deliciousness.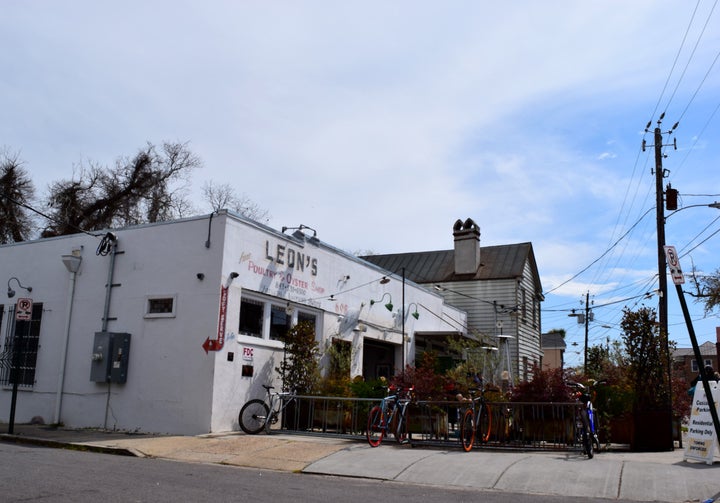 Leon's has a fine selection of craft beers, interesting cocktails, and even frozen wine slushies for those Charleston summers. It's a seriously well-run establishment and even though it's but a few years old, the staff moves with knowledge and efficiency and knows they're in the hospitality business. I've dined in restaurants 30 or 40 years old that haven't achieved this level of service. Leon's has been in business since 2014 and their purpose in life is the simple pleasures that well executed fried chicken, and grilled, buttery oysters can provide, yet their service staff clicks along better than some well-known white tablecloth establishments can't manage.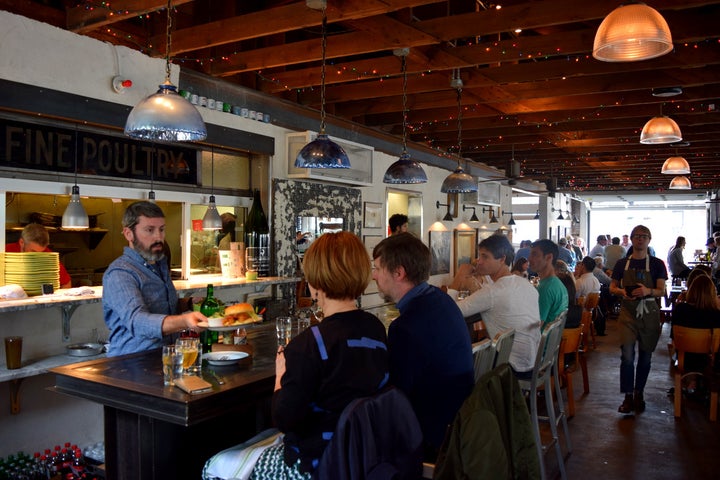 Leon's is open seven days a week, from 11:00 am until 10:00 pm, 11:00 pm on Friday and Saturday.
This is by far my favorite spot in Charleston right now. Their kitchen staff strives to bring out the best in their food, their beer is on par with the finest made anywhere, and their wine list has been properly curated to bring out the best in their food. Edmund's Oast is big, lively, fun, and while a little pricier than the other two I've mentioned, they also have higher aspirations.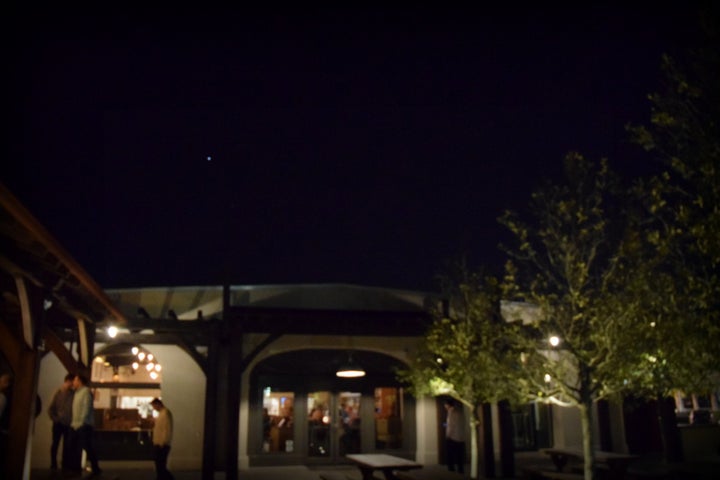 Depending on how much time and money you have, Edmunds Oast can be as casual as a picnic under the stars, or as sumptuous and languid as a five-star meal with matching wines. Their menu features such simple pleasures as hand cut fries, a brilliant roasted chicken, an outstanding cheeseburger, and chilled asparagus. Yet they also offer a serious tasting menu at their chef's bar and their menu could easily play out over five, six, or seven courses. Their charcuterie rivals the best I've had in New York and LA, and their more sophisticated dishes are sheer pleasure. Take their Soft Shell Crab spaghetti. With handmade noodles, fresh Spring peas, smoky lardons, and wild garlic it was a Carbonara for the coast. Deliciously brilliant and locally apropos, it hit all the right notes.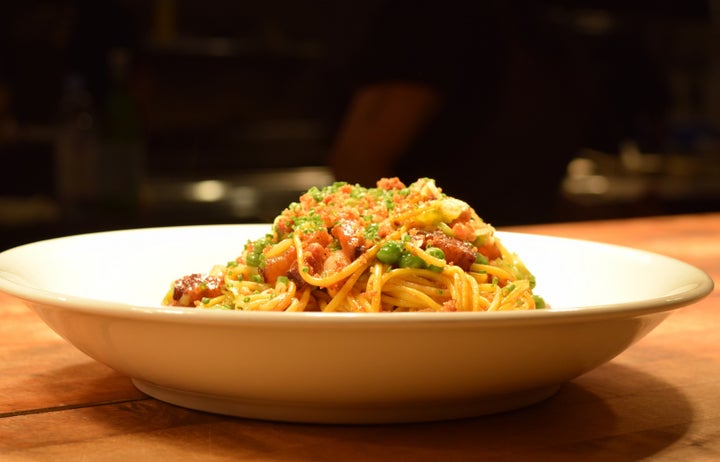 Chef Reid Henniger naturally features plenty of local seafood yet he really shines when the vegetables show up at the table. Broccoli, kale, chicory, rapini and Pole beans presently star on his menu. His Pole beans are simmered Southern style in a deeply complex chicken stock, local broccoli is roasted and finished with caramelized shallots and a gloriously fatty Hollandaise sauce, and even his fries are cut from the freshest of Russet potatoes and served with a slightly spicy, wholly delicious serrano pepper and buttermilk dip.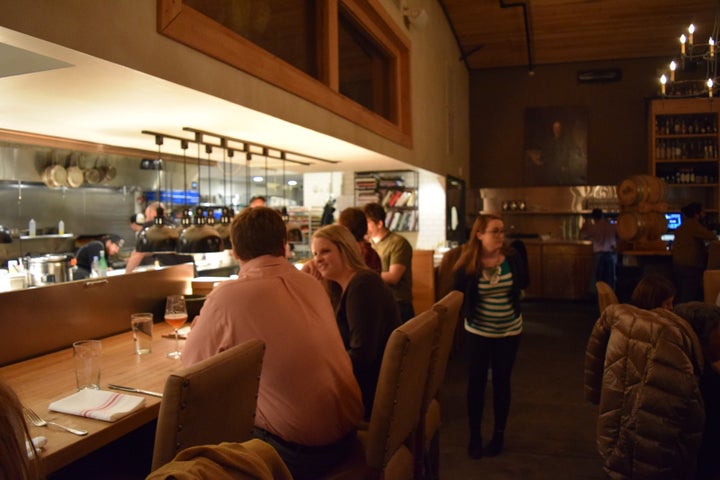 Unlike the other two places, Edmund's Oast does have access to a decent amount of parking and since opening, they've attracted a fair amount of neighbors such as Home Team BBQ.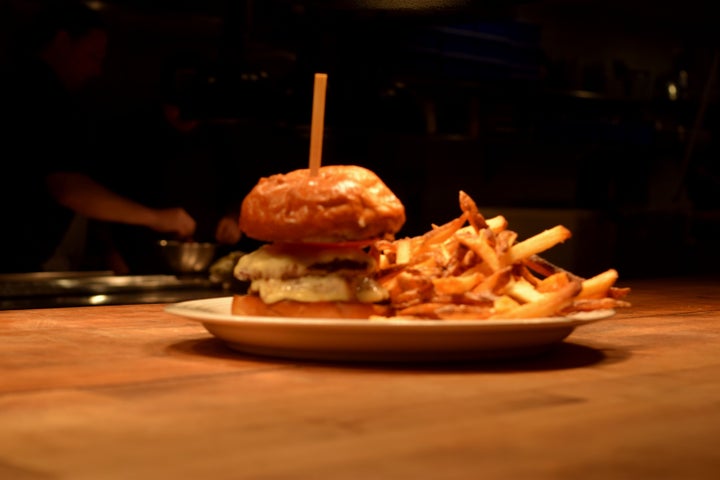 Charleston is different than most cities its size. Its culinary excellence spans the whole of its restaurant industry. Over the course of many years, it's gained a reputation for excellent cuisine and that's brought new talent to the area. And as the restaurant business has evolved and flourished, Charleston has stayed up to date via the courage of young chefs and restaurateurs attracted to its long growing season, steady supply of seafood, and its steady supply of adventurous diners. The culinary atmosphere in Charleston is akin to the skies of Europe in 1944. There's an awful lot of aces buzzing around and if you're going to fly, you better be good.
Related
Popular in the Community