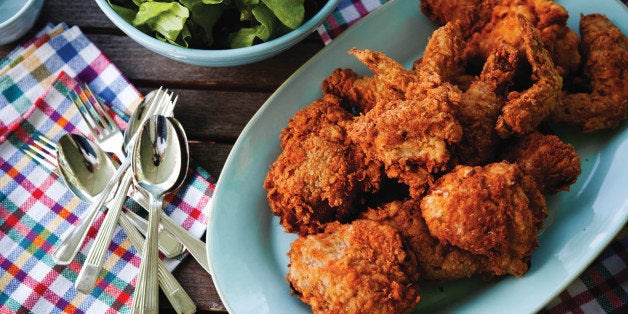 When it comes to fried chicken, you have to trust the South. No matter how well David Chang can crisp up a chicken leg, no one knows better than Southerners when it comes to battering and frying chicken. We get the need to experiment when it comes to food -- it's how we've been blessed with molecular gastronomy -- but when we're dealing with fried chicken we suggest going all classic all the time.
Lucky for us, we have the best Southern resource for a dish as epic as fried chicken: John Besh. If you're not familiar with John Besh, he's a renowned chef born, raised and currently cooking in southern Louisiana. This fried chicken is not his recipe, but his grandmother's (which makes it even better).
When it comes to a dish like fried chicken it isn't about the latest culinary advances that makes it great, but tradition. In a great fried chicken recipe you can almost taste the history. It's not the ingredients that make it special, but the passing down of little tips through generations that make all the difference between good fried chicken and one that's transcendental.
This fried chicken recipe calls for nothing more than chicken, buttermilk (a necessity), flour, oil, salt and pepper. That's it. But, it's the directions that make it the only fried chicken recipe you'll ever need. Letting the chicken soak for 15 minutes or being sure to cover the pan as the chicken cooks makes for a real difference you can taste.
Get more chicken recipes.