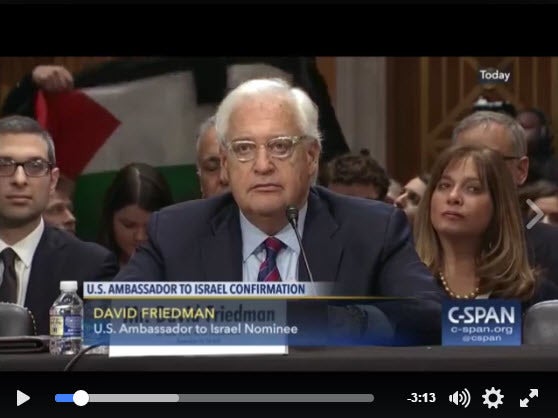 Three weeks after a contentious hearing in which Capitol Police arrested six people – including two of my colleagues – for disrupting proceedings in protest, the Senate Foreign Relations Committee quietly and quickly approved the nomination of David Friedman as U.S. ambassador to Israel on March 9. The 12-9 vote, mainly along party lines, means the nomination will move to the full Senate, where it is imperative that a rigorous and healthy debate of Freidman's merits, or lack thereof, takes place.
All Republicans plus New Jersey Democrat Bob Menendez voted for Friedman. Nine Democrats opposed the nomination.
Friedman's support for Israeli settlement expansion and moving the U.S. embassy to Jerusalem contravene more than 50 years of U.S. foreign policy under administrations of both parties. His views illustrate why we cannot let his nomination become a partisan issue and thereby guarantee his swift confirmation. Shifting course in U.S. policy now surely will disrupt any movement toward peace, thwart Palestinian aspirations toward statehood, and will hurt American national interests in the Middle East and across the globe.
To be sure, it's important to fill these top diplomatic posts as soon as possible. However, approving an avowed pro-settlement figure, who smears anyone who disagrees with him as anti-Semitic – or worse as kapos – is not in the best interest of the American people. In March 2010, Gen. David Petraeus, then head of U.S. Central Command, testified before the Senate Armed Services Committee that the Israel-Palestine "conflict foments anti-American sentiment, due to a perception of U.S. favoritism for Israel." He called the ongoing issue a "challenge to U.S. security." Imagine, then, sending an ambassador to Israel who not only supports settlers and settlement expansion, but funds them as well.
Last December, the international community passed UN Security Council Resolution 2334, which states settlements have "no legal validity." On this fact alone, we should be wary of approving this nomination. Friedman could greatly destabilize an already unstable region.
Foreign relations committee Ranking Member Ben Cardin told his colleagues he wouldn't vote for Friedman because of his "divisive, inflammatory, and offensive statements," saying Friedman couldn't "credibly" represent the United States. Sen. Dianne Feinstein lamented in the San Francisco Chronical Friedman's "dangerous" positions and wrote he "rejects decades of bipartisan U.S. policy and international consensus toward the Israeli-Palestinian conflict," that "undermine," U.S. national interests.
Contrary to what Friedman would have us believe, it is not anti-Semitic to criticize Israeli policies that contravene international law and deprive Palestinians of their human rights. Several in the Jewish community have come out strongly against his nomination, including Sens. Cardin, (D-MD); Feinstein (D-Calif.); Bernie Sanders (D-VT); Al Franken (D-MN); and Congresswoman Debbie Wasserman Schultz (D-FL), one of the strongest Israel supporters on Capitol Hill.
We need to ensure the protection of our national interests and that's best done by debating the merits of Friedman's nomination on the Senate floor. Political dissent is an American tradition. Indeed, our Constitution and form of government are the product of such. Let's return to this tradition and publicly air the issues surrounding Friedman and his nomination.
My colleagues and their cohorts were willing to spend a day in jail to call attention to Friedman's dangerous positions. We want the Senate to take notice. Friedman is not good for peace and stability for Palestinians and Israelis and he's not good for Americans and our interests. Most likely, his positions will not be able to withstand close scrutiny and robust discussions, but we will never know if the vote is quickly pushed through without debate. Palestinians and Israelis deserve an American diplomat they can trust to unequivocally meet challenges there fairly and without bias. And Americans deserve to know their senators will put our interests ahead of partisan politics.
Follow Kristin Szremski on Twitter (@kristin_scribe).