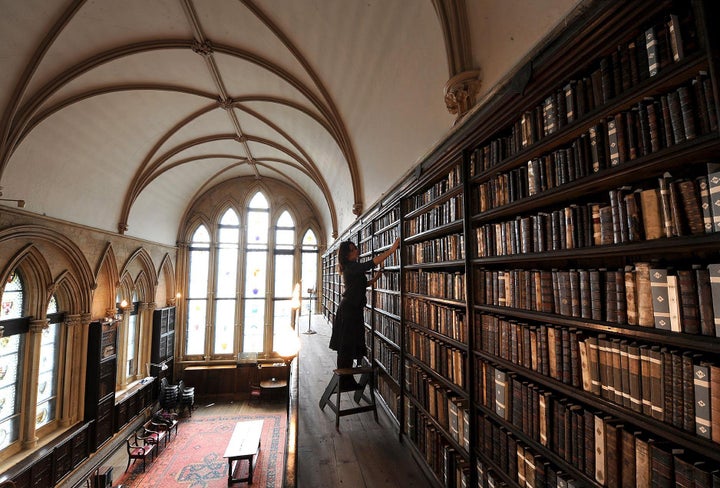 Hollywood insiders familiar with "The biz" know that the TV industry is currently knee-deep in pilot season. Every year, hundreds of pilot scripts jockey for a coveted position on a network's primetime lineup, but most unfortunately never see the light of day. One such script, was the highly lauded pilot Leave it to Nietzsche, a series about a family living with the 19th century Nihilist philosopher, Friedrich Nietzsche. The show was nearly picked up for a full season, but later dismissed by TV executives as "esoteric," "morbid," and "potentially blasphemous."
Luckily, the script was recently recovered from the dustbin of TV purgatory. Excerpts of it have been republished below for the benefit of the sophisticated and highly educated viewers of Huffington Post.
INT. SUBURBAN RANCH STYLE HOUSE - KITCHEN - MORNING

(BRAD HUCKLEFORD sits at the breakfast table. His wife, PAMELA cooks eggs. TWIN 5-year-olds, ETHAN and EMMY dance around their chairs. Also sitting at the table is 19th century philosopher FRIEDRICH NIETZSCHE, who stares morosely at his toast.)
BRAD: Well today's the day! Ol' Boss Jenkins is promoting a certain someone at the office this afternoon.

PAMELA: Brad Huckleford, I am so proud of you.

BRAD: Don't you mean Vice-President Brad Huckleford?

Brad and Pamela share a BIG LAUGH.

NIETZSCHE: Is man one of God's blunders? Or God one of man's blunders? Neither, for God is dead.

(A long SILENCE. Then... )
BRAD: Wow... just imagine: me, Vice President! I can't wait to finally use the executive washroom!

PAMELA: Um, honey, aren't you forgetting something else about today?

BRAD: Let's see: my promotion, the Cubs are playing the Padres, bowling with the fellas at McNulty's... nope, I don't think so.

PAMELA: (tapping foot) It's our anniversary!

BRAD (pulling shirt collar): Gurrrrrrp-a-derrrrrrp...

BIG STUDIO AUDIENCE LAUGH.
NIETZSCHE: What is ape to man, but a laughing stock of painful embarrassment. And man shall be that to the Übermensch. Mankind is a rope tied between beast and the Übermensch -- a rope over an abyss.

BRAD: Pumpkin muffin, I did not forget our anniversary. I got you the best gift in the world, but it's a surprise!

PAMELA: Oh goody, I can't wait!

BRAD: (sotto to Nietzsche) Jeez-louise, I don't really have an anniversary gift. What am I gonna do?

NIETZSCHE: In the consciousness of the truth he has perceived, man now sees only the awfulness and absurdity of existence, and loathing seizes him. Insanity in individuals is rare, but in nations and epochs, it is the rule. Also, God is dead.

SMOOTH JAZZ MUSIC STING AS WE GO TO COMMERCIAL...
INT. SUBURBAN RANCH STYLE HOUSE -- KITCHEN -- LATER THAT NIGHT

(Ethan and Emmy play their pajamas. Pamela cooks meat. Brad ENTERS panting for air, exhausted. Nietzsche sits, glumly staring at a grandfather clock.)
BRAD: Change of plans, sweet'ums, Ol' Boss Jenkins is coming over for dinner?

PAMELA: What? When?

BRAD: Tonight!

PAMELA: Tonight? But the roast isn't cooked, the house is a mess, and I haven't even started the casserole.

BRAD: We're gonna need more forks!

(Brad and Pamela SCRAMBLE over each other in wacky comic ways.)

NIETZSCHE: The thought of suicide is a great comfort for it gets man through many a dark night.

DING-DONG

BRAD AND PAMELA: Ol' Boss Jenkins!

(Brad opens the door. OL' BOSS JENKINS stands with a sour look.)

OL' BOSS JENKINS: This dinner better be good, Huckleford, your career is riding on it.

BRAD: Y-y-y-yes, Mr. Jenkins right this way.

OL' BOSS JENKINS: Pamela, this pot roast is delicious. Vice-President delicious!

BRAD: T-t-t-thank you, Mr. Jenkins.

EMMY: (super cutesy) Thank you, Mr. Jenkins.

STUDIO AUDIENCE 'AWWWWWWS'

NIETZSCHE: Modernity is our sickness. For it is a lazy peace, a cowardly compromise, and a virtuous uncleanliness of the zeitgeist.

OL' BOSS JENKINS: (re: Nietzsche) Who's this tall drink of water?

BRAD: Oh, that's 19th century German philosopher Friedrich Nietzsche. He's staying with us until he finds his own place.

NIETZSCHE: A casual stroll through the lunatic asylum shows that faith proves nothing.

OL' BOSS JENKINS: Fella, I like the cut of your gib. How'd you like to come work for me?

BRAD: Frederich Nietzsche? As my new co-worker at the plant?
(mugging to camera)
Oh brother...

BIG LAUGH FROM STUDIO AUDIENCE.
NIETZSCHE: The Übermensch is the meaning of the earth. Religion was from the beginning, life's nausea.

UP-TEMPO TENOR SAX RIFF AS WE FADE TO COMMERCIAL

EXT. TALENT SHOW CARNIVAL -- DAY

(The Huckleford family, wearing matching pastel sweater-vests and straw boater hats, huddles together. Friedrich Nietzsche still wears all black,)
BRAD: Alright gang, if we want to win this talent show we need to come together as a family and play our darned hearts out.

PAMELA: But we can't play. My lucky ukulele's broken

BRAD: Or is it...

(Brad pulls out a fixed shiny ukulele for Pamela)
BRAD: Happy Anniversary.

PAMELA: You remembered!

(She HUGS Brad. Brad gives a sly WINK to Nietzsche.)
NIETZSCHE: When you stare into the abyss, the abyss also stares into you.

BIG LAUGH FROM STUDIO AUDIENCE.

BRAD: Hey, Ethan, looks like your little crush from school showed up after all! Go get her, scout!

(Ethan timidly approaches his school crush, who is Libertarian philosopher AYN RAND)
ETHAN: (shyly) Thanks for coming to my show...

AYN RAND: The savage's whole existence is public, ruled by the laws of his tribe. Civilization is the process of setting man free from men.

NIETZSCHE: Man is the cruelest animal. The Übermensch organizes the chaos of his passions.

BRAD: Tell that to my mother-in-law!

PAMELA: Hey!

BRAD: (mugging to camera) That's Nietzsche for ya!

APPLAUSE FROM STUDIO AUDIENCE

NIETZSCHE: God is dead. God remains dead. And we have killed him.
REAL LIFE. REAL NEWS. REAL VOICES.
Help us tell more of the stories that matter from voices that too often remain unheard.