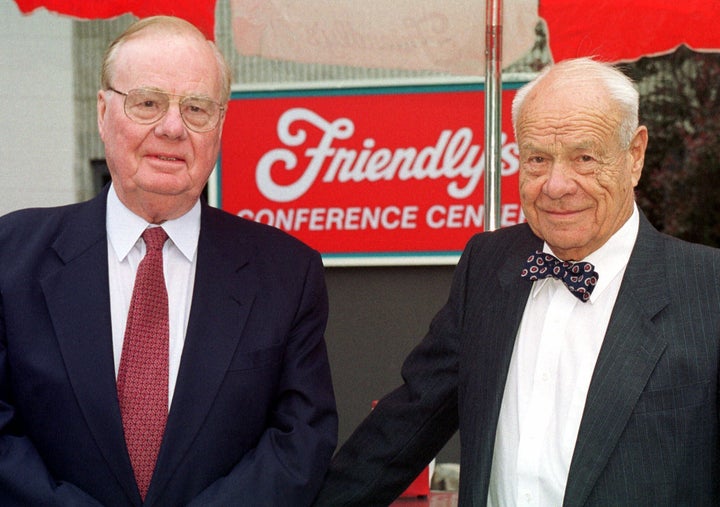 UPDATE (10-5-11 11:39 a.m.): The AP is also reporting that Friendly's has filed for Bankruptcy. Here's the AP report:

NEW YORK (AP) -- The parent of the Friendly's restaurant chain filed for Chapter 11 bankruptcy protection on Wednesday and said that it has already closed 63 of its stores. Each store employed about 20 people, so about 1,260 jobs were lost.

The 76-year-old company known for its ice cream and hamburgers is the latest restaurant chain to file for bankruptcy, as consumers continue to eat out less, a habit they picked up during the recession, and food costs remain high.

Other companies that have sought bankruptcy protection this year include Perkins & Marie Callender's; Real Mex, which operates El Torito Restaurant and Chevys Fresh Mex, and SSI Group Holding Corp., which operates Souper Salad and Grandy's restaurant.

Friendly's said the economic downturn coupled with higher costs and high rents drove it to file for bankruptcy protection.

"The strategic decision to pursue a financial restructuring will allow us to proactively and quickly improve our financial position," said CEO Harsha V. Agadi.

Friendly Ice Cream Corp., based in Wilbraham, Mass., says it has secured $70 million in financing and that its 424 remaining restaurants will stay open and pay employee salaries and benefits as it reorganizes under bankruptcy protection. Gift cards will continue to be honored. Friendly's now employs about 9,000 workers.

Its current owners, Sun Capital Partners, will be the lead, or "stalking horse" bidders, in an auction process.

The company filed for bankruptcy protection at the United States Bankruptcy Court for the District of Delaware.
Friendly's is on the verge of bankruptcy, according to a report from the Wall Street Journal. The ice cream and casual dining chain will apparently file for Chapter 11 protection as early as next week. The Journal reports that the over 500 Friendly's location will likely remain open during bankruptcy proceedings, with the help of a $75 million financing deal with Wells Fargo bank.
A slideshow about the corporate history of Friendly's on the company website ends with the note, "With 75 years of creating great family experiences, Friendly's is the brand that brings our guests quality meals, ice cream the way it should be, and everlasting family memories for generations to come." Yesterday's Friendly's bankruptcy rumors make this conclusion seem almost laughably optimistic -- and increasingly unrealistic.

Related