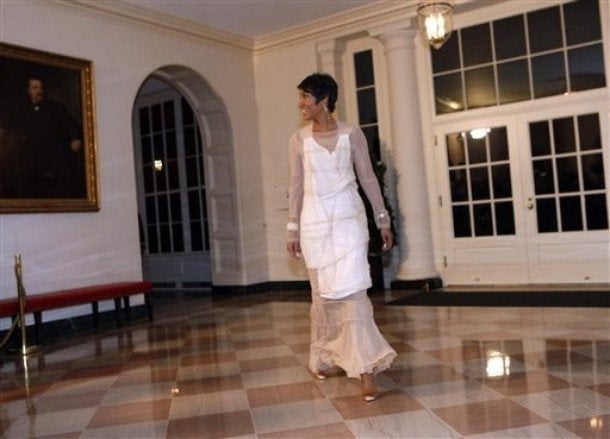 White House Social Secretary Desiree Rogers came under attack after a Virginia couple crashed President Obama's first state dinner, but her friends and colleagues are fighting back.
People close to Rogers strongly dispute the emerging caricature of her as a spotlight-seeking diva who invited herself to the dinner for Indian Prime Minister Manmohan Singh and skirted her responsibilities while she was there.
A source with knowledge of the evening's events tells the Huffington Post that, other than about five minutes "to pick at her salad," Rogers spent the entire evening coordinating and working the event. She was spotted and photographed in the rope line preceding the dinner, but the source said that was only after completing frantic, last-second planning for the high-profile affair.
Prepping all day on Tuesday, she changed into her outfit just 30 minutes before the state dinner started, the source added. And she was "shadowing" the president and first lady at a separate private reception for roughly 20 people shortly after arriving.
"What are the odds she was going to be lackadaisical at the biggest moment of her life?" the source asked. "Zero. That's why these stories don't make any sense. Her reputation is at stake."
The source spoke in defense of Rogers because the social secretary had been told not to speak to the press. "I think the way it is being characterize and the way it is coming off that she is too big a personality for the White House, it just doesn't make sense," the source said.
On Wednesday, White House Press Secretary Robert Gibbs was peppered with questions about Rogers's performance and capacity for the job. One questioner asked whether there was concern within the administration that Rogers was too high-profile for the post. "What about the issues of her being in fashion spreads early on in the administration? Did you put the brakes on that?" Gibbs dismissed those questions.
Still, questions over how the Virginia couple, Tareq and Michaele Salahi, skirted security and reached the president unimpeded persist. And while Rogers may have been an active presence at the dinner, members of the press and lawmakers on the Hill are demanding more information about the role her office played in helping enforce security that evening.
Rogers has declined to testify before Congress about her role in planning the event and staffing officials at security locations. Gibbs cited the separation of powers and a history of White House staff not testifying before Congress for that decision.
Appearing on ABC News on Thursday, senior adviser Valerie Jarrett, a close friend of Rogers, concluded that the White House had now "answered the questions fully."
The White House has, since the snafu, implemented a new policy that would require that a White House staffer be dispatched to each entrance during such high-profiled affairs.

Popular in the Community