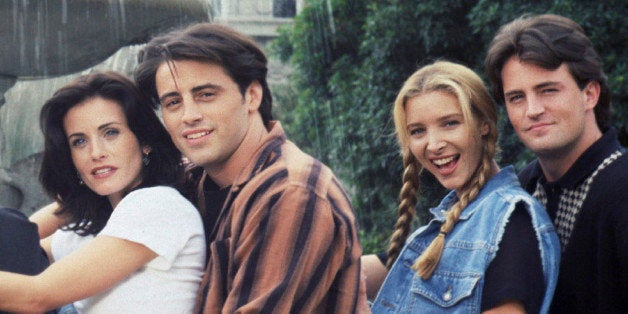 The very first line on "Friends" was "There's nothing to tell." Over a decade later, that's still not true at all. With all 10 seasons of "Friends" available on Netflix -- and to celebrate star Jennifer Aniston's birthday -- The Huffington Post spoke with original set decorator Greg Grande, art director (or today's equivalent, production designer) John Shaffner and also combed through old interviews with the cast to get deeper trivia about "Friends" than just that it used to be called "Insomnia Cafe."

It's hard to remember a time when "Friends" wasn't a huge money-making, cultural hit. But in the early days, the show just had a regular sitcom budget. That forced Grande to use materials that were within arm's reach.
"The first thing I did was scour the Warner Bros. prop house," Grande explained. "Literally in the basement, deep in one of the corners of the basement, was this sofa that was absolutely beautiful and the line of it was just gorgeous. It was very tattered. We cleaned it up a little bit, it had quite a few rips in the fabric. But we cleaned up."
Not enough for NBC, it turns out. The network had Grande reupholster the couch and clean it up even more. Grande said that the still memorable but slightly less recognizable green chair was also found in that basement. Grande attempted to find out what Warner Bros. had used these seats for in the past, but never had luck.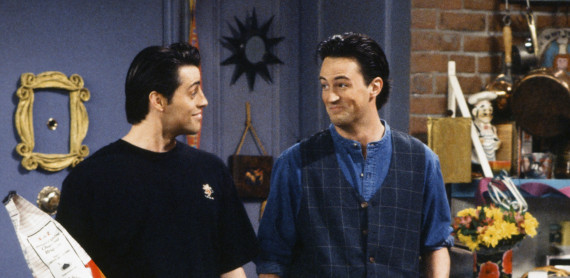 Grande bought the frame from the Rose Bowl Swap Meet and initially dressed it into the set as a normal picture holder that sat on a table.
"I originally had it as a picture frame that had a back on it," he said. "And while we were dressing the glass in it broke and I told one of the guys, 'Well let's see what that frame looks like around the peephole.' And they put it up there for me and that's where it lived for the next 10 years. It actually was as simple as that. Kind of a funny mistake."
The idea might have come from John Shaffner pushing for Grande to do something special with the door. Shaffner really doesn't like when doors in sitcoms are lackluster. "It's one of my pet peeves," he said, "especially in sitcoms in New York, what's on the back on the door."
So before the break of the frame, Shaffner had been telling Grande, "Come on, Greg, what're we going to do with the back of the door? What're we going to do with the back of the door?" Then Grande had the broken frame and figured he might as well try it out.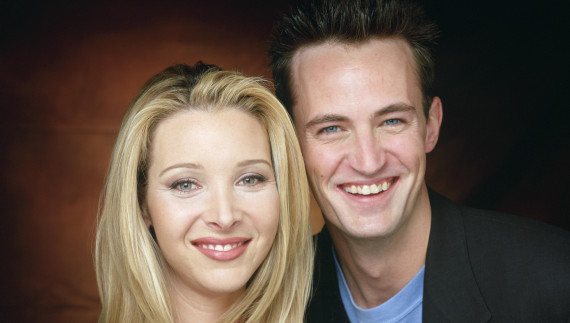 According to a 1995 article in People, Chandler Bing's trademark awkwardness came from Matthew Perry himself.
Particular dating mishaps would even make it into the show. That said, of course the Bing character was made more ridiculous than Perry for the sitcom. The actor is quoted as saying, "These characters are slightly exaggerated, slightly more entertaining versions of ourselves."
Beside the awkwardness, arguably Bing's most memorable aspect -- exaggerated questions -- also comes from Perry. "He has this way of speaking, using questions like, 'Could this be any more this or that?' So they wrote an entire episode about how everybody at his office makes fun of him because of the way he talks," Jennifer Aniston said.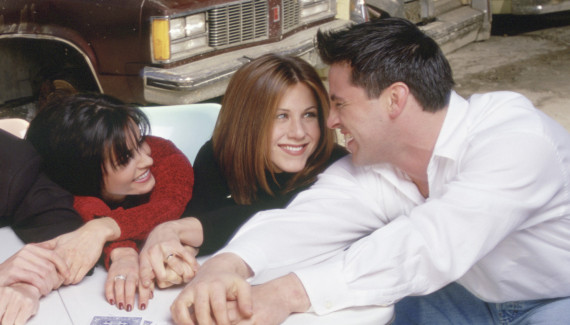 In the People article, writer Craig Tomashoff explained how Matt LeBlanc was perceived before he'd even met the cast:

Some cast members were also nervous about LeBlanc, 27, who hails from Newton, Mass. (his father is a mechanic and his mother makes circuit boards), and whose résumé includes a stint looking studly as a Levi's model. "I was scared of that type of guy," says Aniston, who assumed he'd be muy macho. "He thinks it's very funny now. And actually, he can sit down and comfort me just like Courteney or Lisa could."
Having someone constantly hitting on you asking, "How you doin'?" might get sort of annoying, but LeBlanc was more of a "How are you doing?" person in real life.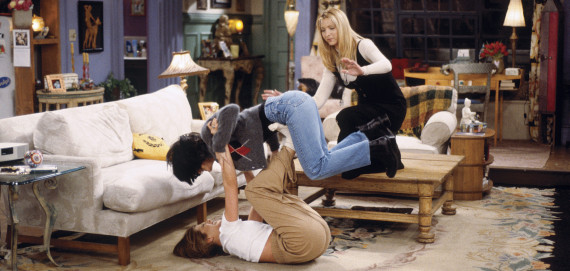 Co-creators Marta Kauffman and David Crane, producer Kevin Bright and the designers John Shaffner and Joe Stewart each drew from their own New York experiences to create "Friends." Specifically, Shaffner and Stewart lived together in an apartment that ended up becoming the inspiration for Monica's apartment and the show's home base.
"We'd all had similar New York experiences in the late '70s, so we kind of reached into our communal New York lives and withdrew a lot of elements that we felt were appropriate for the story," Shaffner said. "And we had lived in a sixth-floor walkup, so we knew you got a bigger apartment for less money if you're willing to climb six flights of stairs."
But there was always a perennial question about the show: How did Monica afford such a huge apartment?
"The answer was it's the sixth floor of a walkup," Shaffner said. The explanation of rent control was written into the show as it was easier to explain to the wider audience, but this was always the real reasoning in his mind.
Since the characters were largely broke in the beginning of the series, the decorating inspiration was thrift stores and flea markets and even other people's garbage. "When you need to furnish your place and you don't have much money, one of the great places to shop is the streets of Manhattan," Shaffner said.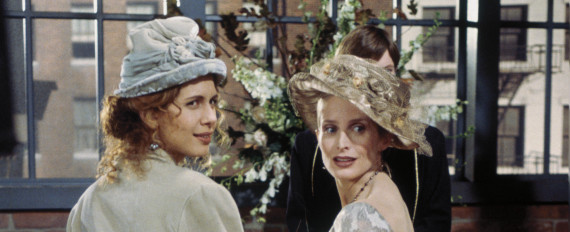 As The Daily Dot recently argued at length, "Friends" was an important show for pushing equality. Earlier seasons contained problematic gay panic jokes, and the show certainly got criticism for having an all-white cast, but even by just Season 2, a whole episode was focused on a gay wedding.
According to David Wild's book, Friends ... 'Til the End, the network was expecting a lot more pushback than they received for "The One with the Lesbian Wedding." Executive producer Marta Kauffman said, "NBC expected thousands and thousands of phone calls and hate mail."
Instead, NBC received only four complaints by telephone.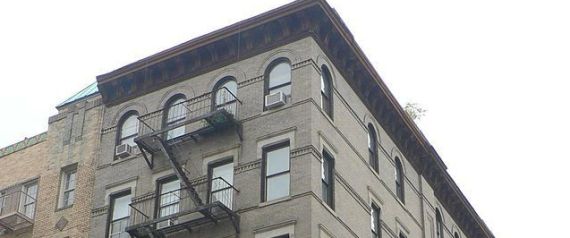 It's often labeled as a mistake that the establishing shot for Monica and Joey's apartments is wrong. There is a fire escape where there shouldn't be; there's no balcony. John Shaffner had the same exact reservations. Initially they had wanted him to make a window for Monica's apartment that was sort of special and gave it a kind of identification, hence the big multi-paned window in the show. Shaffner wanted the exterior shot to match so as he said, "I went to New York and came back with an armful of pictures of the tops of the sixth-floor buildings with windows like that."
But then the show used something else entirely and Shaffner wanted an explanation.
"They got an establishing shot with arched windows and I'm like, 'Well, we don't have any arched windows in the set,'" Shaffner recalled. "So that was always, to me, kind of like where are these windows. So they said, 'Don't worry, we're just showing the building, their apartment is on the other side, don't worry.'"
The establishing shot is supposed to be showing the other side of the building. Perhaps unorthodox, but at least it clears up that supposed error?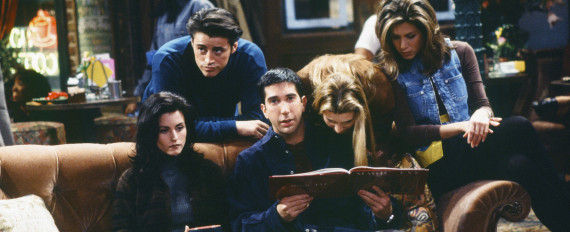 Shaffner wanted to make it clear that any specific restaurant used as inspiration was then tweaked to create the wholly original Central Perk. That said, there is one place that seems to have been particularly on his and the creators' minds.
"The coffee house came about because there was a little restaurant that we used to all go down to on West 4th Street in Manhattan, and it had a door in the corner," Shaffner said. "So we went to Kevin and Margaret and David and when we showed them the model and I said, 'We want to do a little corner door like the restaurant that we used to go to,' and they remembered it as well. It was called Arnold's Turtle."
Unfortunately, Arnold's Turtle, which was a vegetarian restaurant, is no longer open. In its place -- at 51 Bank Street -- is Hamilton's Soda Fountain & Luncheonette. Not exactly Central Perk, but, for superfans, maybe worth a trip.
Both Shaffner and Greg Grande talked about how this was sort of "before the coffee craze." So despite pictures of New York coffee shops, the main inspiration came from, as Shaffner said, "yesteryear's bohemian coffee shops where people really came in and hung and played music and did all that stuff." Grande also mentioned Internet cafes where people would actually hang out for a few hours as a reasoning for why these friends would spend so much time at Central Perk.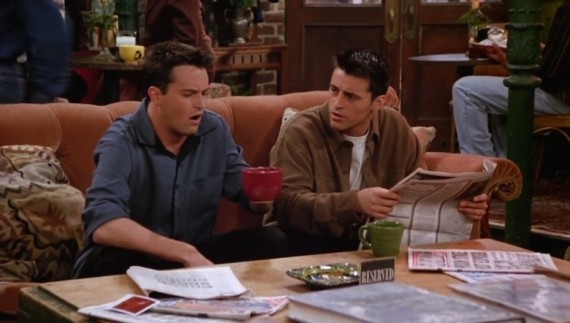 Bustle recently pointed out that the reason the characters always got their spot at Central Perk was because there was a very subtle "Reserved" placard on the coffee table. This realization briefly broke the Internet.
"Early on in season one, as we always found them at that table and the discussion was now, 'They got there early. Or they were the first ones there. Or why do they always get this table?'" Grande said. "So the smartest solution was just to actually put together a reserved table and let your imagination, suspend your imagination so that as we progressed in the years -- who knew it was going to be 10 years? -- it was theirs."
He added, simply: "That was always their space, so we put a reserved sign on it."
Before You Go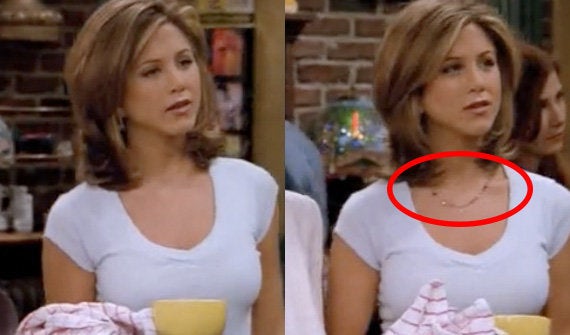 "Friends" Goofs To Watch For
Popular in the Community