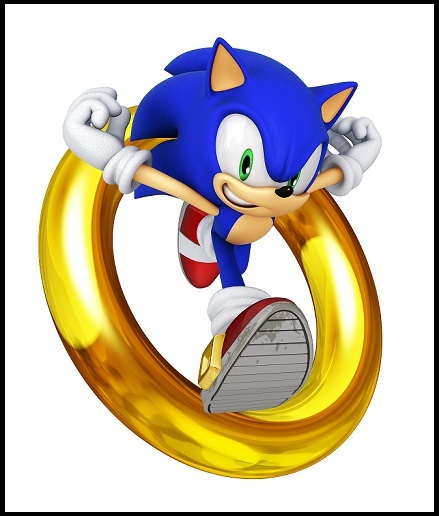 Sonic turns 25 years old on June 23rd! Sonic the Hedgehog has been one of the world's biggest gaming icons, with 70 video game titles, five animated series, and an extensive global merchandising line to his name.
Sonic the Hedgehog's Website & Twitter.
Oh my freakin' gold ring goodness. My chili dog eating friend, Sonic the Hedgehog, turns 25 years old on June 23rd.
That means I'm 35 years old! (cough, yeah right.)
As you all know, I can't / don't / never will cook, so if someone doesn't cook for my kids, they will eat yogurt or Kashi cereal (thank you actress Victoria Cartagena from Gotham and Hulu's The Path!)
When the kids pressured me to make them ONE meal, I went right to the Nerdy Nummies YouTube site my daughter pointed out to me which showed how to make Sonic's favorite food, Chili Dogs - and a side of Golden Onion Rings. (Get it? Of course you do.)
(As I'm writing this, I realized how smart it was of my daughter to bring that recipe to my attention because if it wasn't Sonic related, I never would have made the attempt.)
The hatchlings tell me it's the best meal I ever made. That's because it's the ONLY meal I ever made!
So last week we were, you know, hungry, and I'm like, "Oh man, now what?" when bing! A txt from a friend comes over about a carnival in the next town over. Muahaha, food and games. Perfect.
After the kids chowed down on whatever didn't fall off the thin paper plates, we were browsing the games and it's all the same stuff I grew up with: make the frogs leap into the lilypad, throw a baseball to see your pitch speed, bang a sledge hammer so the thing rings the bell at the top... the games had the same boring prizes. (It was hard to remember that the kids haven't been around 35 years to see the same carnival games over and over and over again.)
And then it happened. As we turned the corner, there was SHADOW, the plush character stuffed animal, staring me right in the face. Now I knew we had to play this game, which was toss the ball into a cup and win a prize. "I must win Shadow. I must win Shadow." The hatchlings got excited and I busted out the leftover change in my pocket and told them to win me Shadow!
Would you believe that all the money was gone and not one ball went into the cup? Yes, you believe it, because that's what happens to you, too!
I felt my blood start to heat up, furious at the fact that I was going to go home without Shadow. Why, why, why did this have to happen to me?! If Shadow wasn't there, I'd be all "La la la, okay it's time to go home, kids!" but noooooooo. No, no no no no no NO.
I asked the game-lady if my friend could just toss the ball, for fun, no money, and not win a prize, just to see what happens. The game-lady said, "Sure" and it was ON. My friend tossed the one ball right into the cup. I'll say it again. My friend tossed the one ball right into the cup.
If there was ever a time to see my cry, that was it. The rest of the night was a blur. All I knew was that I went home without my plush friend Shadow.
So whoever is in charge of TOMY, the toy company that makes the Sonic the Hedgehog toys, if you're reading this, please... please send me my Shadow plush!
I hear that TOMY will commemorate this 25th milestone with special anniversary introductions - the plush characters are in classic styles from 1991.
On September 27, I will go silent because I'll be playing the Sonic Boom Fire & Ice video game on my Nintendo 3DS. Who wants to play with me?!
Popular in the Community