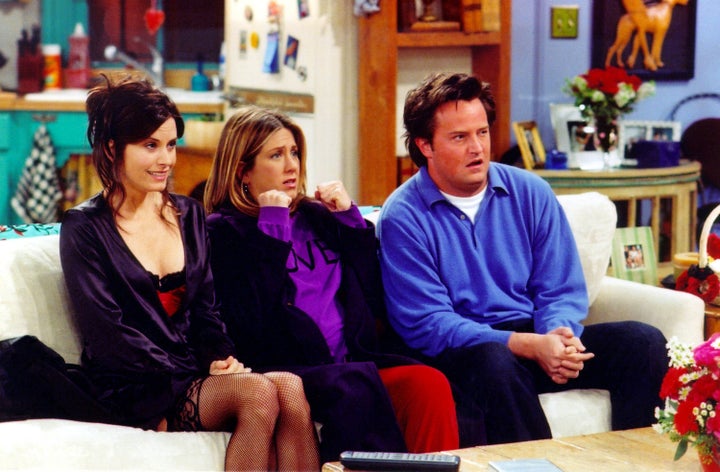 I'm sitting next to a statue of a woman with a full turkey covering her head. The statue begins to teeter toward the ground, but an artist involved with her creation, Tom Molloy, grabs the statue and stabilizes her before the crash. Molloy knows he won't be able to save this piece of art for long, though.
The statue must survive until Friday's opening day of the new "Friends" pop-up at Replay in Chicago's Lincoln Park neighborhood, but the artists fully understand the ephemeral quality of all their hard work.
"This bar has been beat up," Molloy said. "People come in here and are reckless. That's one thing that we've had to get over quickly, is that people will come in here and just destroy everything if they get the chance. All this nice stuff you see right now, like this furniture and the little things ― the vases and the flowers ― they'll be gone in a few weeks."
The Chicago-based artists behind the installation ― known as the Pop Up Squad ― have quickly become pros of this niche art form. The group has collaborated with Replay since October 2017, when the bar hosted a pop-up based on "The Simpsons." Since then, the bar has had runs of various pop culture pop-ups, including "South Park," "Rick & Morty," "The Office" and the video game "Fortnite."
Despite the art's inevitable doom, the squad clearly put a ton of work into this new "Friends" pop-up. Artists were still working on final touches as I browsed the new setup, but I could see highlights, like multiple apartment re-creations (one with custom flooring), a re-creation of the famous dog statue that the characters Joey and Chandler owned in the show and, of course, the Monica-with-turkey-head statue.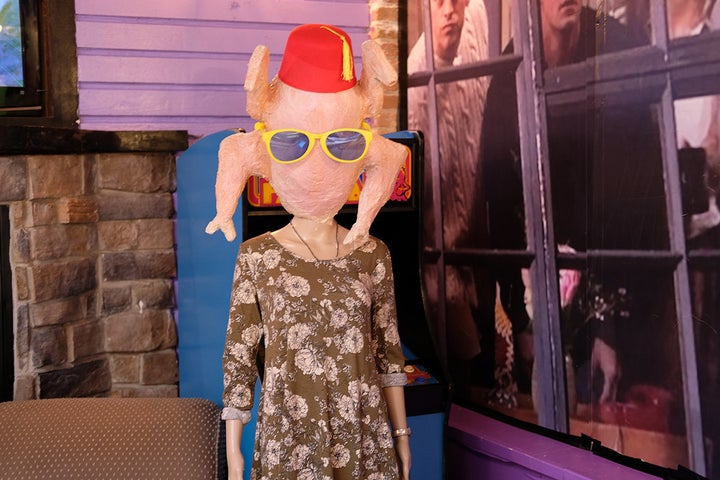 The pop-up will last until Nov. 25 ― barring legal troubles.
Emporium, another Chicago arcade bar that occasionally does pop culture pop-ups, got a jokey cease-and-desist from Netflix when the bar had a "Stranger Things" project in 2017. Replay has since taken the torch from Emporium as the go-to place for pop culture pop-ups in the city but has similarly had many conversations with lawyers.
"I just played dumb," Replay owner Mark Kwiatkowski said of the expected moment lawyers reached out during an "It's Always Sunny in Philadelphia" pop-up. Kwiatkowski very much seems to still have a "hope for the best and ask for forgiveness later" attitude when it comes to these events.
But through persistence, Replay has started getting on the good side of production companies' marketing teams. Over the last year, Replay has actually collaborated with the rights owners in getting the projects to the finish line. Fingers remain crossed that happens for the "Friends" installation.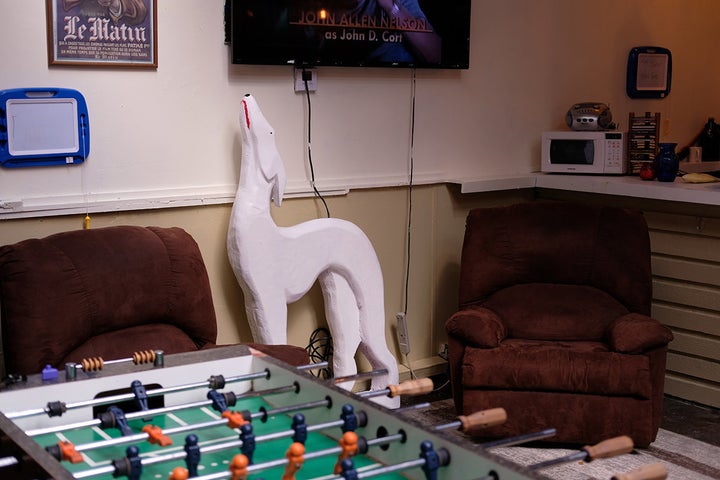 Over the next couple of weeks, Replay will host "Friends"-themed events, including a foosball tournament and a trivia night focused on the show. A Phoebe-esque singer-songwriter also might make an appearance.
The Pop Up Squad artists worked on custom artwork to accompany the installation. For now, you'll have to attend the event to purchase their related art, but the group is already branching out to create more pop culture-based events around Chicago. Another Squad member, Adam Michaels, told me he plans to host a Harry Potter and Christmas-themed art show called "A Very Harry Christmas." That will take place Dec. 10 and 11 on the third floor at 1821 W. Hubbard Lofts. Molloy and another Squad member I spoke to, Luis Colindres, seemed to be helping out with the project, too. (The Pop Up Squad artists also include Jeremy Steffen, Raquel Hung and Tristan Young.)
"The pop-ups are a cool way for people to come and get a little curated selection of Chicago artists," Molloy said, which started a back-and-forth between him and Michaels.
"We're very fortunate to be in this position, being here at Replay," Michaels said.
″[Mark] has provided us with a lot of space to do a lot of really cool stuff," Molloy said. "And he's a yes man, which is hard with a lot of bosses. We have a lot of ideas. Obviously, we're creative people. We're going to have a ton of ideas, and he's, like, as long as we can make it sound like it's a solid plan, he's always down to do it, and that's amazing."
The camaraderie among everyone involved was evident at Replay. And I imagine that has allowed for this space to become the sort of standard-bearer for these pop culture projects. If the crew didn't enjoy working with each other, they wouldn't keep throwing themselves into these multi-week, sleepless-night projects that can get shut down by lawyers at any minute.
Replay has a unique situation at the moment, and you should check it out while this nostalgic renaissance still exists. And, I mean, drinking a beer while marveling at a statue of Monica with a turkey on her head should be a no-brainer, right?
Here are a few more photos of the "Friends" pop-up: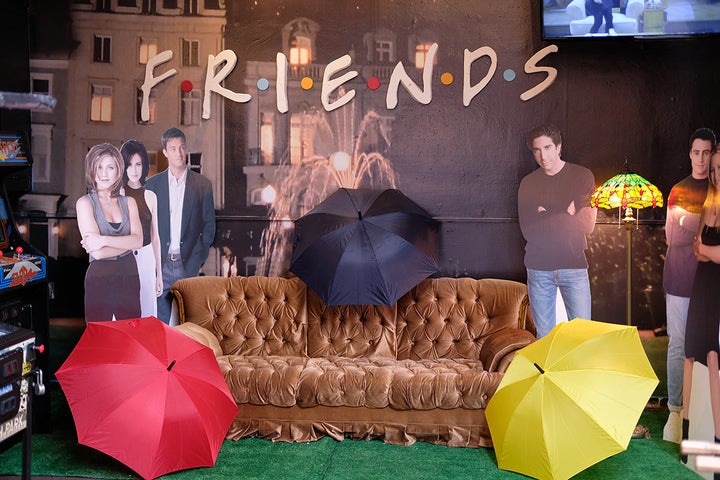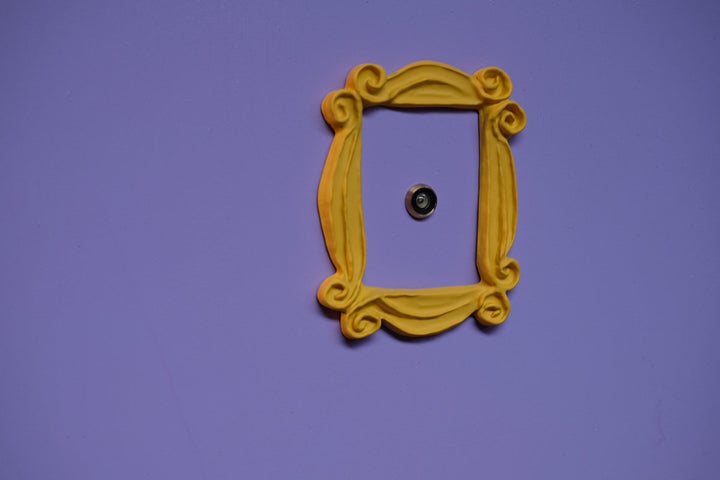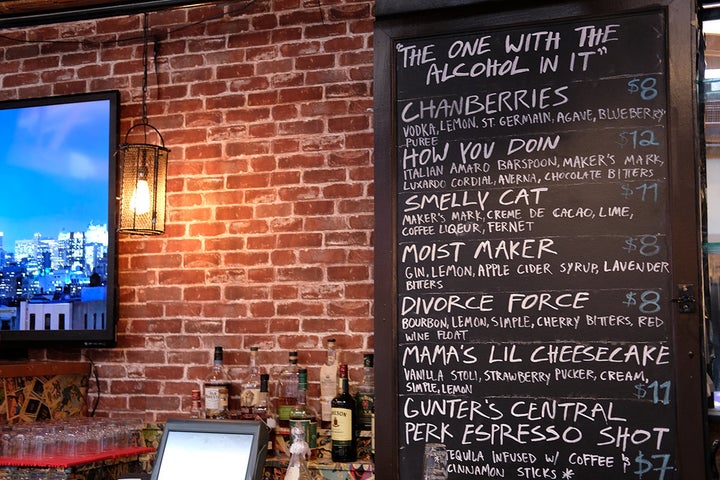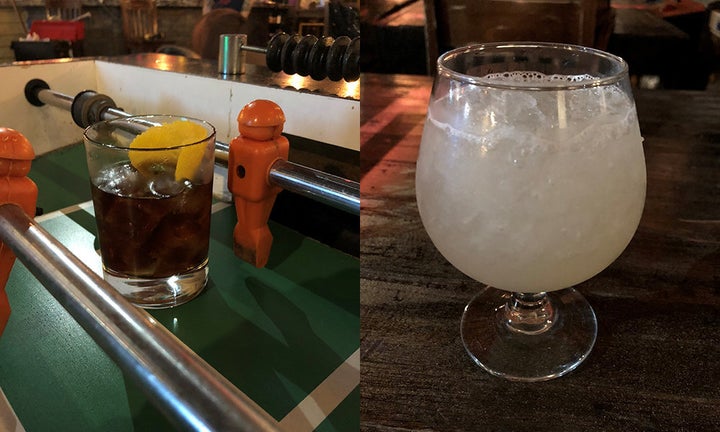 Popular in the Community