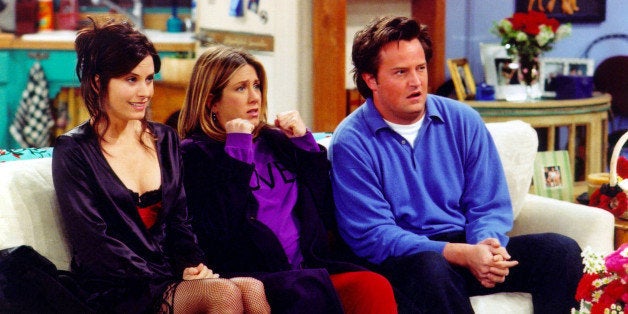 They may be there for you, and you may be there for them (hello, Netflix reruns!) but do you know everything there is to know about "Friends"? HuffPost Entertainment spoke with Michael G. Hagerty, the actor who played the gang's superintendent, Mr. Treeger, to find out some behind-the-scenes stories about the hit series.
1. Hagerty accidentally threw Matt LeBlanc through a prop door while they were dancing. He worried he'd broken Joey.
In Season 4's "The One with the Ballroom Dancing," Mr. Treeger wants to take a lady friend to a superintendents' ball and enlists Joey to teach him how to dance. Hagerty thought that the plot line was a bit of a reach -- it's unclear if superintendents' balls are a real thing in New York City -- but in any case, the scene was thoroughly planned out with choreography and dance lessons for LeBlanc and Hagerty.
Unfortunately, these lessons weren't quite enough to prevent a mishap. At the moment Hagerty was supposed to spin LeBlanc, he accidentally got the distance wrong and sent him right through the door on the set.
"I was concerned that I broke Joey," said Hagerty. "I didn't want to do that, because they don't ask you back when you do that. It was scary for me."
LeBlanc bounced right back up, saying he was fine, however, and the two moved on for a memorable scene.
2. Mr. Treeger's apartment was more meticulously depressing than you realized.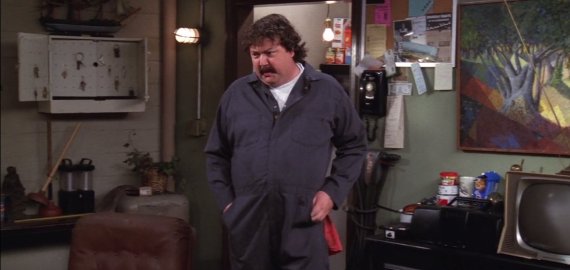 During the dancing scenes in that same episode, viewers get a decent look at Mr. Treeger's apartment, a room that, according to Hagerty, was planned out to be as depressing as possible.
Hagerty even requested they insert a hot plate into the room as his wife had told him that "hot plates are some of the saddest things in the world."
Poor Treeger did emerge from his basement apartment to come to the friends' Christmas party earlier on in the series, but there he's rejected by Rachel under the mistletoe -- or basil, as she insisted.
3. The real reason Monica's apartment was so big was actually different than what the show claimed.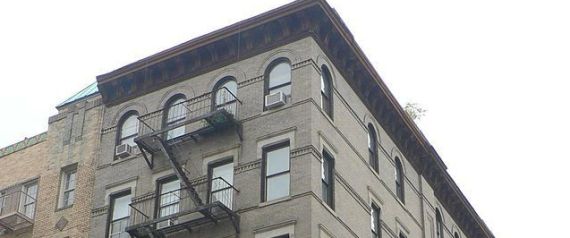 "Everyone always asks, how could these kids afford these apartments?" said Hagerty, while providing his explanation for the size. "Well, practically it's just that you can't shoot something inside a 550 square foot apartment." Hagerty talked about the plot line of how Monica inherited the apartment from her grandma, but pointed out, "It doesn't explain the apartments across the hall."
"This isn't reality, it's a show," said Hagerty.
The apartment was actually based on the set designers' own apartment from the 1970s. Co-creators Marta Kauffman and David Crane, producer Kevin Bright and the designers John Shaffner and Joe Stewart each drew from their own New York experiences to create "Friends." Specifically, Shaffner and Stewart lived together in an apartment that ended up becoming the inspiration for Monica's apartment and the show's home base.
"We'd all had similar New York experiences in the late '70s, so we kind of reached into our communal New York lives and withdrew a lot of elements that we felt were appropriate for the story," Shaffner tol HuffPost in a previous interview. "And we had lived in a sixth-floor walkup, so we knew you got a bigger apartment for less money if you're willing to climb six flights of stairs."
4. Hagerty didn't know his character would be referenced in the last scene of the series as he watched the episode at home.
In the very last scene of "Friends," Monica remembers that everyone has to turn in their keys from the apartment, saying, "I promised Treeger that we'd leave our keys."
It'd been awhile since Hagerty had shown up on the series and he had no idea that his character would get one last shout out. As he explained:
"I remember watching it like the rest of America, sad that the show was going off the air," Hagerty said. "But it was very nice, I was very touched by when they said they'd leave the keys here for Treeger. They didn't have to do that. I was just at home like everybody else and it was just kind of a little tip of the hat. It made me feel great."
5. Ugly Naked Guy has been falsely attributed to Hagerty in various fan theories over the years. The actor who played Ugly Naked Guy remains a mystery.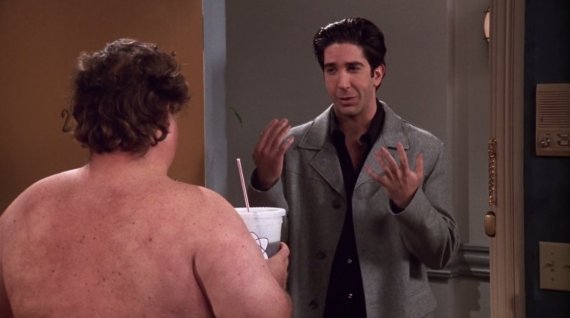 IMDb, the Friends wikia and most of the Internet credit Hagerty with the role of Ugly Naked Guy, but the actor insists that he did not play that role.
"I think that's misinformation," said Hagerty. He wasn't even aware that he was credited with the role until HuffPost contacted him for this interview. The real UGN is still out there, mysterious as ever. And in the meantime, Hagerty would like people to realize that character is not him.
Hagerty laughed, "I'd rather be known as Mr. Treeger than the Ugly Naked Guy anyways, you know."
All images from "Friends" unless otherwise noted.
Calling all HuffPost superfans!
Sign up for membership to become a founding member and help shape HuffPost's next chapter
BEFORE YOU GO
PHOTO GALLERY
"Friends" Goofs To Watch For