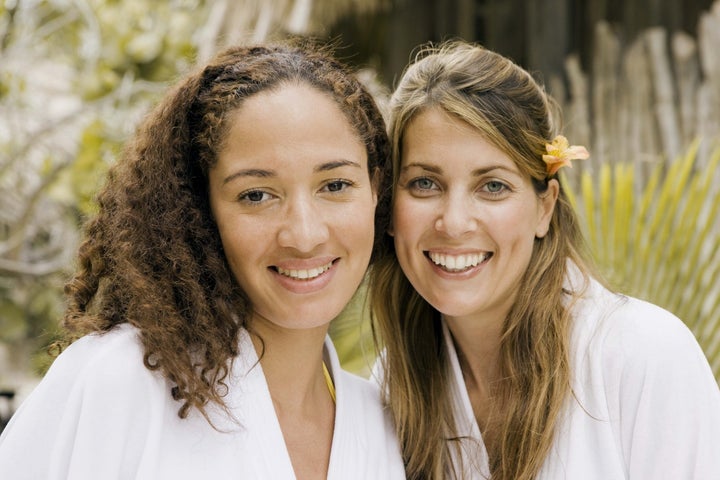 International religious heavyweights Karen Armstrong, Huston Smith and Rabbi David Rosen converged on Dearborn, Michigan, for three days of work with grassroots activists to combat bigotry and push toward peace in the face of rising fear and conflict. While many appeals at the conference were grand and global in scope, the freshest news was the simplest and smallest idea presented to the 200 participants.
How small? How simple? One friend at a time. A network of women from southeast Michigan is launching a multimedia effort to collect and share individual real-life stories of cross-cultural friendship. Called "Friendship and Faith," the project already has collected stories from around the world and has drawn the attention of Jewish, Muslim and secular media.
Starting small with individual friendship was a central theme in talks beamed into the conference by the three international speakers. From London, author and peace activist Karen Armstrong applauded the "Religion, Conflict and Peace" conference's slogan: "Walking the Talk to Compassion and Harmony." Speaking from a huge video screen, Armstrong said, "Now the challenge is implementing the compassion ideal in practical terms that will make a difference in the 21st century."
From his California home, author and educator Huston Smith said that most Americans refuse to spend the time to build meaningful relationships. "When we greet a passerby," he said, "we smile and go on our way, but real engagements are involving and open-ended. We pause, we linger and we share with each other."
From Jerusalem, Rabbi David Rosen of the American Jewish Committee described his own recent peacemaking work with the new Council of Religious Leaders of the Holy Land, founded in 2007 to include Christian, Muslim, Jewish and many minority religious groups in Israel and Palestine. The main goal of the new council is building relationships between religious leaders who have been isolated from each other for many years, Rosen said.
"In the Holy Land, everybody sees themselves as vulnerable, and everyone sees themselves as the victim," Rosen said. "Palestinians see themselves as vulnerable and victims in light of Israeli power. Israelis see themselves as vulnerable and victims in a hostile sea of Arab power. And, Arabs see themselves as vulnerable and victims in the onslaught of Western consumerism and power. ... So, there is a natural tendency for isolation and withdrawal. Often, religion becomes part and parcel of the process ... a part of our demonization of the other."
The June 11-13 conference was held at Henry Ford Community College in the heart of the most influential Arab-American Muslim community in the U.S. About 200 men and women registered to attend talks, films, workshops and discussion forums. The conference especially drew educators, peace activists, writers, religious leaders and men and women involved in grassroots nonprofits promoting diversity.
As Editor of www.ReadTheSpirit.com, I reported from the conference and followed the women whose idea of collecting individual stories was produced through ReadTheSpirit. Like Huffington Post, ReadTheSpirit's goal is developing new media that preserves journalistic principles of accuracy and fairness but enables non-journalists to begin reporting important stories as well. ReadTheSpirit helped the women publish their book of 30 friendship stories. ReadTheSpirit also hosts their new online magazine, which publishes weekly stories on cross-cultural friendship.
In Dearborn, the women presented a 90-minute program of short talks, tips for celebrating diversity and invitations for conference participants to share more stories of friendship through the group's website.
"We are courageous. We are passionate. We try to be very inspirational in how we build our bridges to other communities besides our own," Jewish peace activist Brenda Rosenberg told the crowd. In 2009, Rosenberg originated the "Friendship and Faith" idea and quickly enlisted dozens of friends to help with the project.
"The only way we can overcome obstacles is by reaching out to neighbors," said Gail Katz, president of the women's group, called WISDOM: Women's Interfaith Solutions for Dialogue and Outreach in MetroDetroit. "Peace won't happen if we remain in our own safe havens.
"WISDOM doesn't want to get involved in politics," Katz added, "but at least we might improve the connections between communities to dispel fear and discomfort. This work with women from other religious traditions not only gives me hope, but it also underscores my own Jewish faith."
In Michigan, Rosenberg said, "we made history by, for the first time, making positive news about our Friendship and Faith project in the Jewish News, the Arab-American News and the Muslim Observer -- all three covering the same story in the same way for the first time.
"Now, we're continuing to make history nationally," Rosenberg said. "We'll be presenting our project at Jewish Book Fairs and at the Islamic Society of North America -- the first time the same book project has been presented in the same way at both organizations."
Rosenberg was asked whether she is surprising by the impact of such a small-simple idea. She chuckled, "You could pull us off the ceiling."

Related
Popular in the Community