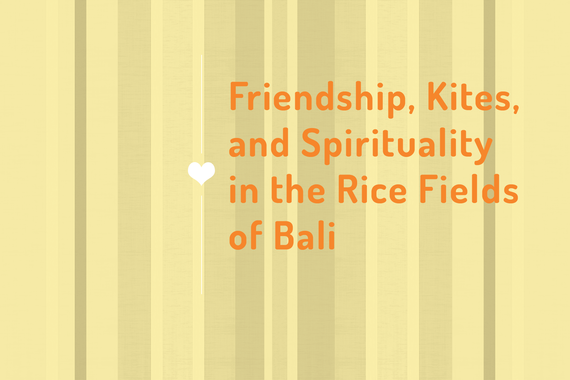 I hear Bagia's wheels reverberating off the cobblestones, inching toward my villa. My private driver for the day has arrived, just a couple of hours after sunrise.
Prior to boarding the 30-hour flight to Indonesia, my friend, John, tried to convey the benefits of booking private tours. No crowds. No strict timelines. The luxury to pull off the road and explore interesting pockets of culture along the way. I, of course, countered each benefit, silently, with my own objections. I can't afford that! I can't get into a car alone with a strange man! What if I am never seen again?
John was correct. My personal tour of the rice fields in Northern Ubud remains one of the unrivaled travel experiences of my life. My new friend, Piotr, would most likely agree. His warm smile, gentle spirit, and bright eyes provided the hospitable welcome in this foreign land.
Piotr and I met over a tropical fruit and yogurt parfait at Livit Spaces in Bali. He from Poland, me from New York. Countless others were living in the eight villas as well--all of them digital nomads, working in start-ups and on technology projects. I was the lone writer, whose assignment was to capture the creative spirit of this expat community.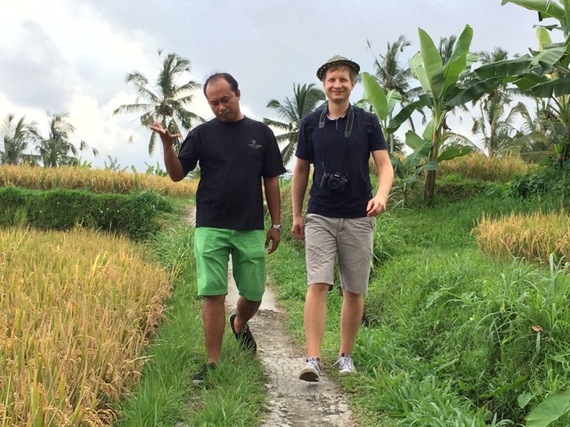 We climb into the back of Bagia's car and our adventure begins. Northern Ubud is an hour's drive from our modest village. Stair-stepped terraces, spread across the country side, shaded colors of green. Dried coconut frond hats and vibrant clothing glide through the fields. The locals are harvesting again.
Rice (known as nasi in Balinese) cultivation in Bali goes back at least 2,000 years. Just before planting, the fields are flooded and plowed by cattle. They look similar to reflecting mirrors in the early days of each season. After fertilization of the field, the rice is planted by hand, and a few days later, yellow-green shoots of young rice appear. This is a vulnerable time for the seedlings, as well as the many who depend on the crop for food and income. Wind chimes, scarecrows, and bamboo bird-scarers draped in cloth are erected to frighten the birds. The rice goddess, Dewi Sri, who is both male and female, is worshiped as the spirit of fertility, protectress of the rice fields, and guardian of the rice barns.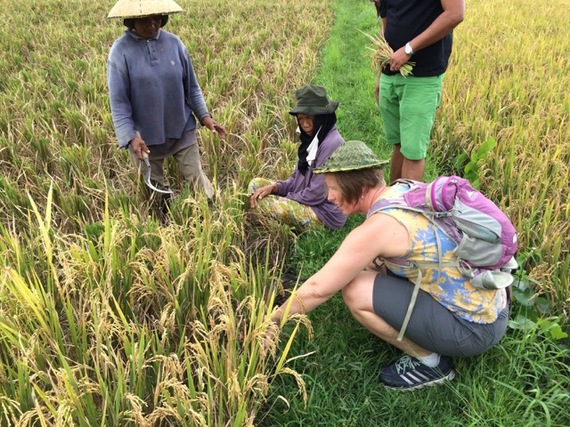 Our driver pulls off the twisty, single-lane path. He asks Piotr and I if we are ready, and we nod. We begin slogging though the grassy aisles that border each field. Forty paces into our journey, the locals hand us a sickle and demonstrate how to use it. The metal tool reminds me of a torture weapon from a horror show, and it feels awkward and heavy in my hand. I gather a clump of rice with my left hand and swing the sickle with my right, close to the soil. In the time it took me to whack one clump of rice, the locals have moved swiftly down the paddy row, methodically swinging their sickles and dropping the rice into burlap bags.
A fleck of movement catches my attention. Vivid colors dot the sky. Orange dragons. Purple birds. Red and yellow snakes. The children are flying their handmade, prized kites again. Earlier in my trip, in the village I have adopted as my home for the next twelve days, I ventured down a dirt path. Lazy stray dogs gazed up at me from the entrance to their homes. It wasn't long before I heard two young boys, deep in Balinese conversation, discussing the kite they were creating. Spread out before them in the dirt was a 4-by-6-foot cross they had made out of bamboo. The youngsters were crafting a gigantic kite I would later spot soaring high along the village skyline.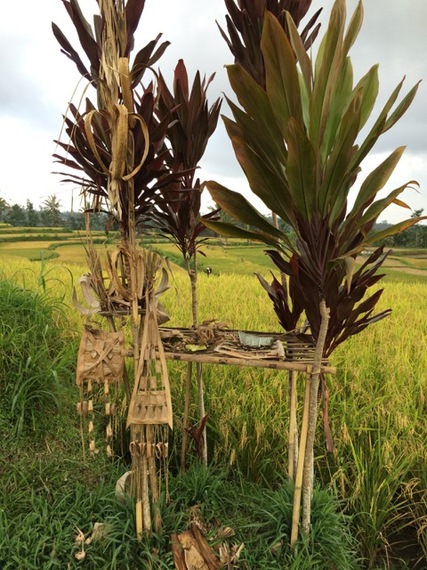 As we cross the acres of rice, I notice what appear to be table-like wooden structures, strategically placed at the corners of fields. Piotr and I stop to inspect one. A variety of offerings sit atop the altar for the rats, in hopes they won't destroy this season's crop. The spirituality that exists in the everyday lives of the Balinese is one aspect I packed up and carried home with me.
It is in this moment, standing between two rice fields, in front of an altar, with my new friend Piotr, the kites hovering overhead, that I realize I will never be able to go back to traditional travel. I embrace Piotr in a hug, and I thank Bagia for the life-changing day. When I return to my villa, I write a postcard to John, expressing gratitude for the advice he gave me thousands of miles ago.
Related