The question "Want fries with that?" is being replaced by "Want fries on that?" as the never-ending search for new toppings moves fries from the side to the top. Pizza Hut Canada this week introduced Cheesy Beef Poutine pan-crust pizza topped with a poutine-like combo of fries, seasoned steak, cheese curds and mozzarella. That mimics a similar trend making fries a topping in the burger category. It's not a new idea, certainly, but it is enjoying renewed interest.
Milwaukee Burger Co. in Eau Claire, Wis., was working on the same idea this spring when it made the Poutine Burger its specialty burger for March. Suggested by customer Joe Schaefer, the burger was topped with house-made fries, Castle Rock Organic Farms' white Cheddar cheese curds and house-made brown gravy.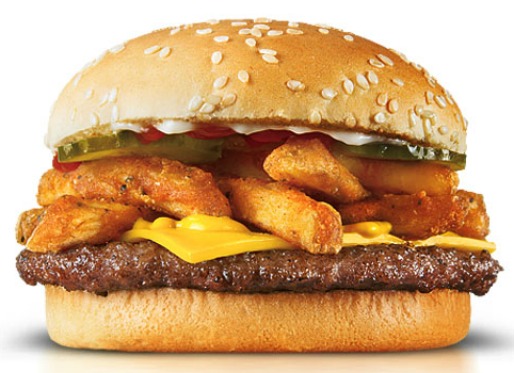 The Checkers/Rally's chain this spring gave the fries-as-topping idea a whirl when it introduced the Fry Burger (above), a beef patty topped with cheese, pickles, ketchup and mayo. Priced at just $1, the combo burger was a hit.
Primanti Bros. in Pittsburgh has long been famous for including fries in sandwiches. It's not an option, it's the style: The menu says, "All sandwiches are topped with french fries, coleslaw & tomatoes." Perhaps that's why Bad Daddy's Burger Bar locations' Father's Day weekend feature burger is called the Pittsburger (below): That's a 5-oz. beef patty with house-made American cheese, spiced garlic ketchup and a handful of hand-cut skinny fries.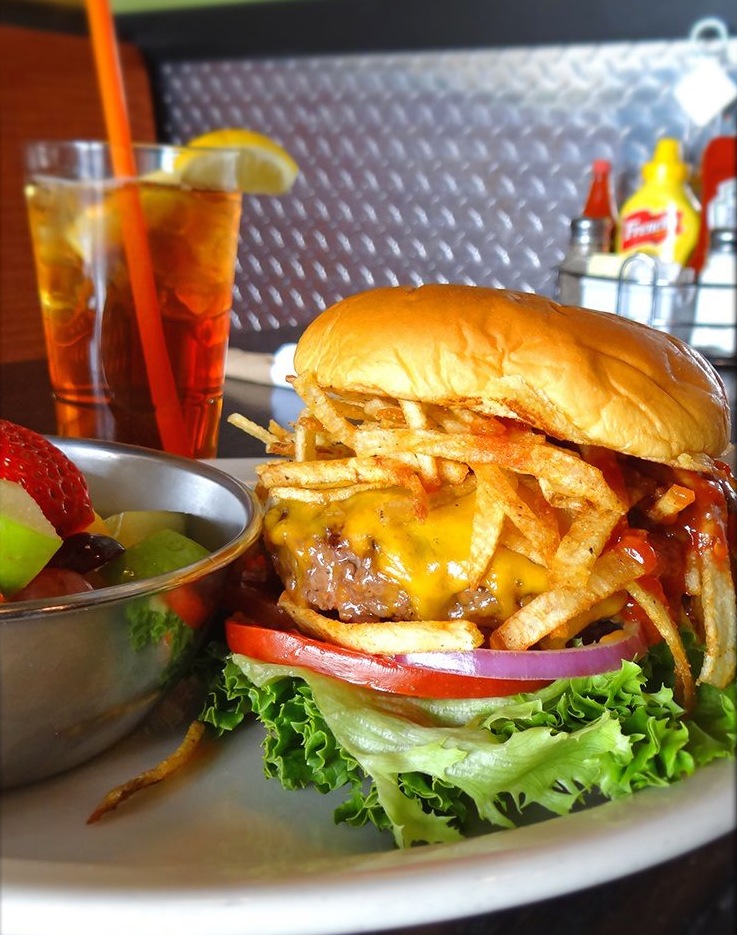 At Fat Head's Saloon in Pittsburgh, fries even function as salad toppings. The Jalapeňo Cheddar Chicken Salad, for example, is grilled chicken with house-made jalapeňo Cheddar sauce topped with shredded provolone cheese, cilantro-seasoned tomatoes and a serving of fries. The South Shore Steak Salad gets the same treatment.
California burger haven Slater's 50/50 gives a similar nod with its french-fry-topped Pittsburgh Pastrami sandwich.
This is another trend where independent burger joints are leading the way because they're less afraid to try something new. The Burger Company, Charlotte, N.C., comes up with a new burger special almost every day so it's not surprising it has given the fries-on-top idea a spin. Its recent Munchie Burger was a 5-oz. beef patty topped with chili, Mexican queso cheese, caramelized onion and, yep, fries.
McDonald's has tried a few variations on the idea overseas. The Big Rösti burger with a hash-brown-potato patty is a frequent and popular LTO in Austria. An Idaho Burger with a hash-brown patty was part of the Big America promotion in Japan in 2010. McDonald's also recently tried a Hash Brown Burger in Hong Kong.
The downside to the trend, which is likely to keep most operators -- and especially chains -- from embracing it, is that putting fries on the burger eliminates a high-margin side order. In an economy this still-tight economy, that can be a deal breaker for operators.
Related