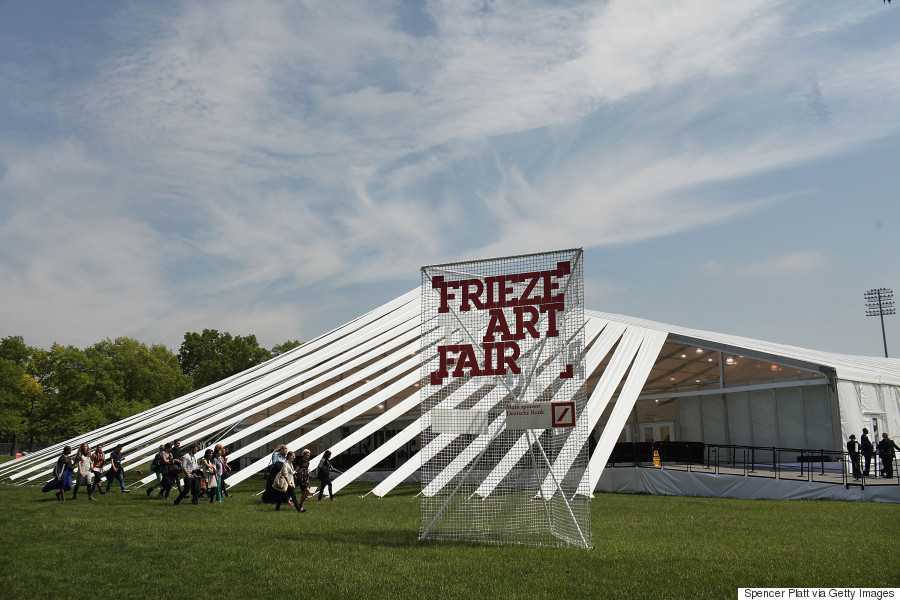 We don't know how it happened so quickly, but alas, Frieze week is upon us. Whether you're ironing your slacks, packing up your checkbook, or boarding the Ferry to Randall's Island with hopes of getting your butt tickled by a sexy octopus, we got you covered. Behold, the 10 most buzzy, striking, dizzying and just plain bizarre happenings on this year's bill.
If you're looking to test your physical strength, eat an ice-cream cone or perhaps make a quick $20, read on to make your artistic dreams a reality.
1. Pia Camil's Free PonchosWhen: May 14-17 (although we fear the ponchos are already long gone)Where: Frieze New York, Randall's Island Park, Manhattan
Mexican artist Pia Camil is giving away 800 wearable artworks -- also known as ponchos -- on a first come, first serve basis in the Projects section of Frieze New York.
"Camil's textiles require direct participation, quietly emphasizing the characteristic experience of the art fair, where the act of looking at art is as important as the act of looking at others and distinguishing oneself from them," the wall label reads. The stunning status symbols, made from fabric remnants and leftovers, are certainly the most stylish works at the fair, not to mention the cheapest.
2. Rebecca Goyette's Dentata Umbrella LoungeWhen: May 14–17Where: Select Fair, Center 548, Manhattan
Performance artist Rebecca Goyette is bringing all the weirdness to Select Art Fair. Her Octopussy-inspired installation "Dentata Umbrella Lounge" includes, among other things, a vibrating Lobsta Labia pillow.
3. Jonathan Horowitz at Gavin Brown's EnterpriseWhen: May 14 - 17Where: Frieze New York, Randall's Island Park, Manhattan
Want to make a quick $20 this art fair weekend? Artist Jonathan Horowitz is inviting fair-goers to participate in his interactive installation at Gavin Brown's booth at Frieze New York. Participants are asked to add acrylic paint onto eight-inch-diameter circles on square-foot canvases, which are then mounted into seven 50-by-50 clusters. Those who succeed walk away with a $20 check -- or an original Jonathan Horowitz, depending on how you look at it.
"The whole project, in this iteration, particularity, is about blurring lines," Horowitz told Vulture. "A lot of work goes into making art beyond the person whose name is signed to the canvas. Art incorporates the installers, the dealers, the people who guard the work, the people who buy the work, the people who write about the work… This is about the hand striving for perfection and its inevitable failure to achieve it."
4. 1:54 Contemporary African Art FairWhen: May 15–17Where: Pioneer Works, Brooklyn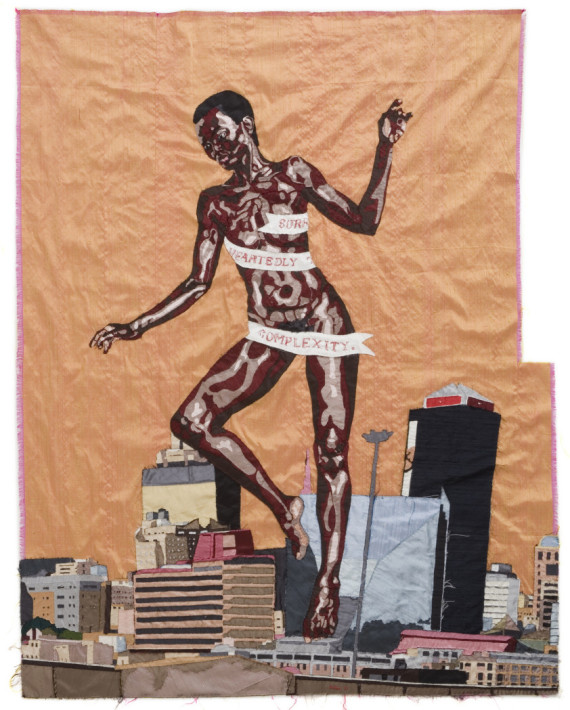 The new Brooklyn fair everyone is talking about, the 1:54 Contemporary African Art Fair, is hosting 15 galleries either based in Africa or focusing in African contemporary art, located everywhere from Marrakech to Seattle, as well as programming from artists like Hank Willis Thomas. We're particularly excited for Sunday's book launch of "Body Talk: Feminism, Sexuality and the Body in the Work of Six African Women Artists," featuring curator Koyo Kouoh and participating artist Marcia Kure. See a preview of the fair on Artsy.
5. Blinded by the LightWhen: May 14–17Where: Select Fair, Center 548, Manhattan
Performance artist Millie Brown, formerly known as our personal favorite vomit artist, is changing direction a bit with her Marina Abramovic Institute (MAI) collar "Blinded by the Light." At Select Fair, over the course of four days -- or four sun cycles -- Brown will wait in a room of light and looping sound as grains of sand fall onto her head and body until she's eventually buried in a pyramid of the stuff. According to her statement, "she aims to transcend into a state of pure light." Ambitious indeed.
This marks the inaugural edition of Flux, Harlem's first contemporary art fair, a curator-led display revolving around the theme of "21st Century Artist As a Nomad." The fair also hosts Harlem EatUp!, a wildly delicious looking festival combining all the cultural sights and flavors of Harlem, organized by Red Rooster's Marcus Samuelsson and Herb Kalitz.
As part of Creative Time and Central Park Conservancy's Drifting in Daylight, artist Spencer Finch is bringing an artwork sure to please eco-friendly art lovers and randomly wandering five-year-olds alike. Because ice cream! The artist's rainbow sherbet-colored, solar-powered ice cream truck will dole out soft serve cones that capture all the various hues of spring.
8. Ragnar Kjartansson's "S.S. Hangover"When: May 15-20Where: Central Park's North End, Manhattan
Also a part of Drifting in Daylight, Icelandic artist Ragnar Kjartansson is providing a cure for that champagne-induced headache of yours, in the form of a fishing boat, an ethereal hybrid of Greek, Icelandic and Venetian design. Dubbed "S.S. Hangover," the part-sculpture, part-sound piece, part-performance, part-vehicle comes complete with a a sextet of brass-playing musicians.
9. "Tribute to Flux-Labyrinth 1976/2015"When: May 14-17Where: Frieze New York, Randall's Island Park, Manhattan
One installation at Frieze New York will pay tribute to the Flux-Labyrinth, an immersive, maze-like environment originally conceived by George Maciunas in collaboration with other Fluxus artists between 1975 and 1976. The highly anticipated happening consists of a 200-foot-long, one-way labyrinth, full of physical and psychological artist-designed challenges sure to make your head spin and body wobble. Some portions are direct replicas of the '70s original, others are contemporary interpretations of the theme. Artists Amalia Pica, John Bock, and Gelatin are responsible for the new segments.
"Upside down forests, balloon pits, and pianos that control portals," ArtNews reported on the madness. "The maze is full of puzzles and physical challenges. Doorknobs are rarely what they seem... Tip-toeing on tilting catwalks and plunging bare feet into pools of beans, it was hard not to go through the whole delightful thing grinning. At least until the last rooms, designed by John Bock. A tangle of wires and medical tubes hung from the ceiling in the penultimate stretch. A small monitor embedded in the snarl showed a bearded man who seemed to be sleeping. Menacing, but manageable. Pushing past that, Bock served up one final challenge: squeezing through a tunnel lined by large, mostly naked hirsute men, a birth canal of bears."
"Art is meant to stretch you," Deborah Fisher said of the installation. "And there's not a lot else in the fair that's doing that."
10. Samara Golden's Secret Underground LayerWhen: May 14-17, 2015Where: Frieze New York, Randall's Island Park, Manhattan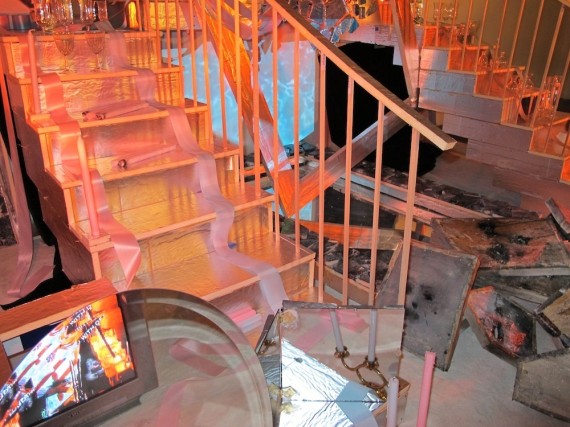 Samara Golden. Bad Brains, Frieze Fair NY, 2012 Installation shot.
Los Angeles artist Samara Golden brings a sinister underbelly to Frieze New York, building a tripped-out infinity chamber beneath the fair tent. Golden's hall of mirrors, which ArtSlant aptly described as "M.C. Escher meets Miami Vice," features life-sized, hand-sewn, stuffed figures, a couch and chair made from fabrics ranging from bacon strips to flowers to snakes, with a dash of Christian worship stuff and Native American-style bead patterns. There are also skeletons painted in transparent phosphorescent paint, which the viewer can see in the form of a reflection.
BONUS: 'Aesthetics' of 'Female' 'Attractiveness'When: May 15, 12 p.m. Where: Frieze New York, Randall's Island Park, Manhattan
As part of Frieze Talks 2015, join your artsy girl crushes Jane Ellison, Grace Dunham, Reina Gossett, Karley Sciortino and Leilah Weinraub as they discuss (rather irreverently) the aesthetics of female attractiveness, with lots of air quotes in there.
Related
Popular in the Community