The 2012 Frieze Art Fair kicks off tomorrow by taking over Randall's Island in New York, so get yourself on the Frieze ferry to see the 180 galleries from 30 countries represented for this three-day affair. As a little preview to the big opening, we are going to give you works by six artists we are particularly tickled to see. We will keep you updated throughout the weekend on the best artists and galleries, so keep checking in for more stories.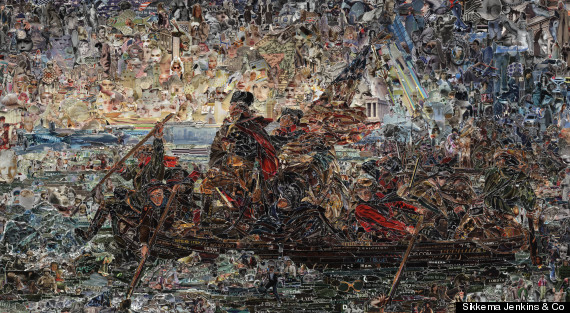 Vik Muniz is a Brazilian born artist living in New York City who is mostly known for recreating Leonardo's "Last Supper" out of Bosco's chocolate syrup. His combination of notable paintings recreated in unexpected materials makes a collection with construction to take your breath away and a punchline to make you chuckle. This replica of "Washington Crossing the Delaware," is entirely made up of photo snippets. We really can't wait to see this one in person.
Yinka Shonibare is a British-Nigerian artist who toys with the expectations, fallacies and unexpected beauties of colonial relics in a globalized world. He heavily incorporates bright 'African' fabrics that Shonibare sees as fabricated cultural representation. His sculptures combine this seemingly traditional African garb with Victorian styles to create cross-bred alien forms. They really are a sight to behold.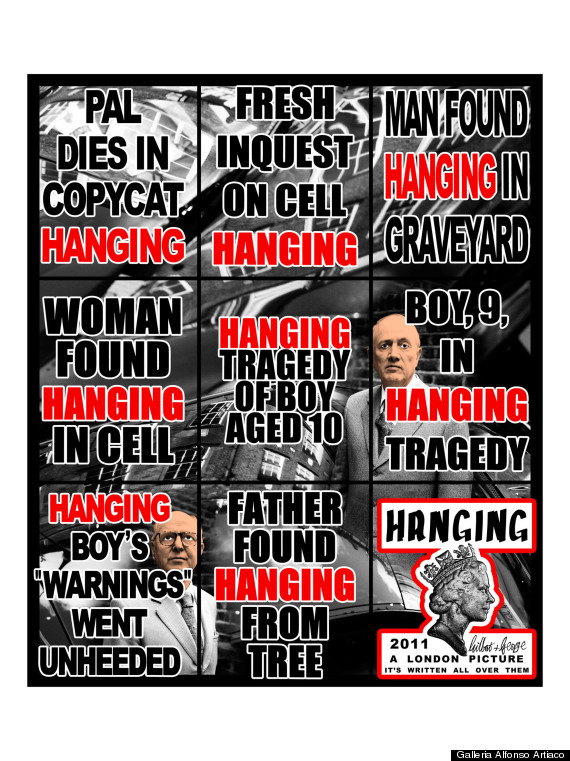 We are suckers for the seasoned art duo Gilbert & George. From their immaculate matching suits to their love of the monarchy, they are a staple of any major art event, and have been since the late 60s. Their photo-based works warp the hyper-normal until it becomes freakish, using crisp, perverse graphics that leave you more disturbed than you care to admit. Check out their 2011 piece "Hanging" on view at the fair this weekend to see what we mean.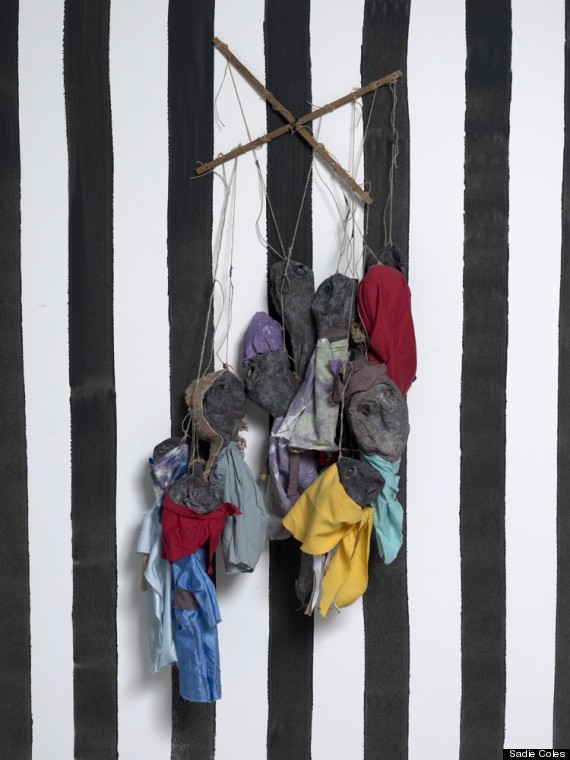 Spartacus Chetwynd
Jesus and Barabbas, 2011
Copyright the artist, courtesy Sadie Coles HQ, London
Ever since Lali Chetwynd changed her name to Spartacus, it seems her career skyrocketed. A champion of extremism and dysfunction, Spartacus makes complex cultural collages that are not easily grasped. The controversial artist, who has performed works about Incredible Hulk and Jabba the Hutt and who lives in a nudist colony in London, was recently nominated for the Turner Prize. This is definitely her moment, and if that moment involves puppets... we're in.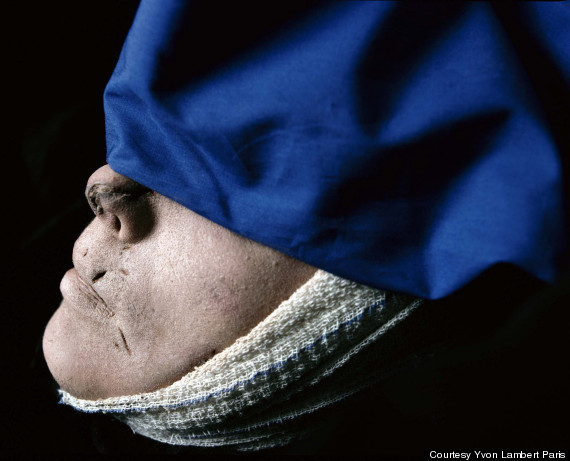 While not the most comforting aspect of the exhibition, Andres Serrano's morgue portraits will definitely grab your attention. Serrano, the artist perhaps best known for his work, "Piss Christ," loves to shock through the use of dead bodies or bodily fluids in his work. This time around, Serrano takes close-up shots of the body parts of corpses. He had permission to bring lights and backdrops into the morgues and his visions range from gruesome to tranquil to strangely beautiful. As always Serrano asks you to journey with him to the realms barred by taboos. This time we say yes.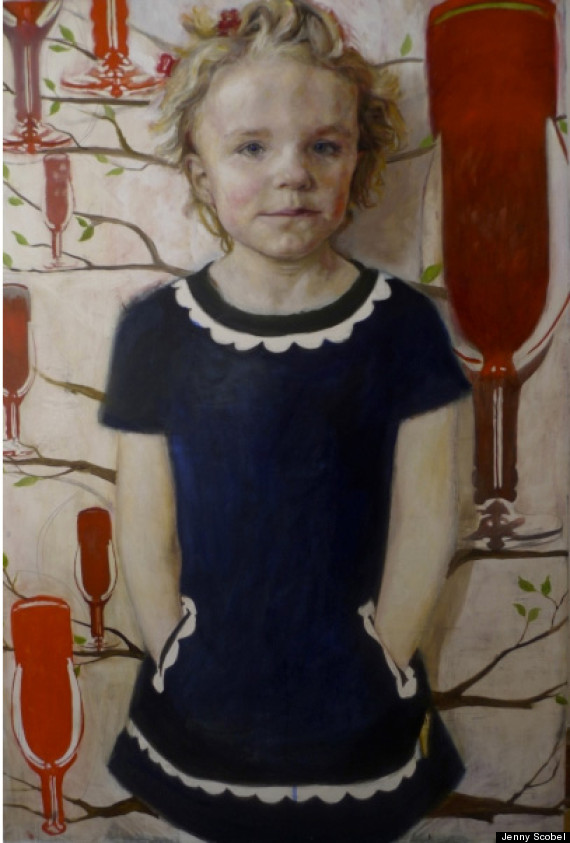 Brooklyn-based painter Jenny Scobel tampers with the equation of traditional figurative painting, often of innocent-seeming women and children. But through disarming perspectives which seem to fragment and reassemble before your eyes, she creates dark puzzles that suggest a psychological weight to the seemingly nostalgic or aesthetic portrait. Her subtle disorientations present a mature approach to creating complex and disturbing works.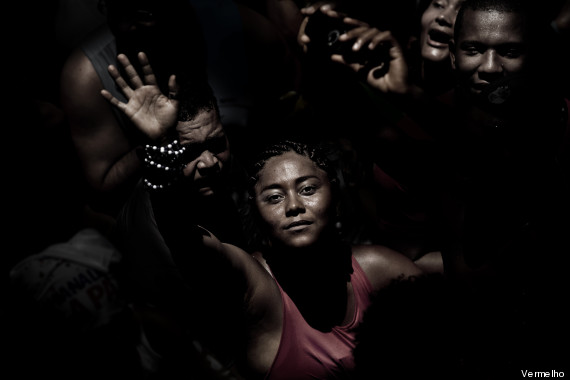 Cia de Foto is an art collective founded in São Paulo in 2003. "Carnaval" is a photo series capturing the raucous Brazilian festival characterized by chaos and spontaneity, which presents a topsy-turvy alternative to daily life. Each photo comes with a "binary look-alike" digital songs, in which the bytes of the photos are mapped into sound. The photographs are of a celebration, but facial expressions, contorted with intensity, pop out against pure black, creating a surreal and post-apocalyptic scene. Even in the midst of the celebration, dark reminders of daily life, work and even death still seep through.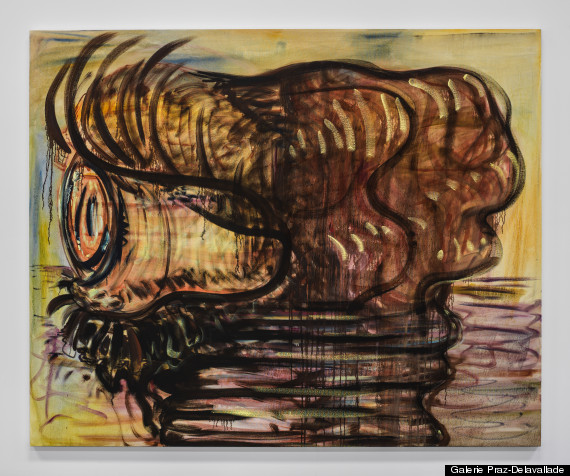 Amy Bessone is a favorite of ours at Huff Post Arts. Her works reminds to us as if "De Kooning was trying to make his daughter a birthday card." The paintings reference the evolution of Western painting and then dismember it. Her works are both grotesque and playful, mixing monstrous ears and eyeballs with pretty hues of pink.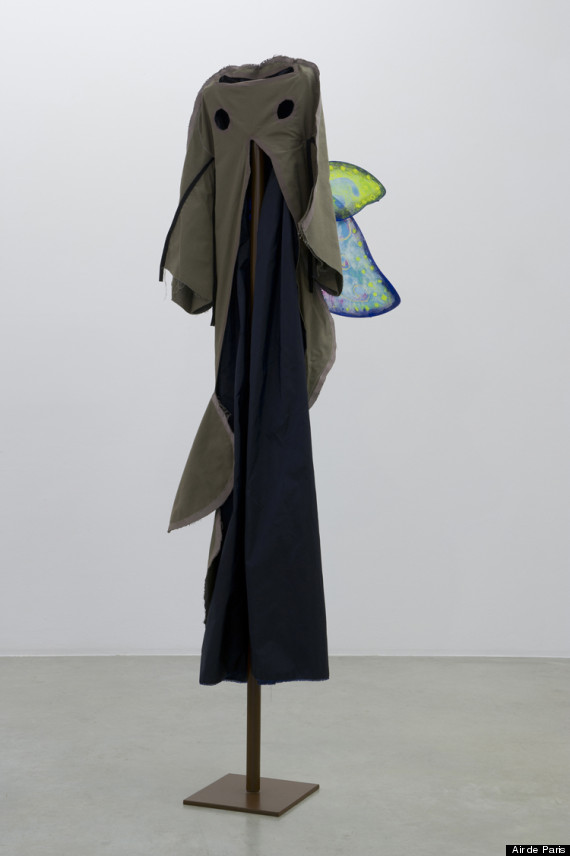 Ingrid Luche
Ghost Dress : Grande robe de l'Ange de mer ocellé, 2011
© photo Marc Domage
Courtesy Air de Paris, Paris.
Ingrid Luche's strange "Ghost Dresses" are based off of Amerindian ritual dances. Their drab, slouchy shape recalls a deconstructed uniform or funeral garb, while the juxtaposition with neon bright fairy wings only makes the work more disconcerting. Images that are wildly beautiful in the imagination look out of place and perverted in real life. And yet there is a certain magic in the expectations of art seeing that hold it all together. Would you ever attempt to wear this phantom-like dress?
Lastly, we're on the lookout for Elizabeth Peyton's earnest portraits of celebrities, artists, musicians and friends. Her work champions a belief in popularity and accessibility as signs of success in art, which is becoming a less popular and accessible belief these days, isn't it? Freed of puzzles, elitism and layered references, Peyton invites you to simply enjoy the magic of painting through her portraits.
We hope that got you as excited as it got us. Let us know what works you are excited to see, and if these works live up to their expectations in person. See you on Randall's Island from May 4-7, 2012.
Popular in the Community