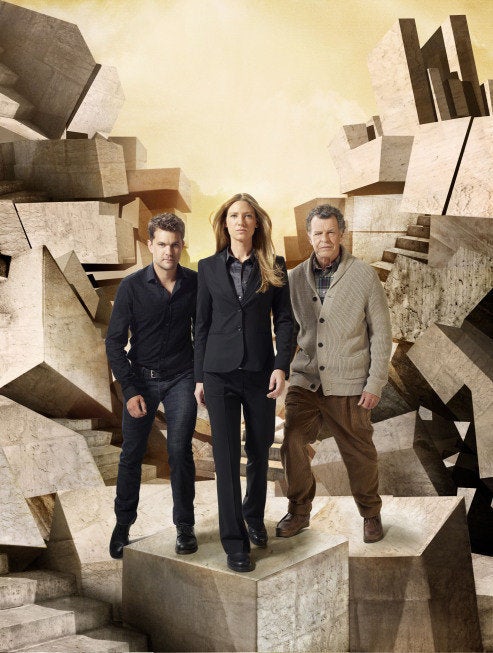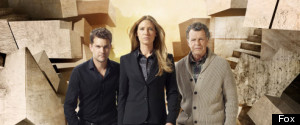 The story behind the cool new "Fringe" book is nearly as complex and interesting as the history of the show.
Not content merely to publish an official tie-in book, the powers-that-be behind "Fringe," which ended its Fox run on Jan. 18, came up with a book that links directly to the drama's mythology.
"September's Notebook," a lavish book published this month by Insight Editions, purports to be the journal of the character September/Donald (played by Michael Cerveris), and the hardcover volume contains all the information he collected about Peter Bishop, Walter Bishop, Olivia Dunham and their world(s). The meticulous journal, which contains hundreds of photos, catalogs the cases on which the Bishops and Dunham worked, chronicles character journeys and compiles information about Massive Dynamic, Fringe Division and the multiple realities explored by the characters.
Given the appropriately trippy premise of the book, "Fringe" fans will probably be relieved to find out that it was written by authors with hardcore experience with dense TV mythologies. Tara Bennett and Paul Terry previously co-wrote "The Lost Encyclopedia," and if anything, it sounds like their "Fringe" assignment was even more of a brain-twister.
But before I let them explain the origins of the new book -- which actually appears in the Season 5 episode "The Boy Must Live" in the hands of September/Donald himself -- I want to mention a "Fringe" charity auction in which you can participate.
If your finances don't allow you to participate in the auction, here's a "Fringe" freebie: Executive producer J.H. Wyman has tweeted a printable White Tulip, an item important to "Fringe's" mythology and history (and the name of one of the show's finest episodes).
Wyman was deeply involved in the creation of "September's Notebook," which evolved a great deal between pitch meeting and publication date. How did the project come about? How involved were various members of the show's creative team? How does "September's Notebook" fit into the "Fringe" canon?
Terry and Bennett answer those questions below (and at the end of the Q&A, they pick their favorite "Fringe" episodes).
This isn't your typical tie-in book. Can you talk about what led to the creation of "September's Notebook" and describe how it's different from other official TV show books?
Tara Bennett: We're both huge fans of the show and felt like this weird little niche show deserved something unique and outside the box to celebrate it long after it had its final fade to black. I pitched doing a book with [executive producers] Jeff Pinkner and Joel Wyman in May of 2011 and they were onboard immediately.
For the project, I was reunited with former "Lost" producer Noreen O'Toole, who is now in charge of Transmedia for Bad Robot Television, and then we brought in my writing partner, Paul Terry, to conceptualize the book with a few different pitches. Jeff and Joel liked the idea of it being a companion guide to the show from September's perspective, and thus the notebook concept was born.
Since it was a 16-month process of development and writing, it really morphed organically as unexpected things added to its scope, like when Season 5 was green-lit and Joel decided to actively make the book part of the series canon. It was a book that got more ambitious as the speeding train of television production pulled us along with it, and we were breathless and giddy creatively keeping up with what it eventually turned out to be.
Paul Terry: We're still pinching ourselves that this book represents something that hasn't been done before in TV or publishing. It's an official piece of merchandise that exists inside the mythology of the show. It was seen on the show and has a plot moment that was crafted with the producers over a year-long process.
It was even started before the fifth season was a reality. When Joel decided to take the concept that we were already six months into -- that this was September's notebook featuring all of his personal observations, collected evidence, etc. -- and make it a part of the final season and a part of September/Donald's arc, it was jaw-dropping. I remember when Tara called me from L.A. to tell me it was going to be in the show, and I was dumbstruck.
When it went on pre-sale in the summer of 2011, fans had no idea what we had up our sleeve, and it was such an exciting moment when [Episode 11 of Season 5, "The Boy Must Live"] aired. That was our career high right there, watching that episode live, and then seeing the fan reaction to the reveal of the book on screen online made all the work worth it.
What kind of information can fans expect in the book? Does it fill in the blanks about the characters and their lives? Does it expand on and elaborate on what we learned in the TV show? Is there exclusive info fans won't find anywhere else? 
Paul Terry: It definitely adds to what the fans experienced on the show. It reveals just how much September observed and how he felt about those observations. It covers the events of the entire series, and there are many exclusives that the "Fringe" Vancouver production department blessed us with. We'll let the fans discover those as they study each page, but we spent countless hours, days, weeks, months making sure that the imagery and design on every page communicated what it needed to for each beat of the notebook, and for each subject in the "Fringe"-verse.
Character journeys and emotional arcs aside, fans who want to go through the details of every single "Fringe" case file will find them all collected here with some amazing exclusive details provided by the show. The fan contest that was run in the summer is a great component of the case files, too: Winners have become a permanent part of the "Fringe" universe by getting their names attributed to certain case files.
Tara Bennett: We do elaborate on some elements of the show canon, like the 12 Observer assignments, and we provide some backstory on characters that we got from the writers and producers. However, we are a canon book and it was never meant to exist to answer every question that wasn't answered on the TV show. We also strictly adhere to the concept that if September didn't observe something or pick up anecdotal evidence of something in his mission, then it's not in the book. That is particularly important to remember in the last section when September becomes Donald and it became impossible for him to see Olivia and the Bishops as an omniscient presence in their lives anymore.
"Fringe" created a world with so many different realities and it explored so many different versions of the characters and their lives -- was it hard to keep all that straight? Does the book continue in that mind-bending tradition? 
Tara Bennett: Yes, it was brutal. [Laughs] Paul and I jinxed ourselves when we finished "The Lost Encyclopedia" and declared that it was the hardest book we could ever write -- wrong. "September's Notebook" was more challenging because we had to track all of the universe differences without a master bible from the show (like the one "Lost" compiled), plus figure out how to place everything in a logical order that made sense for how September would organize it, yet also factor in how readers would want to remember the show.
We always knew we wanted to separate the book into universes like the show seasons did, but we only had a finite page count (200 pages) and, up until May 2012, we had no idea of how the show would end. Once the show got the Season 5 pick-up and Joel Wyman shared with us how the series would end -- with September as a central figure in the endgame -- we were able to rework some sections, like the Amberverse, and finalize the last section to be Observer-centric.
The very end of the book was dictated to us by Joel, so you can't ask for more than that. We're really proud of the fact that the book captures the spirit of what the show did each season, using Wyman and Pinkner's "chapter in a novel" metaphor literally.
What was the involvement of the producers and the cast?
Tara Bennett: Since it's not a behind-the-scenes book, we didn't get to interview the cast. But I talked to them for my normal coverage of the show for SFX Magazine, and they learned about the book officially at the last Fringe San Diego Comic-Con panel, where we discussed it briefly afterwards. Otherwise, Jeff Pinkner and Joel Wyman said yes to the book and made themselves available to us throughout the entire gestation of the book for questions, clarifications and guidance for certain sections.
In the last season, Joel decided to put the book into the show and we worked with his writers room all the way into November 2012, putting together the last section of the book so it would be canon-correct with all of the fast and furious changes happening to final scripts. Paul and I had to facilitate a lot of last-minute copy changes, image replacements and creative work-arounds with Insight Editions to lock in pages that were constantly in flux, which is normal with the production of a television show but brutal on book publishing. There were a lot of late nights, Skype calls and panic-filled moments, so much so that when we finally locked the book in November, our lives suddenly felt eerily silent.
What's your favorite "Fringe" episode? 
Paul Terry: It's one that comes up a lot, but rightly so: "White Tulip" is a stunning episode. How it manages to deal with so many crucial emotional and character beats inside a "Groundhog Day"-esque time-looping setup is so impressive. I'm a huge "RoboCop" fan, so seeing the very talented Peter Weller as a man with mechanical elements fused into his body (again) felt like an extra nerd treat.
I love "Olivia" a whole lot, too. Anna Torv is such a gifted actor, and she was on fire in that Season 3 opener. My horror fan side really liked how creepy "Welcome to Westfield" turned out. And I'm going to pick the series finale, too, "An Enemy Of Fate," because it served every character's entire series arc exceptionally well. Plus, I'm a big fan of Windmark (such a disturbing and engaging performance by Michael Kopsa), and I thought his comeuppance was perfect.
Tara Bennett: I really love "Peter," because it opened up the mythology in a stunning yet personal way. "White Tulip" soon after solidified what the show was all about for me. I'm also really partial to all of Season 3 and especially "Entrada."
Lastly, I also love the series finale, because it gave each of the core characters their moment (even Gene!) and stuck the thematic landing, reinforcing that the show had some weird crap happening at any given moment but it was ultimately about the power of family and hope.
Calling all HuffPost superfans!
Sign up for membership to become a founding member and help shape HuffPost's next chapter