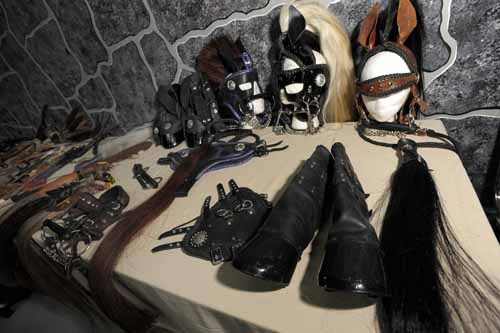 The research forever changed the way I look at the world and the humanity of people who do things many consider weird. Of course, the state is a microcosm of all strangeness, which is what led me to write the book.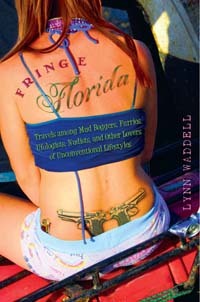 When I began my research, I set strict criteria for what to include, number one being that each unusual subculture had to top its cousins in other states in some significant way. I knew from prior reporting that I wanted to include the exotic animal owners who share their homes with dangerous wild beasts, the sideshow "freaks" of Gibsonton, the skywatchers of UFO hot spot Gulf Breeze, and an assortment of other fringe; but I wasn't so sure if Florida's fetish crowd offered anything more than you'd find in other states. With very little digging at Fetish Con, one of the largest fetish trade shows in the U.S., I found that it does. Here's a taste of my initial discovery from a Fringe Florida chapter called "The Other Wild Kingdom."
In the hallway outside the trade show, a small Florida herd nays, canters, and snorts. One ponygirl prances on all fours, her hands gloved in shiny plastic horse fetlocks and hooves, her feet covered in matching boots soled with horseshoes.

Prize ribbons likes ones given at a state fair hang on the top rail of a purple and black pony stall. Ponygirl Lavender is taking a break. She removes her bridle headdress with purple braids, silver medallions, and plume of black hair that spews from the top like a mane. A matching strap-on tail sways as she walks. The well-known children's toy My Little Pony has grown up.

Lavender is middle-aged with a matching shape clearly outline by her leotard, dark stockings, black boots, and lacy bustier. She lives in Largo and has a professional, mainstream job and a teenager. She prefers to go only by Lavender, her pony play name, saying she wants to be discreet about her fetish. I don't point out the obvious: Parading around a convention hall in downtown Tampa dressed as a horse might blow her cover.

Lavender and her boyfriend, Logan, are newbies to pony play, having only gotten into the scene a couple of months earlier. They already have the fanciest of tack plus the purple corral. Logan, a professional set builder, constructed it for her as a romantic gesture and set it up in her living room.

"We didn't wade in. We dove," Lavender says and laughs. "When we started we couldn't do anything."

"Ugh, we were horrible," Logan says.

Turns out pony play involves even more than modified horse tack and an abundant imagination. Learning how to canter, trot, and respond to the reins and bit takes practice. Even tougher is forgetting that you are a human who is pretending to be a horse. I am not being facetious. The pinnacle of ponydom is mental transference, a horse-auto pilot, which they call "pony space."

Lavender hasn't achieved that stage and isn't sure she wants to. "To me it's a little intimidating because they actually become ponies," she says. "They actually have problems with mirrors. They look into a mirror and don't know who they are. They think it's another pony."

To Lavender, pony play is more about control and performance, an extension of the BDSM lifestyle she's been into for about four years. Logan was playing master long before they met. They are both Florida natives.

"There have been many nights when we've spent hours on the phone going over what we did the night before, talking about what we liked or didn't like, where we want to go with it," Logan says. "That's the thing with this relationship - you have to spend time working at it."

Lavender suggests I talk to more experienced pony players such as Foxy, an Ocala cowboy who trains equines and human ponies. She speaks of him and his wife, Sherifox, in a reverential tone. They are the reigning Grand Champions of International Pony Play.

This explains the ribbons hanging on the stall. But what does one do to win an international pony play title? And is competition another fetish in itself?
From "The Other Wild Kingdom," chapter four of Fringe Florida, by Lynn
Waddell. Gainesville: University Press of Florida, 2013, pp. 94-95.
Reprinted with permission of the University Press of Florida.
Top photo by Lori Ballard
Related
Popular in the Community