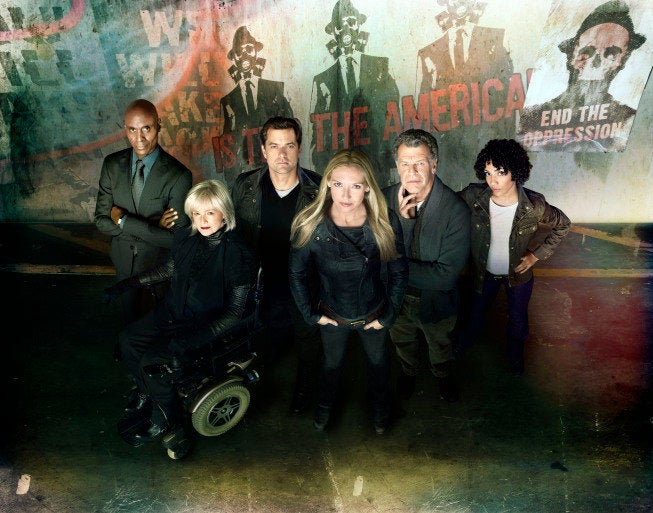 Fox has announced that the final season of "Fringe" will conclude on January 18 -- mark your calendar for a day of mourning now.
The show will premiere its final two episodes in a two-hour event starting at 8 p.m. ET, which also marks the series' 100th episode.
Series Co-Creator and Executive Producer J.J. Abrams reflected on the show's run in a statement: "It has been an absolute honor to have been a part of the weird and wonderful world of FRINGE. I will always owe the cast and crew for pouring their hearts and souls into every dimension of this series. Creating the show with Bob Orci and Alex Kurtzman was a joy, but watching it evolve over the years into such an imaginative, insane and heartbreaking ride is nothing less than a thrill. I am grateful to our blessed fans, and to Kevin Reilly and Peter Rice and everyone at the glorious Fox network for allowing FRINGE to reach its bittersweet conclusion."
Executive producer and showrunner J. H. Wyman said, "Above all else, from the bottom of my heart, I would like to personally thank everyone involved with FRINGE. From the most amazing fans, to our incredible cast, writers and crew, and our wonderful partners at FOX and Warner Bros. –- we would not be here without you. It simply cannot be overstated how grateful I am for the ongoing and unconditional support we have received over the past five seasons. It has been both mind-blowing and humbling. I've always been a fan of science fiction, and to be able to tell this story about a family –- a family that, through everything, fought together for survival –- has been a highlight of my career. As we approach the final chapter, I can hardly believe it, and I'm just truly thankful for this unparalleled experience."
Kevin Reilly, Chairman of Entertainment for Fox Entertainment, also weighed in on the cult series' end. "FRINGE has truly imagined the impossibilities over its five seasons and will go down in the books as one of FOX's most riveting and creatively brilliant series. It has been a blast to work with J.J., Joel and their masterful creative teams, as well as with Anna, Josh and John and the rest of the most talented cast and crew in the business."
The countdown to the finale continues tonight with "An Origin Story," in which Peter (Joshua Jackson), Olivia (Anna Torv) and Walter (John Noble) must try to deal with the loss of Etta (Georgina Haig) following her murder at the hands of the Observers. Check out preview clips from the episode here.
"Fringe" airs Fridays at 9 p.m. ET on Fox.
Will you be sad to see "Fringe" go? How do you think the series will end? Weigh in below!