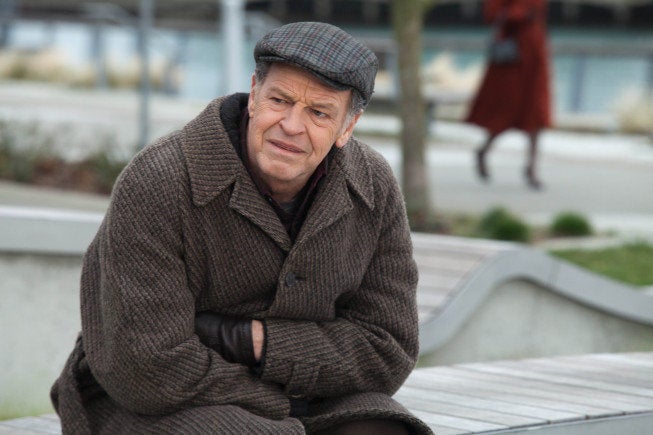 Loyal fans of "Fringe" (Fridays at 9 p.m. ET on Fox) know that the producers like to dream up something special for each season's 19th episode -- in previous years, we've been treated to an animated acid trip through Olivia's mind and a noirish musical fairytale -- and the April 20 episode, "Letters of Transit," is no exception.
"19 was unusual in the sense that we didn't have the leads involved," the actor, who plays Walter Bishop, explained. "That was Walter with two really big, important guest stars, Henry Ian Cusick and Georgina Haig. It felt, to me, like it was a really strong episode. The two guest actors did a fantastic job, which is not easy to do, to step into an established company. It is out of the box and is somewhere else completely. I think that the fans will love it. Some fans of this type of material will like it anyway because Henry Ian Cusick was such a big star in 'Lost,' but also, this new girl is just full of wonderful energy, too."
Noble reiterated Jackson's prediction that 19 would provide viewers with more of an idea of what next season might hold if Fox decides to renew the thrilling sci-fi series. "It's going to turn out to be an exceptional episode in its own right, but it's also profound in what it will tell us about where we go from here. The great question at this point is: Do we get Season 5? I think what the writers are doing is sitting down and establishing a scenario whereby we can launch into a fantastic Season 5. If we don't get it, we'll finish off with a fantastic finale ... and ['Letters of Transit'] is a wonderful episode in and of itself."
In a primetime landscape that seems increasingly interested in allowing one actor to perform multiple roles on the same show, "Fringe" has been in the vanguard of perfecting that technology and character development. Noble revealed that, as of Episode 19, he'll have played nine separate versions of Walter Bishop on the series so far. "It's a lot of fun as an actor because it keeps me trying to refine and to finish small parts [of Walter]," he enthused. "Every time we see a time shift or a universal shift, then obviously, the people are subtly different or, in a time shift, something hasn't happened or something has happened. For example, I could tease, what would Walter be like if he hadn't had parts of his brain removed? What would he be like as an older man? That's a pretty big tease."
The episode also brings the mysterious Observers into focus again ... this time as mankind's oppressors instead of impartial witnesses or inadvertent saviors. "What we'll notice in the work around now -- and we've already started to notice it -- is the re-emergence of the Observers as critical players," Noble said. "They've always been there from the very beginning. The first time we saw an Observer was Episode 1. It wasn't the pilot; it was episode one. We saw this fellow standing there. At one stage, the director said, 'Make sure you get a shot of that fellow.' And we all thought, 'Who is that?' And as time went on, they kept occurring and sort of ebbed in and out of importance in terms of the show. Now, they come to the forefront as incredibly centrally important. From a viewer's point of view, I like that idea of the outside threat or the outside force of evil that is beyond our petty relations as human beings between each other. Certainly, we've gone down that path. We will continue, I believe. I think if we get a Season 5, we really want to pursue that goal. I'm just speculating, but we've certainly gone there at the present."
Having seen the episode, I feel confident in saying that I would be thrilled to watch the "Fringe" team further explore the world they've created in "Letters of Transit," which extrapolates many of the themes the show has already explored in new and compelling ways. To say much more would be to ruin the episode's many delicious twists and turns, but in my mind, it's one of the show's finest installments to date, establishing a world every bit as detailed and fascinating as the multiple universes we've already come to know and love, while introducing two fully-formed characters that I'd be eager to spend more time with.
Tune in to experience it for yourself on Friday, April 20 at 9 p.m. ET on Fox.
REAL LIFE. REAL NEWS. REAL VOICES.
Help us tell more of the stories that matter from voices that too often remain unheard.
BEFORE YOU GO