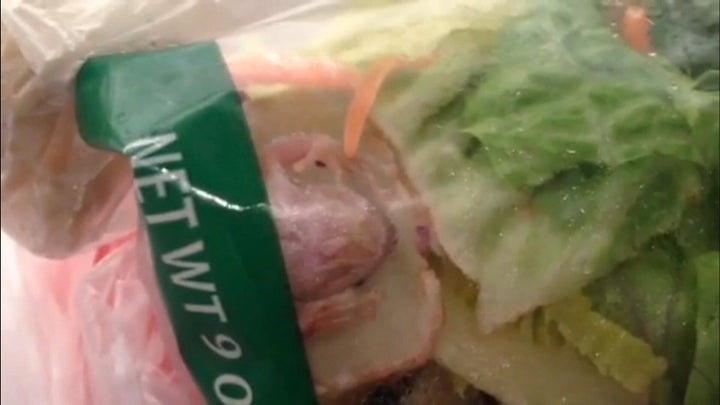 Mealbreaker (n.): a nasty, non-edible surprise found in food while it is being eaten; often lawsuit-provoking, sometimes fabricated, always disgusting.
You can't help but be a little worried anytime you take a week-old bag of salad greens out of the fridge. But the worst you usually encounter is wilted greens. A woman in Minneola, Fla. found something far more gross when she opened her crisper this morning. According to WFTV9, she picked up the bag of Marketside greens she bought at Walmart last Thursday, Oct. 18, and found a live frog camped out inside her salad bag.
You can tell that the frog is alive because its heartbeat is clearly visible in a video posted on the WFTV9 website. Wonder how a frog survived that long inside a plastic bag? Most plastic used to package salads these days is slightly permeable, which allows the lettuce -- and apparently, any stray amphibians -- to breathe. The bag was unopened, so it's extremely unlikely that the frog entered the bag anywhere but the Market Fresh factory.
Shockingly, this is far from the first time an innocent customer has discovered a Mealbreaker-worthy frog inside a bag of mixed greens.
Together, this plague of frogs and a recent spate of bagged salad recalls are almost enough to make us buy our own salad mixers. Or stop eating salads altogether! Other foods must be safer, right? Uh... not necessarily. Click through the slideshow below to see a few dozen other foods that have been hit with Mealbreakers in recent years: