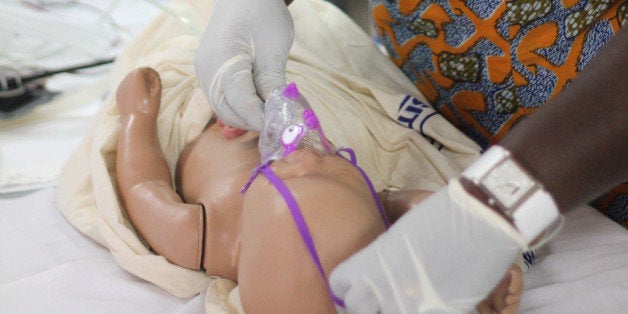 By Ms. Pam Hubley, Chief, Professional Practice and Nursing, The Hospital for Sick Children, and Dr. Jemima A. Dennis-Antwi, President, Ghana College of Nurses and Midwives on behalf of the SickKids-Ghana Scaling Up Paediatric Nursing Program
Nursing and midwifery are global professions. Around the world nurses and midwives comprise the largest portion of the health workforce, providing the majority of health care services. In low-resource settings where physicians are scarce, nurses and midwives have proven their ability to act as effective frontline providers of health care in rural communities. Because of their role and wide distribution, these health workers work most closely with patients and their families -- assessing, diagnosing, treating, listening, supporting and advocating.
In Canada, there were more than 360,000 registered nurses in 2011[i], a ratio of approximately 1:100 per population. In Ghana, nurses also make up the largest portion of the health workforce. However, there is still a stark difference in their numbers versus the total country population. The nurse to population ratio in Ghana is approximately 1:1000[ii]. In 2011, there were less than five nurses trained in pediatrics working in Ghana. Of those trained, all received training outside the country. Specialized training means nurses have the clinical knowledge and critical thinking to intervene in emergency situations, even before the doctors arrive. So when a child requires urgent hydration, a trained nurse is able to properly administer intravenous fluids. Nurses also increase health literacy of many families through health teaching, using child-friendly approaches.
From 2011 to 2014, the Center for Global Child Health at The Hospital for Sick Children (SickKids) partnered with the University of Ghana and the Ministry of Health, Ghana, with funding from the Government of Canada and SickKids Foundation, to start the first specialized pediatric nurse education program -- the first of its kind in West Africa -- to help build sustainable capacity for improved pediatric health in Ghana. To date, there have been 223 nurses trained in pediatrics across the 10 regions of Ghana as a result of this partnership.
From this training, graduates have been empowered to:
Conduct comprehensive health assessments
Provide supportive education to mothers and fathers
Assess and recognize critical situations and emergencies
Better utilize advanced skills and equipment
Help newborns thrive through the promotion of breastfeeding and effective pain management
Based on the success of the four-year program, the Government of Canada announced today a contribution to scale up the SickKids-Ghana Pediatric Nursing Training Program to help the Government of Ghana and Ghana College of Nurses and Midwives work towards achieving their goal of training 1,500 pediatric nurses by 2025. This investment means that more nurses will be trained in techniques for optimal pediatric care. This specialized training extends to a more holistic nursing approach that supports family-centered care and enables trainees to be future leaders on their units, clinics, hospitals and academic institutions.
The United Nations Millennium Development Goals (MDGs) galvanized the global community to improve child health. Ghana and partners have reduced under-five child mortality from 128 per 1,000 live births in 1990 to 56 in 2014 in an effort to reach MDG #4. Ghana's recently released National Newborn Health Strategy and Action Plan 2014-2018 demonstrates the local commitment to furthering and sustaining improvements to maternal, newborn and child health. Central to the strategy is improving the capacity of health workers to provide competent clinical care.
By investing in the education and training of a new pediatric health workforce in Ghana, quality of care will improve through the increased competency and ability to identify, prevent and treat childhood illnesses and provide health education to children and families. And surely a ready and trained health workforce will be required to meet the challenge of the forthcoming Sustainable Development Goals (SDGs).
Strengthening the health system and health workforce education capacity not only requires investment in educators and curriculum, but also in learning infrastructure such as skills training labs, computer labs, buses for clinical placements and classroom space conducive for advanced learning. These infrastructure investment needs will be jointly identified with partners based on need, feasibility and sustainability.
As we learned from the first phase of this program, successful implementation requires a participatory approach to program planning and evaluation that promotes local ownership, collaboration and transparency in learning from mistakes. With nursing leaders at the forefront, the SickKids-Ghana Scaling Up Pediatric Nursing program will require a broad engagement of community, policy, clinical, education and research stakeholders to ensure that the program is executed in line with WHO guidelines for transforming and scaling up health professionals' education and training. Together, we will keep the interests of Ghana`s children as top priority and will continue to learn from each other.
---
Dr. Jemima Dennis-Antwi is the current President of President, Ghana College of Nurses and Midwives. She is also the International Confederation of Midwives' regional midwifery advisor for Anglophone Africa. Dr. Dennis-Antwi is the former director of the Ghana Ministry of Health's National Health Learning Materials Programme and Health Education Unit.
Pam Hubley is the Chief of Professional Practice and Nursing at The Hospital for Sick Children (SickKids), the largest paediatric academic health sciences centre in Canada. Throughout her career, she has been a Clinician, Educator, Policy Analyst and Organizational Leader.
Calling all HuffPost superfans!
Sign up for membership to become a founding member and help shape HuffPost's next chapter