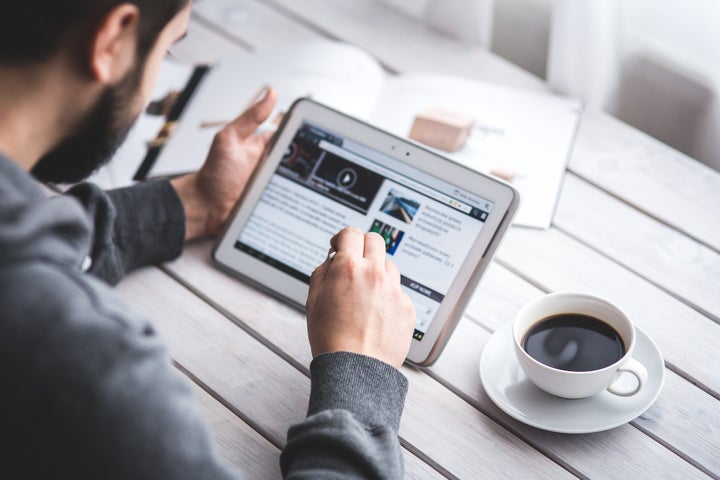 How do you make web users read your entire blog post? This is one of the most oft-repeated questions asked by bloggers. It's an essential question that's important not just for writers and bloggers but for marketers and content creators as well.
The fact that most web users read only about 20% of words on web pages, according to the father of the Internet research, Jacob Nielsen, means that every business with online presence needs a narrative engine, a reason for people to keep reading so they get the full message and take desired action.
But it's a bad question. Its very form immerses writers into long, deep trick and thinking, pushes them onto an unhelpful and overcomplicated track.
Because in today's information-overload world, the question 'how do you make web users read your entire blog post?' has the same form as 'how do you make a woman fall in love with you'? And we all know – in theory or practice – how to make a woman fall in love with you.
We need charming personality and must show concern, and we infer that the more we entrap them with our charm and caring, the better we strengthen our relationship with them. We know that we have to qualify our charming personality with gifts and treats, and we are led to believe that the more money we have, the more gifts we present; the better we make a woman fall in love with us.
So, content writers are taught to focus on building charming personality. They're told they should write attractive headlines, so that readers will click their content, and then to write an irresistible lead and quality content, the descent into which is the caring and concern, and the emotional stories and short paragraphs of which are the gifts and treaties.
But it's really much simpler than that. 'How do you make a woman fall in love with you?' has the wrong structure. It's too meandering. The right structure and the right question is: 'How do you make a woman miss you?'
And the answer is: You suspend yourself from her from time to time.
As bloggers, we should create suspense in our blog posts using cliff-hangers and other copywriting baits. We shouldn't immediately present our core message; we should ask or imply a question or point, and then delay the answer later. (Which is what I did here and you're still reading, right?).
Web users are human, and humans are wired to wait for answers to questions they witness being asked. I learned that fact from my brother, Shehu. He lives in Maiduguri, the north-eastern region in Nigeria, which is plagued by the Boko Haram insurgency.
He often tells me stories of the Boko Haram massacre. And last week, he narrated this story to me: 'Mansura, a 23-year old woman was in tears, when, one mournful mid-night, her elder brother (also the family's breadwinner) woke them up – holding a gun in his hands – and declared: 'I'm a member of the Boko Haram sect, and I'm leaving you for good,'' he tells the family before jumping over the fence and run.
'As she was narrating this story to my brother,' Shehu continued. 'Two armed Boko Haram members suddenly encircled us. You know what they did to us?' he asked me. 'No,' I replied. 'I'll tell you after dinner.' That's how Shehu usually hooks me to always come back to listen to the rest of his story.
(You notice I haven't told you what the Boko Haram fighters did to Shehu and Mansura yet? I implied a question and didn't answer it. You're waiting. You're wondering, what did the two Boko Haram terrorists did to Shehu and Mansura? You're definitely going to read the next paragraph, aren't you? Thus the element works in a micro sense, as well as in a macro one. Line by line, paragraph to paragraph, page to page – even within single sentences – imply a question first and then answer it second. The Internet user learns to stay and the momentum becomes inescapable).
The two Boko Haram fighters simply asked Shehu and Mansura what they were doing together. Shehu replied that 'we're neighbours; we're only conversing.' One of the terrorists gave Shehu a painful slap, and asked them to go their separate ways. Thank God, they didn't take their lives.
So where did the armed Boko Haram members go next? (Notice the structure here? Wait for it!) They entered into another house and killed a Christian man.
We need to bring the same simple principle to our content and blog posts. Someone was found dead in his room: who? You'll find out in the concluding paragraph. Something terrible is going on: what? You'll find out at the end of the article. Something has to be done: how? You'll find out at the end of the story.
Like a puzzle, you'll find out the big answer after a thread of smaller ones, bit by bit. The big answer is well packed and ready to be delivered in piecemeal.
I remember seeing that in a movie series, 'Prison Break'. An innocent man is sentenced to death. Really? But why? Well, it seems some powerful men are behind it. Okay, but for what reason? Well, it's like they want to cover their atrocities? Oh, but can they ever succeed?
(I'm not going to tell you. Watch the movie).
Trusting such a writing system feels flashy and insincere while you're doing it. But it works. It's all you need to keep your readers glued to your last word. Of course, magnetic headlines and substance are nice to have; and data and new information are satisfying; and eye-catching bullet points and short sentences are great.
But they're all secondary. The primary elements that hook web users into reading your entire blog post is the use of suspense and cliff-hangers, the implying of a question from the beginning and the revealing of the answer at the end.
So don't make a woman fall in love with you. Make her a little hungry about you instead.