I'll be bringing you exciting advice and insight from "road less traveled" entrepreneurs, spiritual business luminaries, creative professionals, and heart-centered business gurus. These empowering dialogues are from my iTunes podcast "Spiritpreneur School" and spiritual business empowerment course, "Become the Guru Bootcamp."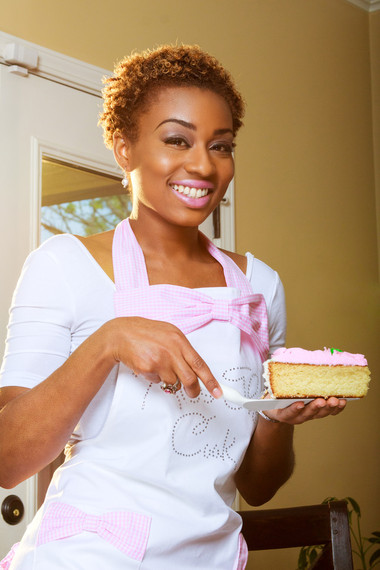 Whether you need a burst of inspiration or a sweet treat, V. Taybron is your woman.
The skilled baker and domestic goddess known for her vegan desserts says that her dream is to be the next Martha Stewart. She helps women to tap into the "domestic arts" including cooking, cleaning, self-confidence, and love of family. SavorV, her mobile dessert company, ships anywhere in the country. V. is creating her own American dream.
V. says that last year the troops in Afghanistan even flew a flag in honor of SavorV. Among her many talents, V. is also a motivational blogger and business relations manager for the positive online community known as the Single Wives Club. Look for V in all of her splendor, coming to a TV cooking show near you in the very near future.
Abiola Abrams: V., you are an inspiration to many. Let's talk about the business behind the woman.
V. Taybron: I'm so excited to talk about what I love. My company is my baby. This is what I dream about and what I wake up visualizing every single morning.
With building a brand and selling awesome, yummy, products online, I always tell everybody that we're working from the inside out. I solely believe that what you're dealing with on the inside manifests in every area of your life.
So with building a brand, it's important to know who you are. It took a long time for me to discover that I was what they are now calling a lifestyle entrepreneur.
I had to really discover who I was, what I like, what I was good at and how I could package and sell that. I discovered that I loved everything about the home. I always had a dream of becoming a housewife. I would see myself getting married to a wonderful husband, having gorgeous, giggly babies, mopping the floor with lemon cleanser, lighting lavender candles, and all of that. I became known as the Queen of All Things Domestic and the creator of SavorV.com. And so I actually recreated who I was and who I was evolving into.
I provide consultations to help women prepare their homes. I bake and sell. I share healthy recipes and meditation.
Abiola: You say that you want to be the next Martha Stewart but you're already doing it. Just like Martha created a brand around "homekeeping," you're doing the same with "domestic arts." Go ahead, V.!
V: When starting something you have to know who it's for. One of the products I sell is vegan desserts. Vegan desserts are not the first option that I offered. I was just offering dessert in general. Cupcakes, cookies and brownies...
I connected with a business owner in DC that owns an organic juice bar. She said, "I know you make desserts, but can you make that red velvet in vegan?" I said yes -- because I am a yes girl. I had never made a vegan anything ever but I knew I could bake.
Abiola: That is a defining moment, V. Did you have any fear that you wouldn't be able to deliver?
V: The reason I never get scared when opportunities present themselves is because I believe that we are working from the inside out and that it is divinely ordered for the opportunity to come to me. And that the God of the universe will deliver the answer later.
So it came to me on purpose right on time. Then it was time for me to figure it out so that I could deliver it.
Abiola: I've had your vegan red velvet cupcakes, and they are delicious.
V: Yes and people are like "are you sure this is vegan, girl?" It's wholly vegan.
Abiola: So, how did the US military find your desserts, V?
V: They found me on Twitter because I would use hashtags like #inspiration and they kept coming across my positive newsletters. Before I knew it, I was getting an email from one of the lieutenants or sergeants. Excuse me for not using the correct term, but he was high up in the military.
He said, "You encourage all of my soldiers. We want some dessert. We miss our wives, our moms, and our families. And we would love some of that red velvet." Just because it feels like home to them. "Is there a way that you can get this to us over here?"
I had no clue, Abiola, but I said yes.
Abiola: I love it--again, yes!
V: And then before I knew, I was getting flags in the mail. It was just the most amazing feeling ever.
Abiola: That is such a powerful story. One of the things that I enjoy on your site is that you talk about your grandmother. I always urge my "spiritpreneur" coaching clients to tell their personal stories because that's what makes you uniquely you. You share about Ms Annie Ruth Williams.
V: My grandmother inspired all of this. Baking allows me to still feel connected with her. We got in the kitchen and we would tear it up. We would do our thing. People knew her for making these beautiful desserts. She could make people eat anything. But the disappointing thing was, she was full of fear.
She didn't believe she was good enough to have a bakery or sell her products even though they were so good. And I just believed in her. I loved what she did and the spirit and passion that came out when she was in a kitchen.
I was like, "You know Grandma, when I get big I'm going to buy you a bakery." And she was like, "That's cute." So when she passed I felt as though that dream passed. I didn't want to cook with anybody else.
Then my dad found my amazing, beautiful, enchanted, firecracker, stepmother who entered our lives and ignited my love for cooking again. When I was 14, she said, "You want to cook with me?" And then we're making cornbread from scratch. It reignited that passion. Then I went to college and people wanted me to cook their mac and cheese for homecoming.
Abiola: That is such a beautiful story, V. Thank you for sharing. You're not only a successful "business bombshell," but you are open about your personal transformation as well. Let's switch into your "sacred bombshell" mode. How do you recharge your spirit?
V: Sometimes you might just need to take a break. Sometimes you need to have a full night's sleep. Sometimes you might need to work out. Only you know what's best for you. Everything doesn't work for everyone. But whatever feels good and resonates within your spirit, do that. When you feel good more people are attracted to you. You feel recharged; you feel confident; and you feel elegant. That's how I get myself back. I also turn off my phone for 2 hours every day, without fail.
Abiola: Self-care is most important. You can't do anything unless you are taking care of your vessel from the inside.
V: I feel like I'm obligated to live a great life. I have been through so much, and God still gave me a chance at life.
I feel like I owe it to God and to the world because grace was extended to me, to get myself completely together when times were hard. I went through therapy for a long time; just so I wouldn't be angry with my mother because I knew I wanted to be a mommy one day. I knew I had to handle the anger that I had towards her and be forgiving and learn how to build relationships with women, which was very hard.
I laugh about this now, but I was the self-help section. And I was able to use that and therapy to self-heal and recreate my story so that it could have a better happier ending.
Abiola Abrams is a transformational speaker, women's self-worth coach, creator of the Sacred Business Academy's "Become the Guru Bootcamp," and author of the award-winning "Sacred Bombshell Handbook of Self-Love." Get her free "Sacred Self-Worth Kit" of empowerment goodies at: OwnYourBombshell.com. Take her free 4-part video workshop, "Spiritpreneur Success Strategies" at BombshellMyBusiness.com.
For more from Abiola on standing in your power, watch this video:
Popular in the Community