Everything started with the rising tide of injustice in my country, Azerbaijan. My father's involvement in politics meant that I was exposed to these issues from a young age. When I was 15, I started going to rallies with him and joined demonstrations to voice opposition to the government's attempts to stifle political pluralism. In 1998, when my father was arrested for the second time, I attended his trial and my involvement in domestic politics deepened.
After his conditional release in 1999, he was forced to leave the country for his own safety. If he had stayed, he would have been either killed or imprisoned again, this time for good. As his son, I faced blackmail and harassment - and so in 2002 I left the country as well. I have built a new life as a political exile in Germany.
From the day I arrived in Berlin, I remained closely engaged with the political developments in Azerbaijan, sharing my observations and views mostly on two websites, "pur.gen.az" and "elsever.biz". The administrators of these websites were eventually arrested, and after their release they never got back in touch with me. Realizing that I could not rely on other websites to publish my work, I created my own blog, Tin Söhbəti (Conversations on the Street Corner) in 2005.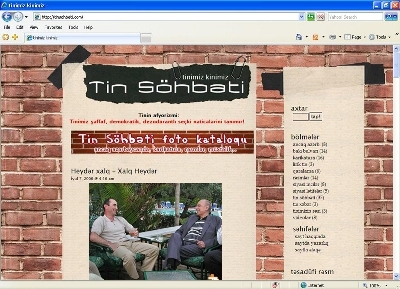 Aware of the total absence of political satire in Azerbaijan, I saw a gap in public discourse. Satire is a very powerful weapon for shaking up society and destroying the pillars of a totalitarian regime. The country's first online platform for political satire, Tin Söhbəti rapidly gained popularity, despite limited public access to the internet at that time. In a single week following the launch, there were more than 5000 unique users accessing the blog.
I was sharing the most interesting multimedia content, caricatures, collages and other social and political news - and of course, there were consequences. The government soon blocked the site, though users continued to try to gain access via proxy servers and other tools.
I was managing the site anonymously. There were numerous rumors and stories about the site. Some thought Tin Söhbəti had been created by members of the Azerbaijani opposition living abroad. Others believed the government had established it in order to see who was accessing the site. Hardly anyone thought it was the work of just one person.
The site spread by word of mouth and quickly became very popular. A government ban only added to the site's credibility. When I revealed my identity after two years, no one believed that I had built and managed the site all on my own.
With the rise of social networks, along with the repeated blocking of Tin Söhbəti. I decided to move over to Facebook, Twitter and YouTube. I was able to retain and grow my audience, because people knew me as the creator of Tin Söhbəti. As I shared posts via social networking platforms, this popularity increased: 25,000 followers and 5000 friends on Facebook; 12,500 Twitter followers, and on YouTube, over 37 million views and 65,000 subscribers, making mine the most followed channel in the Caucasus. Having discovered this demand for video content, I created my amateur video channel FƏRQ TV (Difference TV) through Bambuser. During the Arab Spring, ten thousand people in Azerbaijan tuned in simultaneously to my live broadcasts. They joined debates and participated in live discussions through Skype.
Trying to gain the people's confidence, to become a companion to their trouble and sorrow, to express what they cannot, and to expose the truth with facts, can be as elusive as looking for water in the desert. Criticizing the political status quo has been one of the ways I have managed to get the people's attention -and sometimes, their curses, even their hate. But for me, satire remains the most influential and powerful tool, both in gaining public trust and in exposing official wrongdoing.
In 2013, I came together with another Azerbaijani blogger and a former political prisoner, Emin Milli, to launch Meydan TV. Our aim was - and is - to provide the truth-deprived public with independent, neutral and objective reporting. I started to learn how to become a professional journalist, studying codes of media ethics, attending trainings and striving to develop my skills in this field. And now, three years after Meydan TV's launch, I am engaged in the most fulfilling work imaginable - the profession I desired so long ago, and one that is so desperately needed in my home country. In the past year alone, in Azerbaijan the independent media community has experienced murder, politically-motivated imprisonments, illegal detention, torture, and at least one death threat against a dissident in exile. As the Social Media Manager, I see my role as facilitating the dialog between journalists and citizens in our collective quest for truth.
Habib Muntezir (Abdullayev)
As the Social Media Manager for Meydan TV, an independent media outlet in Azerbaijan, Habib has developed the organization's substantial Facebook and YouTube presence, and engages directly with the audience on a daily basis. He is the architect of Meydan TV's citizen journalism program, News from the People, through which citizens send in content via WhatsApp.
Habib Muntezir was a finalist in this year's Index on Censorship Freedom of Expression Awards, which honor leading groups and individuals internationally tackling censorship. The awards was held in London on April 13.
Related
Popular in the Community