Such troubling times all around us. It seems the world knows no rest: Islamic terror rearing its ugly head and in the most gruesome of manners in Europe and beyond, Turkey morphing from a democracy into an autocracy, divisive election campaigns emphasize once more our differences, highlighting our disagreements... It is almost as if we have lost faith in ourselves, our own humanity hidden from the eye. But is it?
The Jewish concept of "Hakarat Hatuv" (which literally means "recognizing the good" in Hebrew), Gratitude, relates to the importance of expressing one's appreciation for the good bestowed upon them, both in word and in deed. I have witnessed its incredible effect in my diplomatic life as well as numerous times in my personal one. A few weeks ago, I got to say a special THANK YOU and travelled all the way from New York to Alaska to do so. My extended family and grandparents' arrived in Israel "On Eagles Wings," which was the name given to the operation of airlifting Yemenite Jews to the nascent state of Israel during the years 1949-1950, following the re-establishment of the Jewish State (named after Exodus 19:4 - "and how I bore you on eagles' wings, and brought you to Myself"). This, believe it or not, has been the theme of my recent trip to Anchorage, Alaska. A few years ago, a good friend of mine, Israel's Consul General in San Francisco, Dr. Andy David, shared with me a fact unbeknown to me before: the airplanes which brought members of the ancient Jewish community of Yemen to Israel were none other than Alaska Airlines. Moreover, he said, in Anchorage there is even a unique exhibit telling that story, located at the local Jewish Museum! In spite of the tremendous challenges of immigrating to a new country, my late grandparents have always been grateful for having lived to see the re-establishment of the Jewish state. I vividly remember one of our many conversations, when we just heard an announcement of yet another terrorist incident on the radio (Israeli reality: news every hour on the hour), followed by the news that "IDF forces are chasing the attackers and are close to apprehending them." My grandmother's face lit. She looked at me and said: "bad things happened to us when we were in Yemen as well, just because we were Jewish, but today we are fortunate to have our own State. Our own soldiers. We can, thank G-d, defend ourselves. Can you imagine how lucky you are, my son?!" she said with a smile. "Thank G-d and the good angels."
And I did. I do. After learning of this incredible part of our history -- of my family's history -- I made up my mind to get to Anchorage and express my gratitude, our gratitude, to the people who made it happen, in loving memory of my late grandparents and in profound appreciation. Indeed, that moment came on July 6th 2016. I was honored to be a part of a very special tribute to Alaska Airlines who took this airlift upon themselves, a mission turned into a passion to help those in danger and in need, especially in the shadow of one of humanity's greatest atrocities, the Holocaust. The wonderful people of Alaska Airlines: Non-Jews, as Jews, who saw it as an obligation from afar not to turn a blind eye to human suffering of others thousands of miles away and played a significant part in the return of an indigenous people to their homeland. Such was the then President of Alaska Airlines, the late James Wooten, who -- against the differing views of members of his own board -- decided to go ahead with the plan, even changing at some point the name of the airline just to be able to do what he felt was the right thing. Such was the late pilot Bob Maguire, an Irish-American who viewed himself to be a "modern day Moses" bringing the "Israelites home": it is told that at some point, Maguire needed fuel and had to land in Cairo (which might be a bit more hospitable today, but by no means was it so then). Realizing the danger he and the rest of the passengers were at, he had told the airport management "the entire plane suffers from small pox" and that ambulances are needed asap to evacuate them to a nearby hospital. Needless to say, he got his fuel in no time and continued on his journey. This was a perilous and arduous journey, but no despair was seen in sight, but rather hope filled the air. The hope for a new tomorrow, accompanied with significance and meaning. This might seem like an issue of the past, yet I strongly believe in its relevance to our future. It made me realize once more that there is so much more to us as human beings than what we might think or perceive based on the human experience, as it is reflected on our TVs, internet and papers today. We have it within us to do the right thing. We could rise to the challenge, with only our hearts bridging the gap of thousands of miles between us, expressing our true essence as "those made in the image of G-d". It has always been my dream to venture up north and witness one of nature's most beautiful marvels, the Aurora Borealis, "Northern Lights" as they are called. I did. These unsung heroes are the true Northern Lights. Thank you, and May We All follow in your path and play a part in a Cycle of Kindness: both on the giving and receiving end.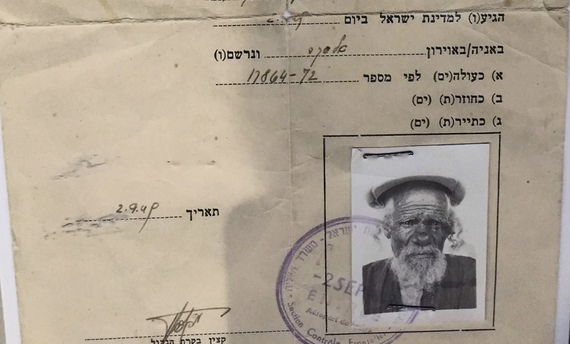 An Immigration Certificate of a Yemenite Jew, indicating origin as "ALASKA"(Courtesy of the Alaska Jewish Museum in Anchorage, curated by Leslie Fried)
Popular in the Community