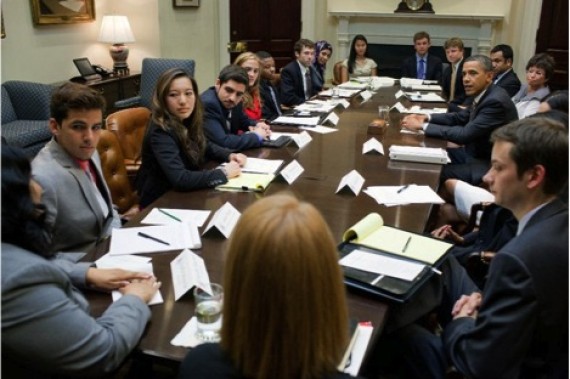 Sam Vaghar (center left) meeting with President Obama in the White House, June 2011
I was shy in high school. I had just a couple close friends and one date in four years. When I was accepted into Brandeis University, I was determined to get out of my comfort zone. My inspiration for personal growth came from a unique place.
One day I was walking in Washington D.C. and saw a homeless man sitting on the sidewalk. Like many people, I normally walked right past the homeless, pretending they didn't exist. But on this day, I did something different. I sat down with the man on the sidewalk and we shared lunch. Twenty minutes into the conversation, I asked him, "How do you survive?" Looking up at the passerby, he replied, "I'm not afraid to talk to anyone. I'm not afraid to look up at those above me and ask for help. Never be afraid to talk to anyone." Never be afraid to talk to anyone. This advice changed my life.
As a college student I reached out, made friends, and challenged my perspectives. I read two books, The End of Poverty and Mountains Beyond Mountains, and learned about extreme poverty. Over 1.2 billion people live on less than $1.25 per day. These books convinced me to start a campus organization at Brandeis University, mobilizing my peers to address extreme poverty. Through small scale concerts and events, we raised $5,000 for bednets to prevent malaria. Those early days led me to co-found the Millennium Campus Network, empowering student leaders across the United States with the resources they need to advance global development and the UN Millennium Development Goals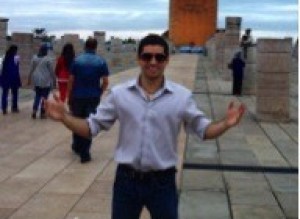 Sam at the Hassan Tower in Rabat, Morocco
We've provided grants, mentors, conferences and more to support student organizations like Project Plus One as they work to improve patients' lives in Timor Leste. But even with early success, I wanted to push further. Three years ago I was at the Clinton Global Initiative University conference in Miami. The actor activist Kal Penn was waiting to head on stage, and many people were too afraid to approach the actor activist. Just a couple years prior, I would have been too nervous to say hi. But this time, I was reaching out for a cause bigger than myself. I introduced myself and shared our work. I followed up with an email that night and kept in touch over several months. As a result of continued engagement, one year later I was sitting in the White House with Kal, President Barack Obama and fellow youth leaders to share the Millennium Campus Network.
Four weeks later I received a call from the US Department of State, inviting me to head to Bosnia and Herzegovina on a speaking tour. It went well, so much so that this year I was invited by State to head on a 10 day speaking tour across six cities in Morocco. What I saw there completely surprised me.
I met youth leaders who had never traveled to the US but were fluent in English as a third language (after French and Arabic) thanks to the US Embassy's Access Program. In many of my presentations, young women were the first ones to raise their hands and share volunteer opportunities. They were outspoken, confident leaders in their communities.
Towards the end of the trip, the State Department convened 35 international exchange alumni from 14 nations (Egypt, Libya, Lebanon, Algeria, Israel, and beyond) in Rabat to share ideas and best practices. My mind was blown. The negative images I had seen in the media about the region were totally out of touch with the perseverance of youth. I met leaders like Al-Nasir Bellah I. Al Nasiry, a 25 year old doctor and journalist from Baghdad. In 2006, he was shot in the leg and went to hospital. All the doctors were attending to three injured policemen, so Al-Nasir was treated by a nurse without anesthesia. He is living and serving through war as a leader. I met leaders addressing climate change in Jordan and Morocco, cleaning the streets in Libya, preparing youth for the job market in Egypt, and creating food banks in Algeria. Nour Alkhalil from Jordan participated in the State Department's TechWomen program and knows how to code. She has reinvested this knowledge by teaching young women how to create apps. There were dozens of stories like this. One stuck out in particular.
I met Abdulaziz ("Aziz") Almutairi from Kuwait on the first day of the conference. He has muscular dystrophy and uses a wheelchair. In front of the entire group, he stood up in public for the first time in his life. It was one of those moments you cannot forget.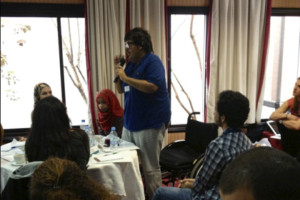 Aziz standing in public for the first time, Rabat, Morocco
What struck me about Aziz wasn't just his personal narrative, but his sense of humor. He is funny and witty and gave me some great advice for my love life. And he is also a very powerful advocate for people with disabilities in his country and beyond.
I've had the opportunity to speak at the Youth Assembly at the United Nations, give a University Commencement Speech at 26 years old, convince Microsoft, HP, The Jenzabar Foundation, the UN Foundation, The Boston Globe, Glamour and more to partner with us. But this past week in Morocco reminded me why all of these other actions matter. Youth leaders exist everywhere. Change does not need to be imposed from richer nations; instead, we just need to listen to local leaders working to improve their own communities. I learned this firsthand from these youth because three years ago I had the courage to introduce myself to an actor when others were afraid of how he might respond. Never be afraid to talk to anyone. We owe it to our generation to make the most of our opportunities.
Calling all HuffPost superfans!
Sign up for membership to become a founding member and help shape HuffPost's next chapter